Watching San Francisco's summertime fog rolling in from the ocean, bringing continuous waves of cold, we decided to celebrate summer in a proper (red hot) way. Across the Pacific, with so many exciting events and lined-up meetings covering hot topics such as new publishing regulations and the rise of indie games in Greater China area, we packed our bags and headed East.
On the way to China, we had a short stop at Singapore, where our CEO gave a presentation, Free Tools and Strategies for Publishing Your Games Globally at Casual Connect Asia 2017. After a short flight, we continued our conversations in major cities in China, the world's biggest consumer of games.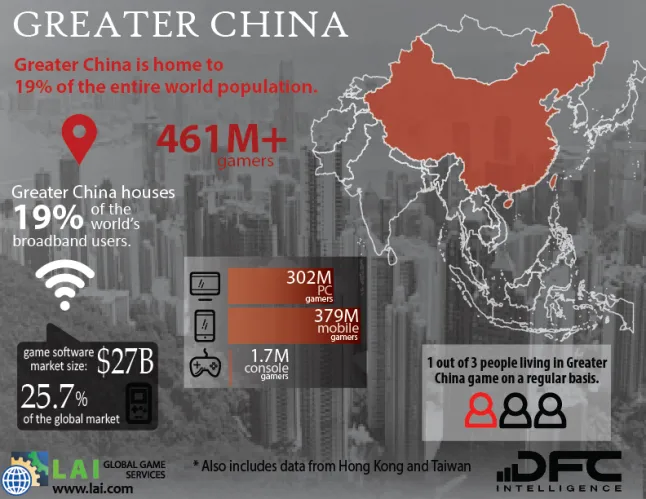 (Graphic from LAI's Game Market Analyzer app)
China has always been a focus for LAI Global Game Services, as we continue to grow from a game localization provider to a next-generation global publisher. In 2012, LAI had localized Perfect World's titles for the Brazilian market. The following year, we had our first booth at Chinajoy – this must-attend event is the largest annual game expo in China. Since then, we started working directly with game developers and publishers like Renren games, Longtu, Gaea, Firevale, and SteamyRice from China, helping them expand their territories across the globe. We also worked to bring games back the other way with western titles like SuperHot, Hovercraft, and Aviation Empire, titles that we helped to test, localize and launch in the Greater China area.
During this trip, we attended industry gatherings, visited clients and partners in their offices, built close relationships over dinner, and concluded the tour with Chinajoy (which we actually prefer to call "Sauna-joy" because of both the unavoidable summer heat and humidity, and the passionate but sweaty crowds). Flows of information, interesting thoughts and new ideas were exchanged between the East and the West. We'd love to share some of the most relevant notes to our global game community as part of LAI's mission to help excellent games become known worldwide.

First Stop: Shanghai
Keywords: Nijigen (二次元), Asymmetrical Server (变态服)
It's my second time coming to IC Cafe located in Shanghai's Zhangjiang Hi-Tech Park (上海张江科技园) for this kind of smaller-sized industry gathering. Hosted by one of the industry news channels called Game Tea House (游戏茶馆), publishers, distribution channels and developers were asked to pre-register to request a special invitation to get in. Even though it was seen as a small-sized gathering, at least 200 companies registered for the event. Tables were reserved for developers who wanted to demo their projects and get feedback. Most games were mobile projects, but there were a small number of PC games; for example, a PC soccer game developed by a small team from Hangzhou.
One of the most exciting mobile games was a "二次元" (nijigen) style RPG game. Nijigen, the Japan-inspired subculture has been spreading like wildfire among Chinese young adults. Nijigen literally means two dimensions. It refers to a type of fictitious setting in books, manga and anime and used in ACG (Anime, Cartoon and Games) subculture. This is in contrast to the real world we live in, called "三次元" (sanjigen) , which literally means three dimensions. After the successful launch of Netease's Onmyoji game (《阴阳师》),the Nijigen style has brought a lot of attention to both the developers and its young gamers.
(Do an image search for "二次元" and you'll get some visual clues about the art style like above result.)
(Under titled "Which one you would choose: Three Dimensional or Two Dimensional?", almost all comments replied they would choose Two Dimensional.)
It is also a great place to network. Among the huge crowd, I spotted many familiar faces. It's always great to reconnect with industry friends to chat about the market climate and learn about any new trends, regulations, business models and market requirements. For example, during the conversation, I learned "变态服", or "BT服"[1] ("Asymmetrical Server") is becoming popular among smaller development teams in China nowadays. When a game comes to the end of its product lifecycle, to attract more users and maximize the ROI, the developer puts their game "on sale" on their official server (usually) by giving the gamers VIP status for free or with huge discounts, or modifying the numbers that control game balance. This brute force approach is intended to revamp asymmetric balance to give the gamers an overwhelmingly satisfying (or shall we call it "overpowering") experience.
At the event, I was also able to put names and faces together for industry friends who I have conversed or worked with online but never seen in person. (Later on, I am informed that there is a nickname for this type of industry meetup– "meeting your online date" ("见网友").) Even though a mutual friend's introduction was always preferable, I enjoyed the open atmosphere while making acquaintances with other professionals on my own and marketing our global publishing and localization service.
Second Stop: Beijing
Keywords: SLG, 玛丽苏(Mary Sue)
Winning western markets is not easy for Asian game companies. But in recent years, a few Chinese companies like Elex (HQ in Beijing) and IGG (HQ and registered in Singapore) made themselves notable in western markets by publishing western style games. To be specific, they've generated significant revenue all due to one specific genre: Strategy Games.
One thing to point out is that when referring to "策略游戏" ("strategy games") in China, people like to use the acronym "SLG". [2] It is confusing because in western terminology, SLG usually stands for Simulation Game.
In Beijing, we connected with developers that hope to achieve success in western markets with various game genres and approaches[3]: from mid-core SLG to story-mode casual games. There is a 20-person development team that just got their SLG game featured on Google Play; they hope to become the next Elex or Kabam. Much like Silicon Valley, these former colleagues started their own venture when they saw a better way to work on a project together with a leaner and flatter structure.
On the other side of the array, some developers hope to win western gamers with their unique content utilizing fun and young Asian culture. One challenge to face is content localization. It is a battle between keeping a more authentic style or massaging the content with more local flavor. It is no easy job to tell a foreign-setting story in another language while keeping the original cultural elements. It is tricky to handle translating non-equivalent concepts, and economical and cultural values. The talented and creative localizers have to figure out a way to convey the message that makes sense to users in the most natural way. As a localizer myself, the whole process of struggling to produce amazing cultural products is a true form of performing art. If you are interested in reading more about visual adaptation, check out the transcription of Game Art Internationalization and Localization – An "East Meet West" interview by LAI.
Sitting in a conference room called "玛丽苏" ("Mary Sue") next to the famous Xi'erqi (西二旗) Station [4]in Beijing, we were invited to discuss the localization and publishing issues for a Chinese company that targets the teenager/young female market. They hosted a community-based AVG (Adventure) game site where everyone could make their own story mode game. Even though it came from a niche market idea, its 1940,000+ members have created 5370,000 projects with 750,000 under review and 30,000 published after audit, as of Oct. 2016. Its 1200 professional contractors also authored 8500 story-mode games. Unlike many Chinese game companies that need to purchase a IP license from well-known movies or manga series to attract user traffic, this platform has a fan-based community and has already generated many well-known IPs themselves. They've reversed the order that a game is an after-film product by owning their own IPs and producing films based on them for additional revenue.
I was also quite amazed at how they've innovated the monetization, using not just one method, but many. For example, the gamers can pay tributes (flowers) to authors to encourage them to speed up and upload the next episodes; the authors can launch an auction allowing the highest bidder to make decisions about where the plot will go; the gamers can pay for a feature called "God's View" which unlocks extra content and allows the gamers to see the future or obtain a high-level understanding about the plot; the gamers can purchase extra tokens to get a hi-res poster with amazing details and fine art of the game with their favorite character…
However, the risk to consider when exporting this model is whether the game will generate enough interest and attract a large enough user base. The solutions we have come up with are a combination of PR campaigns, special interest forums, and building an English community base with both new IP content from local writers and existing Chinese games that are well-localized.
Third Stop: Chengdu
Keywords: CP, Game license (版号)
The article How to Be A B2B Pro When Working with Chinese Mobile Game Companies I wrote will give some pointers if you're interested in navigating the market yourself. It also talks about the major game hubs in China. Chengdu is one of them. In the article, I also explained an often-used acronym which defines most companies in Chengdu:
CP = Content Provider = Game Developer
Chengdu, Strategic City of Game Industry on Hardcore Gamers published in June 2016 gives a good overall description of Chengdu. Most game companies are located in Tianfu Software Park (天府软件园). Game Tea House (located there as well) published an article with a map covering this in August 2017.
For instance, the development team TiMi-L1 (天美) studio behind the most famous mobile game in China nowadays, Strike of King (《王者荣耀》,also called King of Honor), is located here. (We will also talk more about this game later in this article.) In the recent GamesIndustry.biz podcast, you may also find content about Ubisoft's Chengdu office. (However, China is not part of SE Asia. So Chengdu should not be considered as part of Southeast Asia market.)
I want to circle back to my B2B article which was written in 2014. Back then, the Chinese government didn't require the licensing approval process. Thus, partnership with local Chinese publishers was not a must on the list at that time. You can find a lot of buzz on the internet nowadays talking about this. Basically, a game must have a game license number in order to be published in China. In order to get the license, the publisher or press and publishing houses must meet the qualification standards to apply for licenses. LAI is very knowledgeable about this situation and connected with the local game publishing community. Should you need help, please don't hesitate to reach out to us @ info@lai.com.
On August 12, 2017, GameLook's official WeChat account posted an article saying that no South Korean companies (NCsoft, Netmarble) have been able to get any game licenses approved for publishing in China because of the political situation (THAAD deployment) since March, according to Yonhap News Agency, South Korea's largest News Agency.
Fourth Stop: Shenzhen
Keywords: Tencent, Indie Games
On July 1, as Hong Kong commemorated the 20th anniversary of its return to China, President Xi witnessed signing of Greater Bay Area development agreement. Clustered with tech companies, and home to Tencent the largest video game company in the world (though it makes most of its money domestically), Shenzhen is the stop we wouldn't want to miss. This article Can China's "Greater Bay Area" Match Its New Year and San Francisco Counterparts? gives some good information about Guangdong – Hong Kong – Macau Greater Bay Area.
According to DFC Intelligence's report on mobile game companies released in July 2017, "China has become the world leader in games and Tencent is far and away the leading player in China." Many believe that Tencent's distribution coverage of WeChat and QQ has contributed heavily to its success in games with user acquisition and profiling advantages. At LAI, we used WeChat on a daily basis when in China – for instance, messaging with our clients, calling a DiDi taxi, using WeChat Pay to pay vendors on the street. Here is an article from the Economist which gives a good overview of WeChat.
One Tencent game I personally like to play is Strike of Kings. It is a MOBA game that was launched in 2015 and has many similar features to Riot Games' League of Legends (Riot Games is also owned by Tencent). Compared to LoL, it has shorter sessions, smaller maps and simpler controls. Therefore, it also attracts many casual gamers (especially young female users) that had never played this type of game before. It is so popular that it has become a socializing phenomenon among students – if you don't play the game and talk about which heroes you like or not, you will feel left out at school. However, its addictive gameplay also concerns a lot of parents. After People's Daily published an article echoing these parents' voices, reports say Tencent lost $17.5 billion in market value. Tencent has responded to the social issue by adding a daily time limit of one hour for players under the age of 12, banning them from logging into the game after 9pm, and a daily limit of two hours for players between the ages of 12 and 18.
(Strike of Kings' login page)
I remember before I kicked off my summer trip, one early morning I was awakened by my parents' "urgent" WeChat messages sent from China (their afternoon). They took photos about an E-sports scene with young crowds in their favorite shopping mall. The message said "We saw a large crowd - mostly young people- applauding and cheering in front of a big screen. We wanted to share their excitement, so sat down for half an hour to watch. But we failed to understand what was going on and felt left out. The world is developing so fast and we need your help to follow up!" It turned out that Strike of King 's championship was hosted in this mall. The spacious hall area near the entrance of the mall used to be the retailer's battlefield to do special promotions showcasing their newest products. But nowadays, E-sports is taking over the foot traffic audience.
With other news like "E-sports major offered by Chinese universities", "creating an entire town dedicated to E-sports ", and "15 billion Esports investment in the next 5 years" , I couldn't wait to catch up with my friend who works as a project manager for E-sports promotions at Tencent IEG when I was in Shenzhen. Before the visit, I asked if I could come later in the day because of the summer heat. She answered of course, because her normal days wouldn't end until 11pm (sometimes even between 1-3am). There were many takeaways from the 5 hour conversation, from hot topics like how live streaming on most popular channels becomes one of the most illuminating PR and marketing efforts for Strike of Kings, to high-level questions like how Tencent keeps scaling up in games as a giant by being vigilant of the market and encouraging its internal and external partners with inter-team competition.
Many industry friends joke about the current market situation. "There are only two game companies in China now: Tencent and Others." To battle against a winner-takes-all situation, the concept of "indie games" is starting to spread around in China. Though only within one short year, it has shifted its meaning from a game that is created by a small group of developers without the financial support of a publisher to a game that has a unique art style and creative gameplay that does not normally follow the tried-and-true formula of "IP + market-proven code + changed art/skin", so common with bigger investment games. It's the publishers that are often in the "Others" category who want to be a part of the movement and are investing heavily in this trend.
We met with two companies in Shenzhen who have similar needs. They hoped to import western "indie games" to China, and asked for LAI's help. They are not alone. Other Chinese publishers from Chengdu, Beijing and Shanghai have also signed partner agreements with LAI. They each have a unique specialty in genre and attribution channels. If you are a developer that is interested in checking out China's market, we can match you up with one of these publishers who are eager for creative western style games.
(A western developer talks about their experience as their game was taken down by the Chinese government without a proper game license in China at this year's Chinajoy. )
Teaming up with DFC Intelligence, LAI developed a free tool GMA(Game Market Analyzer) app for iOS to support the global game community powered by actual global market data and match-making service on the app. Here is the Press Release for more info. We are always adding regional publishers and partners to our free app. To support this initiative, our team is running an official GMA contest with free game localization as the price.
Last Stop: Shanghai (Chinajoy)
Keywords: VR
Chinajoy is the largest annual game show in China and Asia. It is held in Shanghai New International Expo Center each year around the end of July, usually 3 days for B2B exhibition area and 4 days for B2C. There are also conferences with different themes (CDEC/CGBC/CGDC/WMGC) going on at the same time, and an area for Cosplay competition. It is the busiest time for BD (business development) professionals during the year. Industry organizations and large companies will also sponsor events in the afternoon or for after-event parties in the night. It is very common for a BD to attend 4 or 5 parties or private gatherings each day to meet as many industry friends as possible. At least one of the dinner gatherings will be spicy crayfish.
A big difference I noticed this year compared to last year is the intensity of VR. Last year, VR sessions had the largest ballroom and were packed with excited people at the CGDC conference. Well, this year, it was in the corner room at the very end of the hall. William, one of the speakers for the VR session started his speech with "only the real VR fans are in the room now". At VR sessions, most of the speakers gave a good overview on their target gamers and platforms from their perspectives. Besides choosing a good theme and storyline, user behavior seems to be the center of game design consideration. For instance, as HTC has invested heavily in China for its VR experience stores, HTC Vive is usually considered by developers presented in Chinajoy as an experience-oriented device generating big movements (when standing up) and exhilaration in a short period of time for first time VR users, like shooting games. PSVR is considered as a home device that hardcore gamers play sitting down and are more comfortable spending a longer time on a more immersive story mode game.
Here are some additional information from Tencent about VR market consumer profiling in China.
(Source from: https://virtualrealitypop.com/6-things-you-need-to-know-about-chinese-vr-market-ccd8a5c5b85c)
In conclusion, it was a very rewarding trip, reconnecting with industry friends while getting updates on the biggest game market on the planet and establishing new partnerships.
If you're interested in knowing more about any of the topics I've touched on in this article, or if you have any other questions about terms I've used, or anything about global publishing or China publishing, feel free to shoot me ([email protected]) or LAI ([email protected]) an email. We may be able to help out.
About LAI Global Game Services
LAI Global Game Services is a full service game localization, marketing, and publishing company with 25 years of experience in the video game industry.
LAI opened its doors in 1993, back when the original Doom was released!
The company's free iOS app, the Game Market Analyzer (GMA), is available on the App Store. GMA helps developers and publishers easily assess the best global markets for their games.
Feedback submitted about GMA to [email protected] can qualify you for a chance to win free game localization! (Read contest details for more information.)
---
[1] Later on, I found an interesting article by Game House's CEO Jialun Wang about the popularity of BT服 among smaller developers who have difficulty applying for a game license. It is only available in Chinese though: https://zhuanlan.zhihu.com/p/27577381
[2] Reference from Baidu Zhidao (Baidu knowledge): https://zhidao.baidu.com/question/5019620.html)
[3] There is a four-character saying in Chinese: 殊途同归 (reach the same goal with different approaches).
[4] Xi'erqi Station is next to Zhongguancun Science Park – many people consider it as China's Silicon Valley. Xi'erqi is also famous for being crowded in rush hour. Business Insider featured it back in 2013 with a video.