Double Fine has the $3.3 million it asked for to make a sequel to the cult-classic 2005 game Psychonauts. The independent San Francisco-based development studio hit its goal for Psychonauts 2 this afternoon.
Rather than running a Kickstarter campaign as it has in the past, the studio has used new funding platform Fig, which allows for both backer-style crowdfunding and direct investment in its games, and which launched only last August.
There are five days left in the campaign as of this writing.
As of this report, the campaign has made slightly more from investment than backers as of this snapshot of its funding, with 51 percent of funds raised from investors: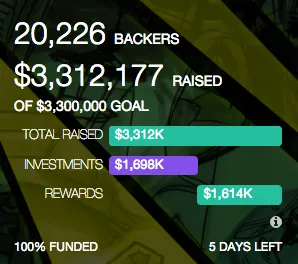 Fig's model changed slightly in November when the Securities and Exchange Commission revised its guidelines for investment, allowing more people to put their money into projects like Psychonauts 2. Fig COO Justin Bailey is a Double Fine alumnus, where he helped oversee the studio's Kickstarter campaigns for Broken Age and Massive Chalice.