Oftentimes, your first draft isn't your best. Revision can help, but sometimes you just have to rip the whole thing up by the roots. Tom Salta, the lead composer of Deathloop, knows this harsh reality all too well. Salta (whose previous work includes Halo 2 Anniversary, PUBG, and a healthy handful of Ghost Recon games) composed not just one, but two main themes for Bethesda's upcoming shooter, scraping his first attempt entirely to start fresh and create the definitive sound of Arkane's retro future.
Publisher Bethesda Softworks' major release this year is Deathloop, a first-person action game that builds off the mechanics developer Arkane Studios introduced in the Dishonored series. As the name implies, Deathloop has players replaying a single day and trying to end a particularly murderous time loop. Imagine Dishonored 2 meets Hitman 2 meets Outer Wilds, but set to the backdrop of a 1960s inspired retro-future and you have a vaguely accurate description of Deathloop. Making sure the game sounded right was a key component of creating that unique creative vision of the future.
"The first music I composed matched exactly what [audio director] Michel Tremouiller had in mind," said Salta. "I felt it was very cool and mysterious, but after spending a couple of months on the game, I got a better sense of the personality of the game and felt we could come up with something even more appropriate."
Salta didn't consult Tremouiller when he felt the game's soundtrack wasn't quite right. Instead, he went off and wrote an entirely new composition that would become the basis for the rest of the music in Deathloop. He brought it to Tremouiller only once he was finished. That's not exactly how these things often run at a AAA studio, but Salta took a rare gamble. It paid off.
"We had some conversations and a few weeks later Michel made his decision," said Salta. "We agreed that this would be a better main theme to use… and that theme became the foundation for much of the entire score."


Salta's working relationship with Tremouiller and the team at Arkane Lyon began in 2018, when he was consulted to work on Wolfenstein: Youngblood. The successful collaboration led to Salta being called in as the lead composer for the game's VR spinoff Wolfenstein: Cyberpilot. The Youngblood composer wrote the original orchestral score for the game, while Cyberpunk 2077 composer Ross Tregenza primarily worked on the diegetic music — although multiple other artists contributed in-game songs and tracks used for the trailers.
The importance of music in a time loop game cannot be overstated. It can create associations between certain characters or locations and whatever emotion the music is trying to evoke. It can be a source of tension too. Like in Outer Wilds, for example, when the player hears the distinctive notes of "End Times" start to swell they know it's time to finish up their business and start over. Salta's score in Deathloop plays with variations to subtly reinforce the "looping" aspect of the game's narrative. But how does one accomplish this without boring the player or having the music begin to grate on them after hours of consecutive play?
Well, according to Salta, it begins with finding the right chord progression, one that checks all the right boxes of being both pliable and fitting the vibe Tremouiller was looking for. "Once I had that," he said, "it was much easier, and quite fun, to present [the theme] in a myriad of ways depending on the location, the activity, or the character in question."
One of the most challenging parts of working on Deathloop for Salta was melding the sound of the 1960s with a game focused on fast, violent action. The score needed to reach heights that could match players' adrenaline. "My top priority for this score was to tap into a unique style that would complement all the high-intensity fight action, while still sounding of that era, and having a distinct personality to match this unique game. Eventually we crafted a signature sound that would accomplish just that."
That signature sound was created using instruments that were popular in popular music of the late '60s. Salta drew inspiration from the science fiction of the era, using period-appropriate synths like the theremin and EMS SYNTHI AKS Synthesizer.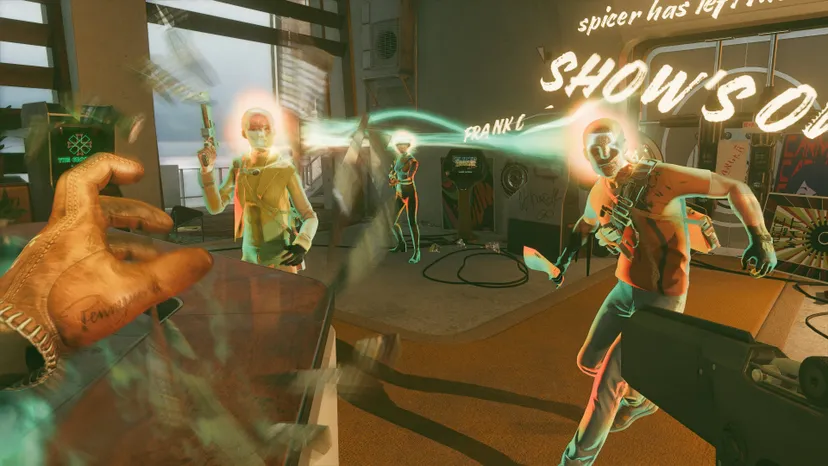 "My goal was to use a late 1960s musical vocabulary for everything, but not in a way that sounded like we uncovered old 1960's recordings," said Salta. "Instead, I used authentic late '60s instruments, like Rhodes, Wurlitzer, Hammond B3, Vibraphone, Farfisa, Clavinet, Mellotron, and of course lots of '60s sounding guitars, drums, and bass."
These long-lost instruments getting used in a modern context, and with modern recording technology, gives Deathloop's ambient music a jazzy, futuristic flavor. The result of this unconventional instrumentation is a soundtrack that feels simultaneously nostalgic and fresh. The obvious comparison to older James Bond themes has been there since the first trailer (Salta even admits to being inspired by some of them as well as the music of 1960s Batman), but the most surprising aspect of the Deathloop OST is how much of it ends up being what you might call "guitar music." In other words, the music in Deathloop rips — when it wants to rip.
The points of highest intensity throughout the game feature shredding guitars that bring to mind Frank Zappa, Zeppelin, and Jimi Hendrix. These artists were all inspirations for Salta and some of his earliest touchpoints for popular music.
"I had fun summoning up lots of my earliest musical memories growing up with much older brothers in the early '70s," Salta reflected. Deathloop's homage to the rock n' roll icons of the '70s is the most personal touch on the score. Despite the zainy, hyper-stylized world of Deathloop, its music is grounded in the history of some of the most popular genres in media history: rock'n'roll and science fiction.