The Redwood City Public Library ran a junior version of the 2015 Global Game Jam, for teens in 5th-12th grade. The following is a postmortem of the jam, with lessons learned for posterity.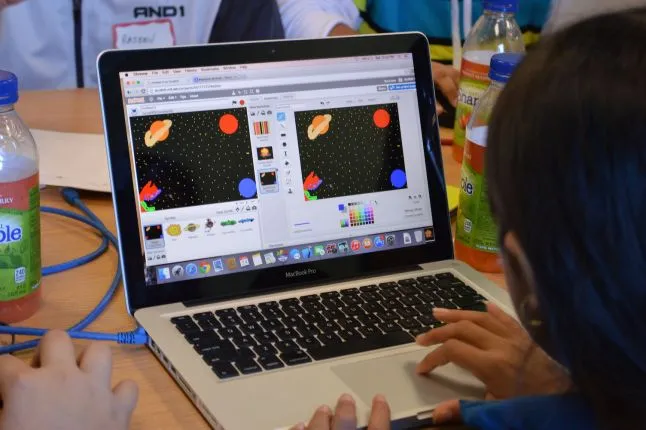 Image credit: Roman Cendejas, Redwood City Public Library
Preparation
Facilites
The library provided use of their Teen Digital Lab, which had 3 Macs with monitors, 12 MacBooks, and 6 iPads. The Code Coaches were asked to bring their own dev environment of choice, just in case. The library had wifi for the iPads, and satisfyingly fast ethernet for the computers. There were ample network ports and charging facilities. There was also a large wall-mounted TV, connected to an AppleTV, on which we displayed the intro video and the keynote. One Code Coach was in charge of gamey music, which went over really well and set the tone.
The digital lab was attached to a larger, more informal room, with computers, couches, and tables.
Its was used for lunch, breakout meetings, and change-of-scenery occasions. The library also provided three staff members for supervision and logistics, like putting out snacks, unlocking doors, and cleaning up.
Lesson learned: We were glad to be prepared, but we used nowhere near the number of devices provided. Test your AV setups early and often! Multiple spaces turned out to be an asset, and gave enough variation of setting to keep the kids on task for 6 hours.
Resources
Scratch (free, web), Hopscotch (free, iPad), and GameSalad (free, download) were pre-installed on the library devices. GameSalad was for advanced users, of which there ended up being none. Scratch has a clunkier interface, but a large library of graphics and sounds, and the ability to create your own of both. Hopscotch is pared down, and more accessible to beginners, but has no sound, and the inventory of characters is limited.
Advertising
The jam was announced in the library's events circular and online calendar. A flyer was emailed to the local middle and high schools, but is unknown how many actual kids were informed. Having more kids would have been great in theory, but it would have put more demands on the code coaches. In the end, it was really the perfect number. We invited kids in 5th-12th grades, but we got one 5th grader, seven 6th graders, and one 12th grader.
Lesson learned: Attendance was dominated by the lower end of the age range.
Code Coaches
I recruited four engineer friends, a parent from the local community, and a middle school math teacher to help the kids with turning their game ideas into reality. In most cases, the role of the adult was to judge the ability and interest of their assigned teen on each task, and either show them how to do it, or do it for them. The teens' programming experience ranged from none, to Hour of Code, to six-hour course in Hopscotch. All of the code coaches had extensive programming experience, though not all with the particular platforms the kids decided to use. It was vital that there was a central organizer who could troubleshoot problems and answer super-questions.
Some of the coaches' employers offered volunteer-hour matching donations. Because we knew this in advance, and had prepared the charity ID and contact number for the Library Foundation, over $700 from Apple and Google could go toward buying new technology for the Teen Center.
Lesson learned: Most of the success of the jam was due to the high coach:kid ratio. The teams that had multiple kids, and the kids whose coaches had to leave early, had more difficulty settling on a direction and completing their projects.
Infrastructure
A representative of the library registered as an official Global Game Jam site, all the code coaches made GGJ accounts, and as many games as possible were uploaded as finished projects. None of this is really important to a general jam, but having a central resource where we could keep track of volunteers and games was useful after the event for reporting purposes, like writing this blog.
On the day
Schedule
10:00 Arrival, name tags
10:15 Keynote
10:30 Brainstorming and teams
11:00 Deadline to register teams
11:30 Break (walk around the building)
12:30 Lunch
1:30 Break (Simon says)
2:30 Break (red light green light)
3:30 Break (relay races)
4:30 Stop! Game showcase!
5:00 Dismissal
Arrival
Upon arrival, any present parents were asked to sign photography waivers so pictures of the event could be used by the library for promotion or funding applications. Family members and friends were invited back at 4:30 to play the finished games. We had name tags prepared ahead of time, and snacks in the outer room to encourage mingling. I allowed 15 minutes between arrival and the official kickoff. Nevertheless, some kids arrived late, and particular care was taken to catch them up and make them feel included.
Lesson learned: Next time I'd leave 30 minutes, and have some games set up (Flappy Bird, Mario, results of the last jam) for participants to bond over, and serve as inspiration.
Kickoff
We showed a 2-minute segment of the official GGJ keynote video to introduce the kids to the concept of a game jam and what the day would be like. It gave a sense of the scope (thousands of jammers, mostly adults), made them feel included (for some of you, this is your first game), and set up expectations for the result (not everyone will finish and that's ok). We went over the schedule in brief, with emphasis on lunch and breaks.
Keynote
Our keynote was a 5-minute chat with Alish Erman, an engineer at Hopscotch who is famous in our classroom for writing one of the most popular games on the Community, Hopscotch Dojo. Alish talked a bit about how he thinks about making games, showed us a few things he was working on, then announced the theme.
Lesson learned: In organizing a keynote speaker, I would advise talking ahead of time about the specific content to be discussed, and the duration. (Aim for 3 minutes, end up with 5). This is an attention span issue. Also, decide on whether the keynote should be a prepared lecture, or a casual discussion.
Theme
The theme of GGJ15, "What do we do now?" was deemed too obscure for kids (possibly for adults as well), and so we substituted a theme that was supported by the graphical options in both apps, "Mission to Mars". As the venue was a library, we preselected some relevant books to serve as inspiration.
Brainstorming
As soon as the theme was announced, we started throwing around ideas. In addition to the Mars books, we provided colored pencils and scratch paper, and a bunch of inspiration cards that had characters, game elements, and game types. As each kid came up with something articulatable, I assigned him/her to a code coach and they broke away to make concrete plans and choose a platform.
Lesson learned: Knowing your coaches enables smart team matching, but kids are more likely to want to make their own ideas than to compromise with others.
Breaks
There was an optional break for fresh air and exercise scheduled every hour to alleviate the computer/face monotony. Most participants elected to join several breaks, but skipped one or two when they were on a roll. Informal breaks were allowed and encouraged. Lunch was flexible, with most kids taking at least 20 minutes to chill out, but a few having pizza at their computers.
Lesson learned: Take breaks. Next time I would do a more structured sharing activity over lunch, encouraging the kids to share their progress with each other.
Food
The library provided oranges in the morning, juice and cookies for snacks, and pizza and chips for lunch. The small quantities of leftovers were snapped up by the non-jammer teens in the library. The vegetable tray remained virtually untouched.
Lesson learned: Broccoli is not game jam food.
Wrap-up
Most kids' attention had waned by about 4, so we stopped a bit early at 4:15 to play each others' games. We were joined by ten or so more parents, siblings, and library staff for the showcase. We all signed a thank-you note for the Friends of the Library Foundation, which had provided the food. Then we thanked the code coaches for volunteering. We had prepared awards for each game earlier in the afternoon, based on what the kids were most proud of. The awards were printed on official-looking paper and we gave them out one by one in front of parents, with applause.
Lesson learned: Awards were a big winner. Every kid had something tangible to take home, and left with a smile. Buy thank-you cards in advance.
Without Further Ado: The Games
Team 1. Samreen & Emily, Mars Attack (Guess-The-Word Game)
Award: Most Innovative http://scratch.mit.edu/projects/44770864
Team 2. Jonathan & David C. Crashers Battle (Pokemon-Style Battle)
Award: Best Battle http://scratch.mit.edu/projects/44770462
Team 3. Alex & Rajeev, Robot Fighter (Multi-boss Arcade Fighter)
Award: Best Animation http://scratch.mit.edu/projects/44771682/
Team 4. Lily & Jessica, Space Race (Asteroid Racing Game)
Award: Best Story http://scratch.mit.edu/projects/44771372
Team 5. Alan & Jamie, Survivor (Maze Shooter)
Award: Best Use of Zombies http://scratch.mit.edu/projects/44770172
Team 6. Erik & Mike, Mission to Mars (Roguelike Meteror Dodger)
Award: Best Execution http://scratch.mit.edu/projects/44782796/
Team 7. Kevin, Jimmy, Gus & Em, Revenge on Aliens (4-Button Shoot-'Em-Up)
Award: Best Interface https://c.gethopscotch.com/p/blsdj3z
So yes, I ran a game jam for kids. And I plan to do it again.