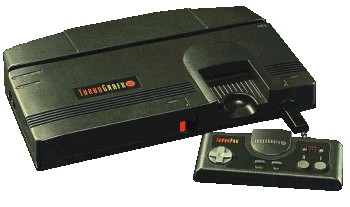 Yeah so some dude at work put his Turbografx-16 console and collection up on the for sale spam-list. I shelled out $75 and got a console, CDrom, (broken-ended) joystick, and @40 games. FORTY GAMES! Only like 3 or 4 CDroms but hell, 40 game cards!! That's rad.. he threw in a sega 32X (with Star Wars) to even it out. But.. hell!! I always have wanted to get my hands on a genuine Turbografx-16.. I know, the emulation is pretty well covered at this stage (and of course they support a lot of the good games on the Wii Virtual Console) but there's always something about getting your hands on "the real deal" that's just a little more special. I have always admired the system, I borrowed one from a friend sooo many years ago (sigh.. like.. 20 years ago. You do not know how much it pains me to type things like that...) and would have bought one if the Sega Genesis didn't edge it out in the Race of Awesome Things, at the time. Hey, the Genesis was TRUE 16-Bit, what's a kid to do? I remember those days, the early 16-Bit wars.. the TG-16 (PC-Engine in Jamaica, errr, Japan) was actually 8-Bit with a custom 16-Bit processor. Sega's device was actual full-on 16-Bit hardware, with the promise of games "direct from the arcade to your living room," and they had the machines out at the arcade (and translations coming home) to prove it. Obviously Turbo was no slouch either, with some very nice-looking titles to pick up - though they were more colorful, they still lacked that certain je' ne' se quois that Sega had. It was a tough choice but one that I never regretted.
This stack is worth it for the $$$ alone. Blazing Lazers. R-Type. Star Soldier. Legendary Axe. Galaga '90. Ninja Spirit. Fantasy Zone. Klax. Splatterhouse. Sinistron. DUngeon Explorer. Neutopia. Victory Run. Bonk. Drgaon's Curse. Where the hell is Devil's Crush? Oh well, can't have them all. There's a bunch of other 2nd and third rate crap in there also... but hey. Close enough. Xmas came early! To top it off I scored a NES Bubble Bobble (though I will rather prefer to play Parasol Stars on the TG-16.. I am covered!) Man, old games rock. Now I need to find a dude who will sell me a Turbopad for under $25.. (and yet.. I would still prefer that my $X*@ 360 would just get freakin' fixed.. maybe next week!) I take it back, these games are still more fun!
I have a little list going of retro stuff I'd love to get my hands on.. a Turboduo (still, though not for what they ask for it.. bah!) A Colecovision would be rad, with a load of games.. I would never say no to a 2600 (though honestly, the whole setup would be quite an eyesore and surely end up in the back of my closet).. A Virtual Boy would still be cool (though i DO have a busted on in the back of my closet!) And I guess above all else, I'd like a Vectrex setup. Most coveted, however, would be a Mame Cab.. done right. One day I will shell out the necessary cash, but I can wait 'till I am able to afford such things. Mame's not going anywhere.. right?