Urban Champion, by Nintendo for the NES. Originally apearing in Japan in 1984 on Famicom, this game made the rounds a bit past the US NES launch in 1986.
This game was Fight Club way before there was a Fight Club! About as simplistic as a brawler could get, you control your 2D character on a single plane and attack with (or defend from) either a soft punch or hard punch. Wear the other guy's stamina down before he does the same to you.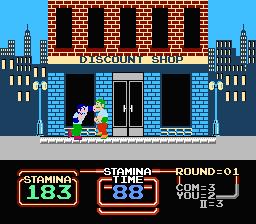 There's little touches like flower pots dropped from above (look out!) and of course the occasional police cruiser which will pass by (and arrest you if the timer runs out, and you are losing the fight). Admittedly, the game is fairly barebones, but then it was inspired by an early Game & Watch title, so what do you want..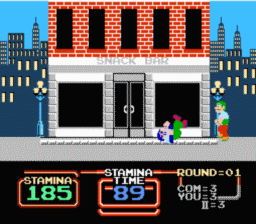 Urban Champion gets a fair bit of flack in the Nintendo community, though a few still hold an appreciation for what it represented at the time. It's probably one of the simplest titles released in its day (especially considering other, more impressive software released at the time) but it did serve a purpose for being a nice pick-up-and-play title which anyone could get into. The lack of depth (some more moved would have been nice) probably nailed it's legacy, however.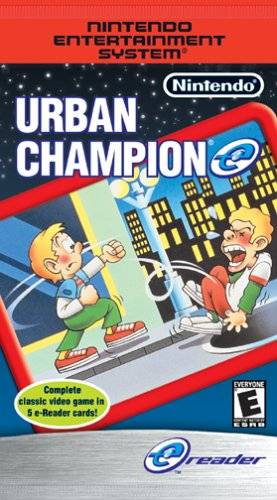 In spite of the criticism, Urban Champion is a game which many remember and Nintendo seems to drag out of retirement every once in awhile "just because." Something about that colorful box cover perhaps.. it was even featured as an e-Reader card some years ago (the entire game code was converted to a bar code and could be "swipe-loaded" onto a Game Boy Advance, interestingly).