Retro Game of the Day! SCAT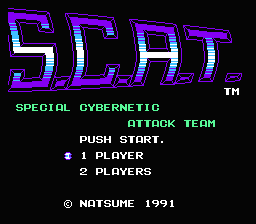 SCAT (Special Cybernetic Attack Team) was released for the NES in 1991 by a young Natsume, during their glory days (or what I'd refer to as their unsung "Treasure of the NES" days, for reasons which shouldn't be too hard to understand). It's true - like that developer, Natsume showed up later in the life cycle of their debut console, and the games they created for it were often technological marvels compared to what else was available at the time by similarly-capable companies.
SCAT - aka "Final Mission" in Japan, or "Action in New York" as the Euros called it (let's face it, none of the localizations of this game had a wonderful name!) was a scrolling shooter in the vein of Capcom's older Forgotten Worlds, cranked down in tech and slightly cranked up in difficulty. Like that game, rather than flying a ship around, you are a man (or lady) hovering over the city with some sort of flight-pack apparatus, and you have multidirectional shot capability.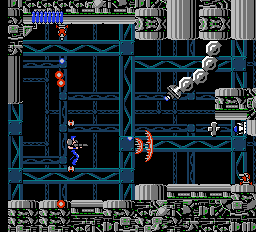 Also like Forgotten Worlds, SCAT had a slightly slippy sense of control (your character was a huge target, as well) and the powerup system was a bit unusual, so it was never as smooth as a more traditional shooter - but the (very) welcome addition of 2-Player simultaneous, still unusual on the NES, absolutely made up for any shortcomings in what was obviously intended to be a sort of airborne Contra.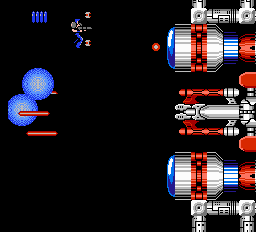 The game is definitely a marvel, with a challenging adventure and a very nice audiovisual presentation. Like so many from its period, it has been glossed over and forgotten (indeed...) yet it still stands as a strong effort from a dedicated developer whose love of the game was evident in its construction. SCAT was a great action title which packed in some decent designs and god sights for the system it appeared on, and is still worth a play today.