Retro Game of the Day! Ice Hockey (NES)
Ice Hockey for the Nintendo Entertainment System, released in 1988 alongside it's ""NES Sports brother" of sorts, RC Pro-Am (well, they were featured on successive covers of Nintendo's Fun Club magazine)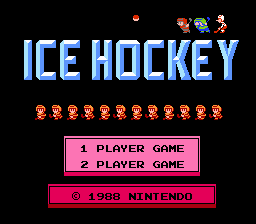 This is what one would consider the sercond wave of early NES releases, though when it arrived it was already looking rather dated compared to what the other licensees were putting out (Konami's Blades of Steel compared to this, is the perfect example)
Even so, despite it's simple and innocent appearance, Ice Hockey played a pretty mean game of the sport. It was definitely much more challenging than Blades! Lacking any type of real-world licensing (as was the style at the time), you'd pick your generic country representative teams, select your four players (average, lanky, and fat - implying raw power or speed). It was fun to hit the turbo button with one of these guys on the selection screen and watch his body quickly morph through the modes.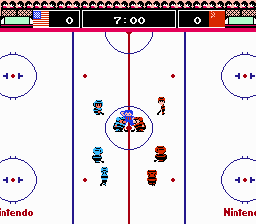 As stated, there was not much else to this game - simply put, as the name implies, it was Ice Hockey (and no Mario cameos in this game!) Straight up and it was all that you got!
Still, the game looked like a fast and fun good time (and anything that said "sports" and "2-Player simultaneous" meant it would be a good time) so I snapped it up. Nintendo also recommended in their magazine that one would do worse than to pick up their new accessory, the NES Max, for more ease in gliding one's character across the ice. Compared to the good old flat pad, in all of it's boxy splendor, the Max looked interesting and more forgiving - also the rotary pad appeared like it might make things a bit easier to navigate. In hindsight, I used the thing a handful of times and left it in the drawer most of the time..
Of course, no early 8-Bit NES sports title would be complete without some sort of halftime presentation. Roll on the Zambonis!
Here's a 3D render "Ode to 8-Bit Ice Hockey" which someone laboriously assembled. This would be fun to play now, come to think of it! Where's my Ice Hockey Wii Sport game? Get on the ball, Nintendo! Wii Winter Sports..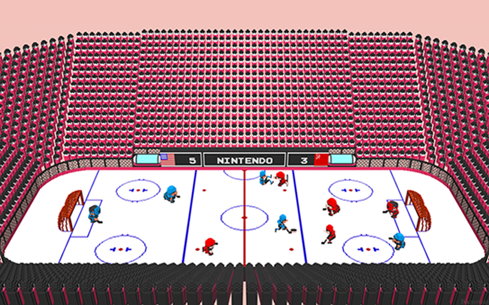 Long on looks, but still cute enough to be charming (with a bouncy old-fashioned Nintendo tune to boot), Ice Hockey is still an entertaining little game which will ruthlessly hand any player their butt time and time again. Step up and see.
Retro Game of the Day - Archives