PolyglotGamedev is an opensource, no copyright resource, aimed at inspiring indie developers around the world to take the first step in going global with their games. It provides the bare bones for localizing small games. Larger, more ambitious projects will still need the help of professional services. Our initial goal has been to cover the 25 languages currently supported by Steam.

We have made very solid progress, with 17 languages at 100% completion.
The images below show an overview of the situation. ( images link to the spreadsheet )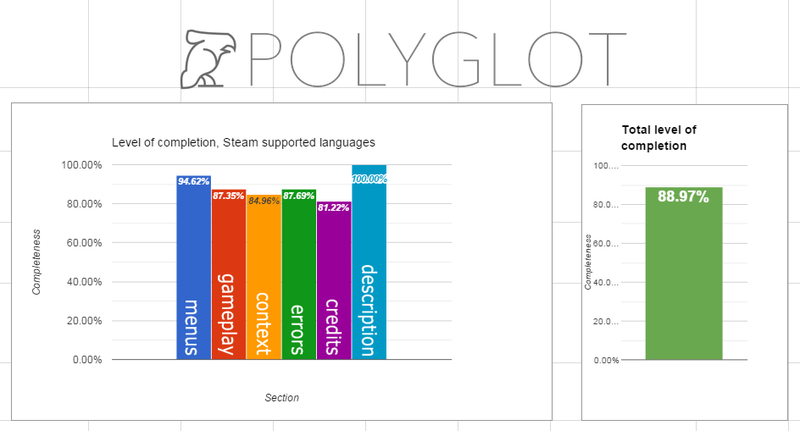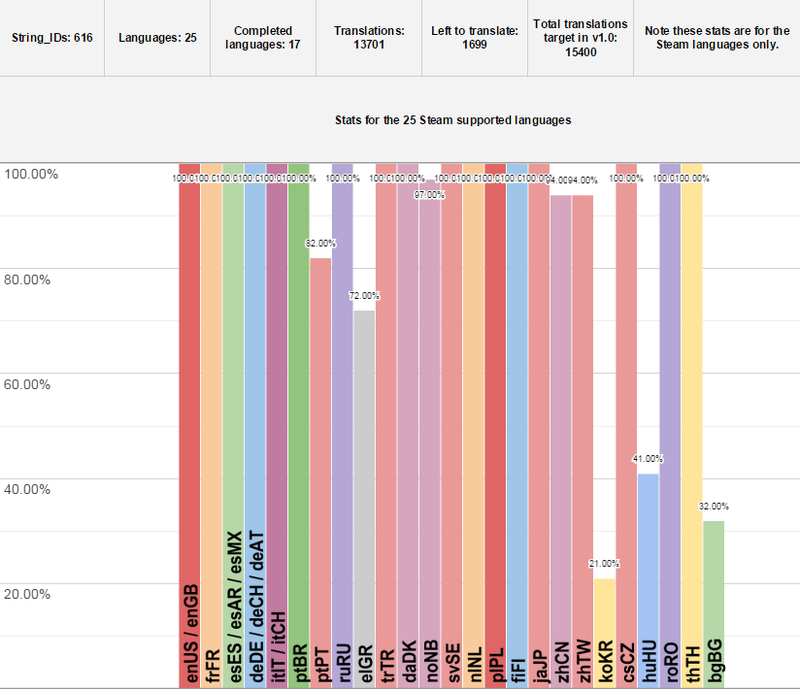 It's been a great month, with both new and old editors, and with the help anonymous contributors pumping away to bring us to just a smidgeon under 90% complete.
We send out our gratitude to all the people and sites who have taken interest in the project and spread the word, particularly Gamasutra, Petri Purho ( Kloonigames ) and Rami Ismail ( Vlambeer )!
I also wish to specially compliment the Hebrew translators, as they have reached 100% completion despite not being on the priority list of Steam supported languages.
Another strong addition has been several people who are working on STS, the Steam Translation Server. They have provided invaluable feedback and corrections, helping us be better aligned with the conventions used in the Steam service.
We should have some tools up soon also. I am working on a converter that will parse out some clean xml, and others have stated that they are tinkering with tools for Unity. We hope to have those tools ready for the 1.0 package which should be hitting GitHub some time next month.
Korean is our most painful point. I have sent out feelers to Korean universities, twitter and facebook pages, so far with no success. We are taking one more trawl through reddit tonight ( 27/8/2015 ). If anybody could help us on that front, our gratitude would be boundless. Perhaps the threat of Steam being banned from Korea affects the situation.
We noticed one major problem in the Credits section : the difficulties posed by gender and singular/plural force us to consider standardizing an approach where the titles would focus on the art itself, not the maker. For example, instead of 'Game Programmer' we would have 'Game Programming'. In this way we can avoid the problem completely. Only for the Lead positions we will add the gender specific terms. This change might not make it into the 1.0 version, but we will be actively working on making that part better for an update.
Finally, we are now in the process of verifying translations and hunting for contributors for the last missing strings.

We are confident we should have a very nice little package ready soon. For people wondering about things like expansion plans, the short version is : don't expect too much. The complexities of translation and localization are daunting, and our primary objective remains to provide a simple, compact and trouble-free resource for small indiegames.
Here are links to PolyglotGamedev project's Facebook and Twitter accounts.
Thank you for your attention!
- Tuomas Karmakallio, working on: