Presented by Keywords Studios
At Keywords Studios, we believe that AI is a creative collaborator and performance enhancer, with the potential to revolutionise the future of our industry.
We partner with our clients on their evolving requirements, enhancing their workflows through our three world-class AI products:
Mighty Games - Our Game Development and Testing platform, Mighty Build and Test, leverages the power of automation to increase code quality and efficiency by automatically testing and identifying defects, allowing issues to be resolved faster. Utilised as a DevOps tool early in the development cycle, to enhance the FQA experience or to simplify LQA testing with visual maps of all in-game text.

KantanAI - Our Translation Management platform, KantanAI, enables faster delivery of multilingual games. As an illustration, it successfully translated over 30 million words in 35 languages. This high throughput capability allowed for the completion of 3,000 projects per week, making it the preferred choice for one of the biggest game producers in the industry.

Helpshift - Our AI-driven Player Support platform Helpshift provides an efficient, personalised and modern support journey. Players get back to playing faster with over 50% automation, machine translation, and smart intent classification tailored to the games industry.
Games Industry: Pioneers in Automation
In this article, we'll take a deep dive into what an AI-driven player support journey can look like and explore the positive outcomes like faster issue resolutions, improved customer satisfaction(CSAT) scores, and ROI that game developers are yielding through the power of automation.
The video games industry has long been at the forefront of technological innovation. In recent years, the player support landscape has undergone remarkable AI and automation transformation fueled by amazing technological advances. However, the result has not been that player support agents are being replaced by AI. Rather, experiences are being streamlined for both players and support teams – and there's data to back it up.
Video games companies, in particular, have emerged as trailblazers in embracing AI-driven automation ahead of many other industries. The catalyst? When the world experienced lockdowns in 2020, the games industry saw a dramatic surge in new players and, subsequently, support queries. With support teams swamped, publishers had to act fast. As a result, many turned to AI-driven automation for assistance to keep up with the sheer scale. However, after the world returned from lockdowns, games companies started to realise the impact and how to optimise an AI and human workforce.
Fast forward to 2023 – Keywords Studios' player-first support technology company, Helpshift, just released its annual Digital Support Benchmark Report, which explores the trends and impacts of automation across the support journey. Among the observed game developers, 82% of support cases utilised automation – and that's without accounting for the number of times players went to access support but were able to immediately self-serve by viewing help center articles and FAQs!
These pioneers are truly settling into their automation transformation journeys. With a few years of workflow refinement under their belts, the data tells an exciting story of continuous improvement, including metrics like CSAT, resolution times, and issue distribution trends. The beauty of this transformation is that the more the AI within a system "learns" through data collected, the more support teams can use that feedback to increase their automation coverage and hone the resolution process over time.
Making AI Practical Across the Player Support Journey
Player support is a nuanced discipline, and automation isn't a leave-it-alone solution. Developers must understand player behavior, common problems encountered, how to build logical resolution pathways, and account for cultural and linguistic nuance to implement automation effectively. For this reason, games companies have created a practical support journey for players that leverages and coordinates the capabilities of AI, automation, and humans into a simple and effective workflow. When integrated thoughtfully, AI can produce a guided support experience that feels natural and intuitive for players, whether interacting with bots or human agents.
Here are a few key, practical ways games companies have integrated AI across the player support journey:
Leveraging AI to Understand Intent
The onset of an excellent support journey begins with understanding the player's intent. AI-driven intent classification, such as Helpshift's proprietary Smart Intents, uses Natural Language Processing (NLP) and AI modeling to quickly and accurately categorise user intent at the start of the support journey. Then, by combining the AI-detected intent with the contextual data, the support journey can be optimised and personalised for the specific player and their problem.
Combining Automated AI, Managed Workflows, and Humans
With their intent detected and context understood, multi-lingual AI tools, like Helpshift's AI Powered Answers, provide instant answers through self-serve recommendations selected from the existing support knowledge. For more complex support queries, the AI will direct the support journey through managed workflows to automatically solve the player's problem or collect additional information before connecting a human agent. When that human touch is needed, agents are empowered with critical information and intent.
Making it Dynamic
What if you need to offer unique options based on a player's location or VIP level? Segmentation is king and a critical component of an effective automation strategy. It is vital to ensure that contextual data from the game, user profile, and player's device is kept intact when an issue is received so that it can be leveraged to offer dynamic menu options. For example, you may only want to display a "Speak with an agent" menu option for premium users. Pairing segmentation with AI ensures the player sees only the most relevant recommendations.
A Recipe for Continuous Improvement
The benefits of AI and automation are long-term. AI clustering tools, like Helpshift's "Insights," identify common reasons players contact support and, when coupled with automated support feedback bots, enable teams to laser-focus on which knowledge base content and workflows to optimise, allowing continuous tailoring and enhancement of player experiences. With higher responsiveness to CSAT surveys, teams can understand player sentiment toward the game and support experience, and make better data-driven decisions.
With this knowledge, many Helpshift customers are achieving upwards of 95% of support conversations classified into a common set of problems. The following table represents the combined issue clustering identified by Helpshif's "Insights" AI for the most common reasons players contact support in a game.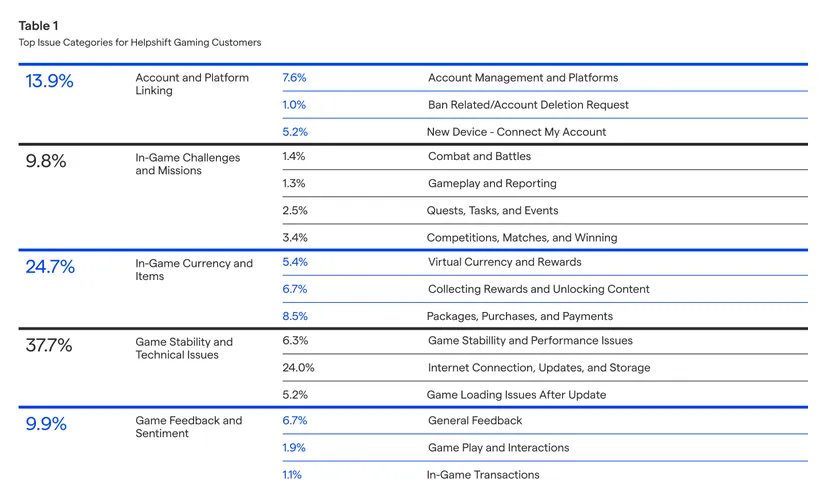 Thinking and Acting Global with AI
Expanding into new markets can be costly, especially when sourcing multilingual agents. However, global support can now be easily accessible and support teams can staff more efficiently, not limited by the availability of specific language speakers. This year, Keywords Studios and Helpshift introduced Language AI, a machine translation technology built into the Helpshift platform. It offers precise and context-aware translations for seamless communication between agents and players. Early adopters have seen an average of 30% cost reduction for non-English tickets.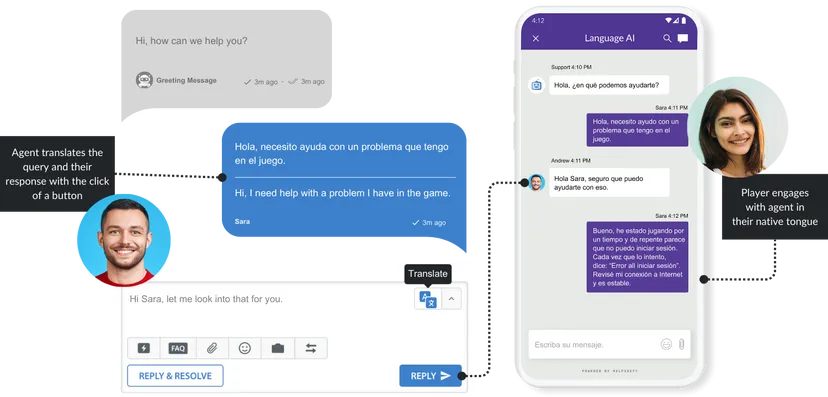 Automation's Impact on Customer Satisfaction
Efficiency is crucial for business success and agent workload, but not at the expense of player happiness. CSAT scores measure the impact of support experiences, including resolution effectiveness, communication quality, speed, and overall experience. Human Time to First Response (HTTFR) and Time to Resolution (TTR) can be leading indicators for CSAT, with quicker times typically resulting in higher scores.
Helpshift's benchmark report revealed that automation reduces HTTFR by frontloading some of the work so agents spend less time checking backend systems and verifying account details. Automation produced 37% faster average HTTFR for the games companies observed. Perhaps even more exciting is that fully automated resolutions yielded 83% faster TTR than manual ones, and partially automated resolutions were 32% faster.
As more support teams integrate machine translation like Language AI into their tech stacks, overall response times will increase. After integrating Language AI, we've seen average human response times for some customers reduced from 24+ hours to under 10 minutes for non-English tickets.
So, the question you're undoubtedly waiting for… did CSAT scores suffer? No! While the average CSAT for fully automated resolutions was slightly lower (3.8) than those handled manually (4.0), the CSAT for partially automated resolutions was highest (4.2). This trend follows what was observed in the 2022 benchmark report, indicating two things:
There has indeed been continuous improvement within these brands' automation journeys.

Players prefer when their problems are solved by bots and humans working together.
A Bright Future for Player Support
As player support leaders look ahead, it is clear that AI and automation are pivotal drivers of process improvement and player satisfaction. Game developers pursuing implementing these technologies are strategically shifting their operations to thrive in the digital landscape, optimising costs, meeting evolving player expectations, and fostering their games' longevity and success.
To further explore the data cited in this article, access Helpshift's 2023 Digital Support Benchmark Report.
Imagine More for your Game
At Keywords Studios, our global experts consistently explore and evaluate emerging AI applications to enhance workflows for both our clients and our team. Supported by a dedicated group of over 150 skilled AI engineers, who specialise in integrating Large Language Model (LLMs) use cases, and our player support experts specialised in optimising Helpshift automation workflows for the best player experience, we harness the power of AI to shape the future of video games.
About Keywords Studios
Keywords Studios is an international provider of creative and technology-enabled solutions to the global video games and entertainment industries. Established in 1998, and now with over 70 facilities in 26 countries strategically located in Asia, Australia, the Americas, and Europe, it provides services across the entire content development life cycle through its Create, Globalize and Engage service lines.
Keywords Studios has a strong market position, providing services to 24 of the top 25 most prominent games companies. Across the games and entertainment industry, clients include Activision Blizzard, Bandai Namco, Bethesda, Electronic Arts, Epic Games, Konami, Microsoft, Netflix, Riot Games, Square Enix, Supercell, TakeTwo, Tencent and Ubisoft. Recent titles worked on include Diablo IV, Hogwarts Legacy, Elden Ring, Fortnite, Valorant, League of Legends, Clash Royale and Doom Eternal. Keywords Studios is listed on AIM, the London Stock Exchange regulated market (KWS.L).