We've just released our video devlog for Espresso Tycoon on the YouTube channel: https://youtu.be/9Ryc5YnMv1w
In these short videos, we are going to present the newest information about Espresso Tycoon. We want to be close to the players, that's why we want to share a lot of news about our game and the production process.
In the first video of our devlog you can see that we added blinking and looking in different directions to our characters, there is the first version of UIs connected with customers, employees, and decorations, etc. Check this out: https://youtu.be/9Ryc5YnMv1w
And all of these features are bringing us closer to the release of the free demo version of Espresso Tycoon – which is going to be ready by the end of this year. The whole game is going to be ready in late 2022, so… next year!
Let me also remind some information about the Espresso Tycoon: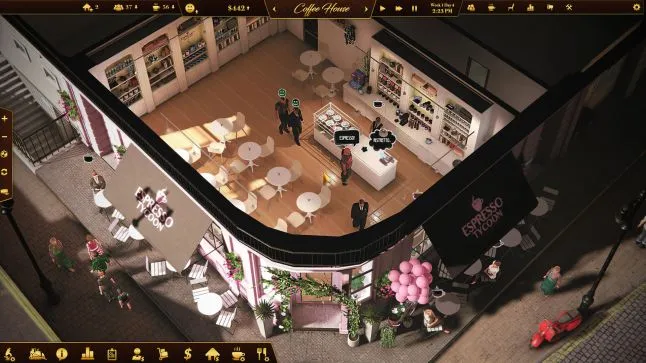 We have already released the Steam page of Espresso Tycoon- https://bit.ly/3tXqgNA.
Espresso Tycoon is a brand-new approach to the old, wonderful tycoon games you remember from your childhood. You will deal with hardcore management and an economy full of variable structures, connections, and solutions. The best of the best will be able to build a successful coffee business – and possibly a whole coffee empire.
Coffee is our hero!
Setting, decor, service – all are important to create a successful coffee business. But let's be honest, coffee is the hero here. You'll have to choose from different coffee grounds (but first - get to know your customers' preferences), add the appropriate amount of water and milk and finish up the coffee with the beautiful latte art on top. Our 3D coffee editor will help you in creating even the craziest recipe!
Prepare for building your own coffee business!