You have created an amazing game. It is fun, addictive, and engaging. But no matter how good it is, the lifeline of any game is its audience. And the world is your ambition.
By now, Localization is a customary process in the video game industry, thanks in part to larger studios that continue to vouch for its ROI and various annual surveys about video gaming trends. Google's Mobile Insights Report for 2022 was stating that 90% of players deem it important. And for very good reasons! It has enabled players in an increasingly larger number of countries to play in the language they feel most at ease with, driving up revenue and retention. Yet, our industry continues to make fundamental errors at a strategic level when planning for localization: it forgets that it is but a single part of a challenging process that makes any digital product go global.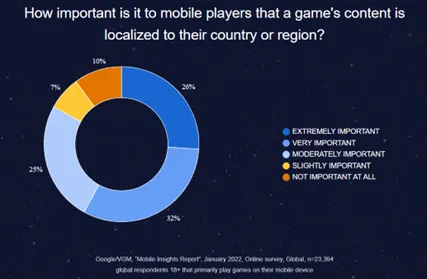 Let's step away from video games for a minute. When building a new app or website, an internationalization strategy needs to be considered very early on. Why wouldn't we? The world is a diverse place, with an unfathomable number of scenarios stemming from international mobility. Imagine being a Japanese-native living in the US and vacationing in Germany. How would that work for an e-commerce website or a travel agency? What language should be offered, and for which country? Have you ever struggled to complete a transaction because you were unable to enter a phone number or postal code that did not match the regional UX specifications?
To avoid these pitfalls, a good internationalization process needs to be holistic, from the product's inception to its live operations:
Planning
Design
Development
Localization
LQA
Maintenance
What markets are being considered? What languages or alphabets do they read? Should the UX work the same? Should the information you collect be the same? If addressed early, many of these considerations can help the development team prepare adequately for the hurdles to come.
The same goes for a video game, and games as a service even more so. But then, why don't we replicate this proven practice in our industry? Why don't we speak more about "Internationalization" instead of just "Localization"? And why don't we set the right strategy for our game instead of paying for our miscalculations during design and development?
There is a sense in our field that video games are universal by design, already accessible to everyone in their original form. Frankly, it's a convenient lie we tell ourselves. In the western world especially, where the video game industry is extremely English-centric, it is easy to forget that the way the audience will read, perceive, and interact with the game might change drastically depending on the region. This may be why efforts to localize a game are almost perceived as a luxury, a burden to leave until the end, constrained by what remains of the budget. Is the alternative that much more expensive?
Quite the opposite. Investing in your Internationalization strategy early on is often cheaper in the long run. By setting the right mandate, studios can avoid many of the unforeseen and unnecessary expenses brought by translating redundant or outdated text, last minutes rewrites, and bothersome bug fixing they've become accustomed with later. After all, shouldn't we build for adaptability right away rather than forcibly tinker with something rigid each time an issue arises? And do you really need one more wordplay when you'll be paying 8 or 14 times for it?
With this in mind, let's go back to our Internationalization process and attempt a series of ground rules that fits the specifics of our field:
Consider the workflow down the line and the information you'll need to communicate to your team and partners.
Consider targeted markets when introducing themes or designing features, and make the in-game text language-agnostic so it doesn't rely too heavily on the English syntax & grammar.
Build for flexibility and adaptability.
Plan the content localization to minimize costly retranslations.
Plan for LQA to ensure localized builds will be functional, compliant, and offer the right player experience.
Establish a workflow for live operations that gives time and space for localization efforts.
What does it look like in practice? Let's review a few examples:
Will you be working with an internal localization team, an LSP, or development services specialized in video games (e.g. Amber, etc.)?
Can you design a name maker for your players that considers the variation in genders, plurals, and syntax that might be needed in localized builds?
Can the UX adapt properly to alphabets of different vertical sizes (e.g. Thai)?
Are your teams still working on these features, or is it safe to lock them in translation?
Is the translated text confusing, or is the larger alphabet creating an offset that prevents players from interacting with important features?
Are the releases of new features scheduled with localization and LQA in mind?
Now if it seems like a lot to think about, imagine being three weeks away from your scheduled release. Because any development team will need to think about these eventually.
Internationalization helps your product, your game, align with its global ambition. It requires thorough planning, rigorous testing, and continuous iteration to get it right; but your budget will be better for it. In the long run, it will have the incredible benefit of sparing your team the worst kinds of migraines at the worst possible time. Because while English seems universal, it's only a mirage; and other countries might struggle to read the very characters that seems so obvious to the development team.
At the incipit of this story, it is important to remember the ever-important question: where should I launch my game? Everything will fall into place once this is known and you adapt to it. My advice? Reach out early on to your in-house team or trusted vendor to establish an internationalization strategy, make localization a part of design and development, test your localized builds, and iterate until you get it right. Doing so will help your game reach new heights of success in markets around the world.