We were in the middle of an ordinary team meeting, just about to order our lunch. Then, with a small bleep, an email notification popped up.
And just like that, we got official rating from German regulators and we could finally release our game in Germany. ​​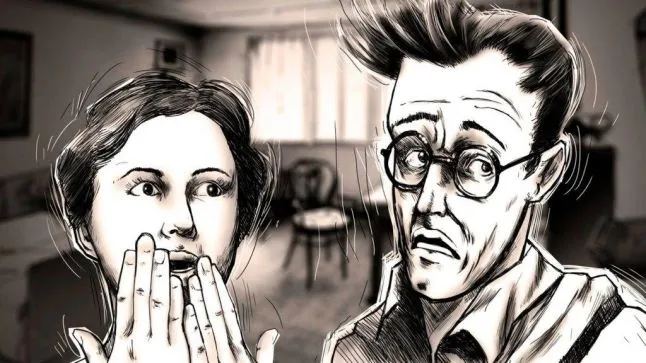 Attentat 1942 is a historically accurate game about atrocities of Nazi regime in Czechoslovakia during occupation by Third Reich. As such, it contains Nazi symbols. Entering the German market with swastikas and without an official "stamp" could mean a lawsuit.
Not being able to present our game to German audience felt wrong. The game was done, polished and ready to ship. It was already available in most countries around the world. But we couldn't pull the lever and ublock it for German players. Or we could pull it and risk dragging our team and Charles University to court.
That changed with that email. Enclosed within it was our brand new 12+ rating, issued by the German regulatory office USK (Entertainment Software Self-Regulation Body). A seal of approval, a stamp that allows us to distribute Attentat 1942 to our German neighbors.
We felt relieved, excited, happy and - we have to admit - kind of victorious, because the journey to get our game published in Germany took a really long time. Let us show you how we got there.
Game about Third Reich's crimes not available in Germany?
Attentat 1942 was released on Steam a year ago, on October 31, 2017. It deals with the assassination of Reinhard Heydrich, ruler of the Nazi-occupied Czech lands. It is based on extensive research conducted by professional historians and on testimonies of survivors. The game combines interactive comics, video-interviews and archival film footage - we want to show the profound impact the war and the totalitarian regime had on the lives and minds of ordinary people. And it looks like we succeeded.
Just to quote a few Steam reviews: "Definitely a unique game, if you have even the slightest interest in events depicted, I thoroughly recommend it." - "It's a fascinating interactive experience." - "Fantastic idea, would like to see more games like it."
We were so happy that our hard work of several years had paid off and people all around the world were voicing how Attentat 1942 helped them to understand what Nazi totality was like in Bohemia.
But our happiness was diluted by the fact that people from our neighbor country, coincidentally also the third largest gaming market, couldn't play it. If you were a German player, searching for Attentat 1942 in any game store would return nothing.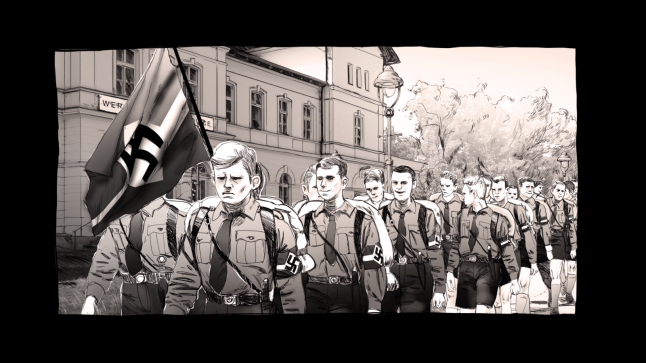 Documentarists could, developers couldn't
Why? §86a of the German Criminal Code forbids the use of "symbols of unconstitutional organizations", a policy that was adopted after World War II. The only exception is "the context of art or science, research of teaching" which is widely used by book authors, documentarists, theatres and museums. And games, right? Right?
Well, not until recently and here's when the USK we already mentioned comes in. Established in 1994, USK is a private regulatory body whose stamp would protect us from protracted trial. And until lately, it categorically didn't allow any game with Nazi symbols. Every applicant had to declare that their game didn't have any unconstitutional symbolism in it. You had either to change your game or give up. What was created as a measure against games being used as a means of promoting horrendous ideologies became an obstacle for games that have opposite intentions.
Creators of Wolfenstein 3D had to make a special version without Hitler or any Nazi symbols. Just Nazi-like-enough but not really Nazi, that it would not get approved. What was an option for a shooter was not for Attentat 1942, though. How to make a historically accurate game about Nazi period without Nazi symbols? That was impossible.
And it gets even more absurd.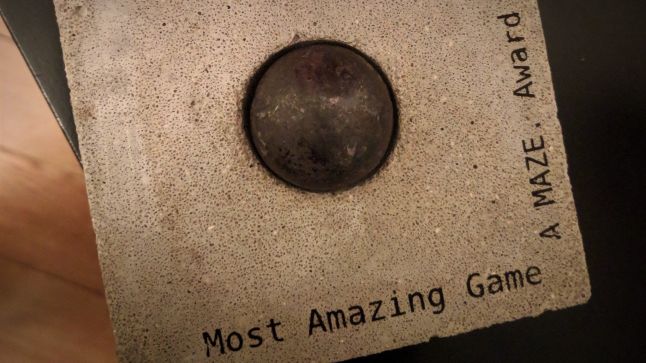 Fast-forward. It's May 2018 and we've just won the "Most Amazing Game" award at A MAZE festival. To be honest: a huge success! But we couldn't show the game at the festival and the jury had to play it behind closed doors. Why? Because A MAZE takes place in Berlin, Germany and without the USK rating, Attentat 1942 could not be publicly exhibited (or, more precisely, the organizers of the festival decided they don't want to risk a lawsuit).
Our friends, developers of Through the Darkest of Times, a game about civil resistance during Third Reich, wrote about us in their Gamasutra blog post about their struggles (which we urge you to read) this:
"To emphasise this: A historical game about an attack on one of the worst German Nazi criminals, made in the country of their historical victims, could not be shown nor distributed in the country of the historical perpetrators due to a law made to protect the people from Nazism."
We found allies among A MAZE organizers. They were unhappy that they couldn't show our game without risking a legal recourse, so they decided to open the debate. A panel discussion was staged, people met and discussed the issue. We learned a lot about the legal details involved and felt immense support. While we left A MAZE happy, the joy was a little bittersweet.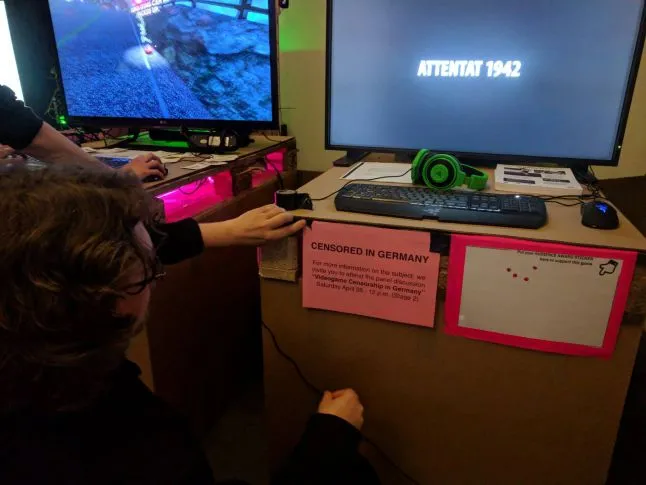 The times they are a-changin'
We thought at length what to do, because we really felt that Attentat 1942 should be available in Germany. There was the option of releasing the game without USK rating, but that would mean risking a long and uncertain lawsuit for Charles University and the Czech Academy of Sciences. Particularly our historians insisted on following German denazification laws and established procedures and did not want to release the game in Germany without official age rating. Changing the game also didn't make much sense as we didn't want to give up historical accuracy. That's why we decided to complete the German translation, apply to USK for a rating and if being dismissed due to Nazi symbolism, oppose this decision in court and hope for a verdict in our favor.
And then a surprise came. On 9th of August, German "Oberste Landesjugendbehörde", the highest youth-protection office, changed the rules which bind USK. Developers wanting to get an USK rating now didn't have to certify that their work doesn't contain any unconstitutional symbolism. Games would be reviewed one-by-one, individually judged with regards to their social adequacy. But what it would mean in practice, that was still uncertain...
We submitted Attentat 1942 for rating, hoping for the best. We were among the first ones and nobody knew what to expect. In principle, USK could still refuse our game. It was up to them.
We were waiting, with German translation and website ready.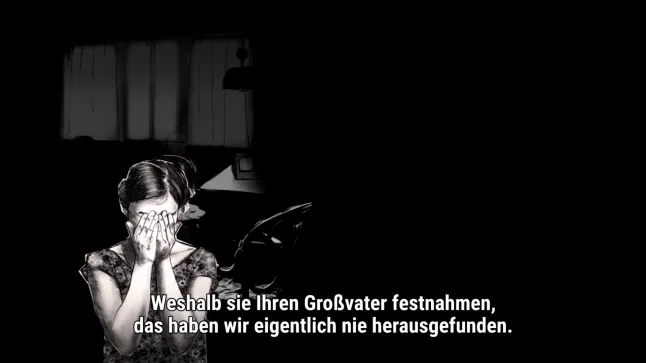 Together, on the road to future
And that takes us back to the beginning. Our friends at Through the Darkest of Times got their demo approved by USK and could show their game at Gamescom. Developers of the mobile game My Child: Lebensborn about raising an enemy's child in a post-war society got the rating too. Our hopes were up, but we resisted the urge to cheer aloud.
Then, on September 13 that email came and the following week we launched Attentat 1942 in Germany as the first officially released PC game with Nazi symbolism after the USK policy change.
We sent out several emails, clicked a few buttons in the store admin pages and just like that, German players could buy our game and immerse themselves in the dark realities of the Nazi occupation.
To be honest: it feels great. We are honored to finally present Attentat 1942 to German players, as we think reflecting on history is important. And it seems like German players and public thinks so too. We got a lot of attention from German media including a piece in Spiegel, positive reviews, a spike in our downloads graph and most importantly, a lot of support from the players.
The rating itself is just a little virtual stamp with two numbers and a plus sign. But the satisfaction is innumerable.