They are the professional analysts whose job it is to research, keep track of, advise their clients, and opine to the media about the gaming business. Analyze This cuts right to the chase: Rather than reporting on a subject, and throwing in quotes by analysts to support or refute a point, Gamasutra offers up a timely question pertaining to the business side of the video game industry and simply lets the analysts offer their thoughts directly to you. Each person's opinion is his own and will (probably) not necessarily agree with their fellow colleagues'.
The Nintendo DS is approaching 50 million units sold worldwide, and the Wii is about to soon match the sales number of the Xbox 360 (approximately 10 million worldwide). The early hype for the current generation of consoles originally focused on the Xbox 360 and PS3, and, thus, most publishers banked their game development futures on these two platforms. But now business plans of the major third-parties are shifting towards the Nintendo consoles.
We asked Nick Williams of GamerMetrics, Michael Pachter of Wedbush Morgan Securities, and Billy Pidgeon of IDC:
Do you think game publishers underestimated the appeal of the Nintendo DS and Wii, and put too much faith on the PS3 and Xbox 360?
Which publishers have capitalized on the rise of the Wii and DS best? Which have fared worst?
Do you have advice for other publishers looking to make money off of the Wii and DS?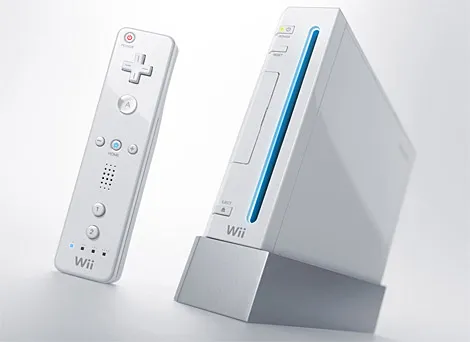 ---
On whether publishers underestimated the Wii and DS: Many publishers adopted a wait-and-see approach with the Wii and DS, which is understandable given Nintendo's ambitious mass-market strategy and unproven new technologies. Historically, the success of Nintendo's platforms has been closely tied to its home-grown franchises, and up until recently, the Wii and the DS had been no different.
But now that both platforms are creating new market opportunities, third-party publishers feel compelled to capitalize on the large installed bases and diversify their software offerings to mesh with the new audiences.
So, yes, third-party publishers underestimated the popularity of the DS and the Wii; however, Nintendo's platforms have always been difficult for outsiders to conquer. Now that Nintendo's platforms are starting to lose their core gamer stigma, the opportunity is certainly there for these publishers to step up to the plate. Case in point: Electronic Arts CEO John Riccitiello mentioned that EA was on "the wrong horse" and that the company would be shifting its strategy to account for the Wii's success.
On which publishers have fared best and worst: The epicenter of the DS movement is unquestionably in Japan. Third-party Japanese publishers such as Namco Bandai, Square-Enix, Konami, Capcom and Sega have been able to capitalize on the rise of the DS with titles that are popular in the Japanese market but also resonate with international audiences.
It is Nintendo, however, that has profited most from the DS' success. On the software front, it has performed a masterful balancing act between driving mass market adoption and retaining traditional gamers. This trend looks to continue into the 2007 holiday season, thanks to a diverse Nintendo software lineup that includes Brain Age 2, Flash Focus and The Legend of Zelda: Phantom Hourglass.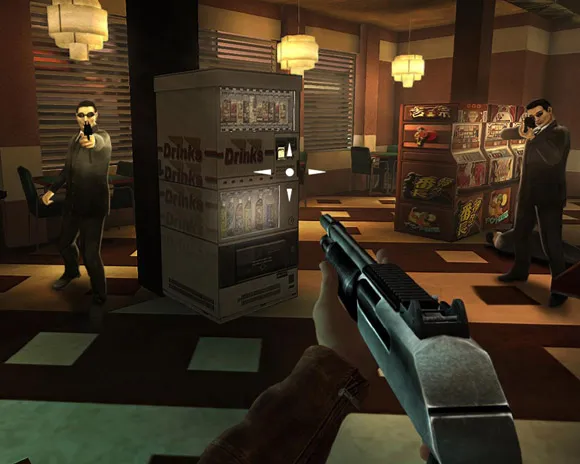 Ubisoft's Wii exclusive launch title Red Steel

Moving onto the Wii: Clearly, most publishers were reluctant to invest significant portions of their development resources into the console, prior to launch. Ubisoft, on the other hand, noticed the potential early on and has since generated the second most software revenue of any Wii publisher in the U.S. behind Nintendo [according to The NPD Group] thanks to titles like Red Steel and Rayman: Raving Rabbids.
It is worth noting that as of July 2007, Ubisoft has published more Wii titles than Nintendo, excluding virtual console titles -- a clear indicator of its commitment to the platform. Publishers that have missed the boat, include Take-Two Interactive and Vivendi Games, and it should be interesting to see how these companies respond to the rise of the Wii and DS.
On advice to publishers looking to capitalize on the Wii and DS: It is vital for publishers to adjust with the spirit of the times, but it's also important that they don't overcompensate in their strategies and lose sight of their core values.
So my advice would be to explore family-oriented software for the Wii and DS, without sacrificing key franchises and licenses. The proliferation of peripherals, especially on the Wii, should provide plenty of opportunities for developers to enhance current franchises. The Wii Balance Board, for example, could provide a completely fresh experience for all kinds of gamers.
Could you imagine a Grand Theft Auto game where you actually run out of breath while trying to outrun the cops? Or, how about a Tony Hawk game where you can simulate real-life skating tricks? Or even a Madden game where gamers control the movement of the quarterback with unprecedented precision? If done in the right way, these types of games could bridge the gap between casual gamers looking for a fun workout and core gamers looking for a unique gaming experience.
---

[Michael Pachter, Wedbush Morgan Securities]
On whether publishers underestimated the Wii and DS: It's hard to criticize anyone for putting too much faith in the PS3, as most [publishers] haven't created "cutting edge" titles yet for that platform. Most of the PS3 titles so far have been perennial titles, like Madden, Tony Hawk, etc.. And I don't think that the publishers have "put too much faith" in the 360, as that platform and [its] games are performing well.
Rather, I'd say that most failed to capitalize on the DS and Wii opportunity. The exception on the DS side is THQ, which has made every game it can for the platform. On the Wii side, Ubisoft took a big chance by making ten games for the [Wii] launch window, and it has performed very well, so far. I think that the others will catch up no later than early next year.
On which publishers have fared best and worst: Ubisoft by far has capitalized best on the Wii with Rayman and Red Steel. I think Ubisoft has been smart on the DS as well, with its My Coach, Imagine, and Petz lines all planned for this fall.
The others have primarily made only brand extensions for the Wii and DS. That all changes with Boogie from EA, which looks like a real winner. Also, Activision will get Guitar Hero out on the Wii before MTV gets Rock Band out, and I think that will give them an advantage.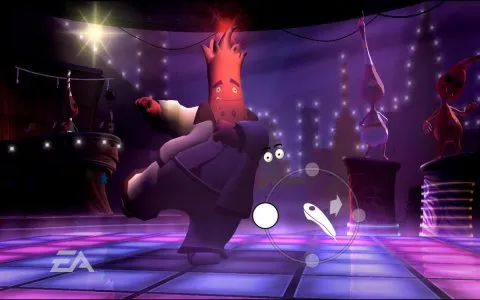 EA's Wii-exclusive rhythm game Boogie
Take-Two is probably the worst on the Wii and DS, having ignored both until now. I don't think that its Carnival Games will be a huge seller. The Bigs on Wii is fun, but not very innovative.
On advice to publishers looking to capitalize on the Wii and DS: I think that the best thing for the publishers to do is innovate. For example, on the DS, Ubisoft plans an English-Spanish and English-French translation game, emulating the success of an English-Japanese game released in Japan. The company is also producing Jam Sessions. All of these are relatively inexpensive [to develop], and should make money.
---
On whether publishers underestimated the Wii and DS: Some publishers underestimated the retail performance of the Sony PS2 as well. During holiday 2006, I think the console vendors, including Nintendo, were surprised by hardware and software sales on Wii, DS and PS2 and by games such as Guitar Hero. Guitar Hero in particular is an indicator that the market is expanding.
Publishers such as Electronic Arts and Vivendi Universal allocating development resources to Xbox 360 and PS3 early on was not necessarily a mistake. Development for those platforms will take more time to create high-production value game experiences for hardcore gamers. The problem is that the installed bases of Xbox 360 and PS3 have not grown to reach publishers' and retailers' expectations. I think the Xbox 360 and PS3 will see more hardware uptake going into 2008.
On which publishers have fared best and worst: I think Disney is a big winner. Their audience and Nintendo's overlap. Most Japanese-based companies, with the exception of Square Enix, have done well on DS and Wii; Atlus, Capcom, Konami and Sega have benefited. Ubisoft bet on the Nintendo platforms early on, and they've done well.
THQ was a big player on Nintendo in the past, but the company has been moving toward Xbox 360 and PS3 perhaps too aggressively lately. EA and other companies who tend to port versions across platforms without sufficient differentiation are losing out. Quick ports to Wii suffer graphically, and the game play is not optimized for the Wii remote.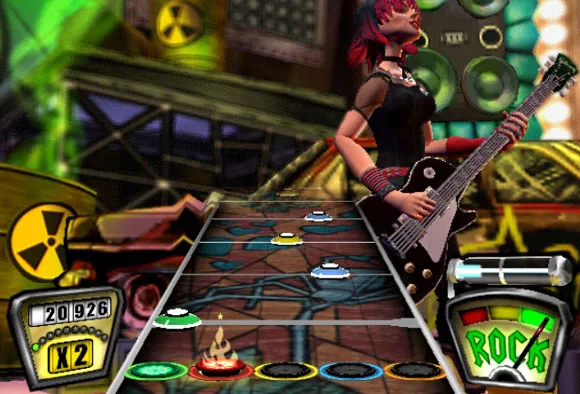 Guitar Hero's popularity, another sign that the market is expanding?

On advice to publishers looking to capitalize on the Wii and DS: The downside is coming in the form of a glut of games for the Wii and DS. Nintendo will try to maintain quality, but I worry that we'll see far too many crappy games for the Wii and DS. I'd like to see publishers take risks on the DS and Wii, as they can afford to try new things at lower costs. However, publishers tend to follow rather than innovate.
Publishers should take the time to create fun social experiences for a wider demographic and that take advantage of Nintendo's unique control interfaces. I think games with intuitive and alternative interfaces and a social aspect are not a fad, but will continue to impact the industry in this console cycle.
Publishers should not publish the same game across platforms, but should optimize versions for the hardware specs and demographic of the platform. Publishers ought to make unusual and unique content for a range of demographics, including the hardcore. A bigger market is waiting for publishers to make games that will entertain and amaze all sectors -- hardcore, mainstream, kids, tweens, everybody.
Got a business-related question concerning the games industry that you would like to suggest for discussion in Analyze This? Are you a professional analyst and would like to take part in this column? Email [email protected].