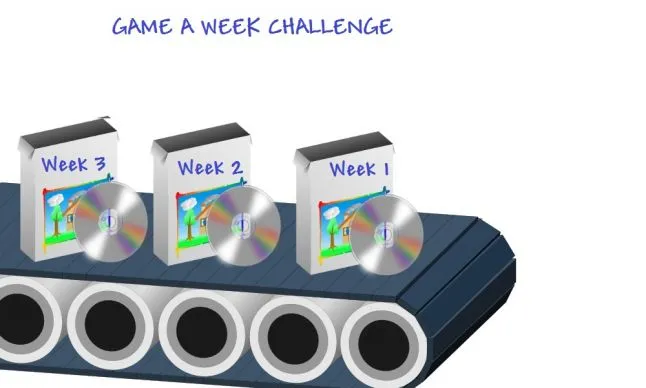 Intro
Many of us start to make games and never finish them, including myself. We also take way too much time obsessing about making the code perfect or doing the game the "right" way. Yes, that's me too. What can we do to overcome these problems? My solution is to take the game a week challenge. I'm going to make as many games as I can, set deadlines, focus on quantity and forget perfection.
The Story of the Pottery class
There once was a Pottery class in which half the students were ordered to make the best, most perfect vase that they could, while the other half of the class were told to make as many vases as they could. While half of the students were spending lots of time trying to perfect their vase, the other half were churning them out like clock-work. So, which half made the best vases? It was the half that made as many vases as they could.
Adriel Wallick's Game A Week Experience
Adriel Wallick
is a game developer that has been making a game a week for the past year. She made a
presentation
at GDC EU 2014 in which she discussed her experience making a game a week. I really recommend that you watch her video; it is both inspiring and informative.
My story
I've learned C# and Unity from various books and videos this past year. Recently I've decided to stop being a "monkey see, monkey do" developer and start making games without the tutorials! I began making one game that took way too long to not complete. Yea, that's right, not complete; it's sitting there in a project folder. One of my problems was that I found myself in a constant loop of analysis paralysis trying to make it "perfect."
"Quantity is more important than quality" Grant Cardone
As seen by the case of the pottery class when you start out, quality is not important, it's the least important thing. The most important thing is quantity, just churning out as many of whatever it is you're producing. Quality will come with more experience and practice. What's the best way to get more experience, and practice? Quantity! So when you're starting out in Game Dev or most things for that matter, go for quantity, the quality will eventually come.
My Game A week
The story about the class with vases and the story of Adriel Wallick, has inspired me to make a game a week for the next 52 weeks. Follow me on my
blog
as I share my progress. Every week I'll be posting a new game, a blog, and a full download of all Unity project code and assets. So, come to my
blog
, read my code, and tell me how "You shouldn't Instantiate and Destroy objects! Use Object Pooling!!!"
Call to Action
Who's with me? Who's just starting out in Game Dev and who's ready to start completing games!? Who's ready to take the game a week challenge? Let me know in the comments below.