ZED: Indie Devs craft a dreamscape unlike no other

By Katy England
Games as a medium have evolved over the years. Some of us older kids remember text-based games, and will only bring them up when we need to solidify our geek cred. Other games we recall with great fondness for their vision. Myst always comes up in this conversation – and it always comes up in conversations about ZED. Which isn't surprising considering one of the artists who brought three of the Ages of Myst to life is the founder of Eagre Games, Chuck Carter. Although Myst is iconic, ZED is more than just reliving the past. It's a whole new world.
Eagre Games is a vibrant indie studio trying to bring the dreamscape that is ZED to life, and there are many things that make it unique. Not the least of which is that it's based in Maine or that it has only a handful of people working diligently to bring something fresh and new to the gaming scene.
ZED is set within the dreams of an old man who reflects on his life and his death looming close. You are the agent in the dream that can help this man fulfill his last, unfinished project, by solving puzzles that change the very world around you and connect you to other parts of this impossible landscape – reconnecting parts of his mind. What you do as an agent will have a lasting effect on the world and the goals of the dreamer who's very mind you inhabit. Will you make the necessary changes – or will you destroy his last chance at leaving a mark in the waking world?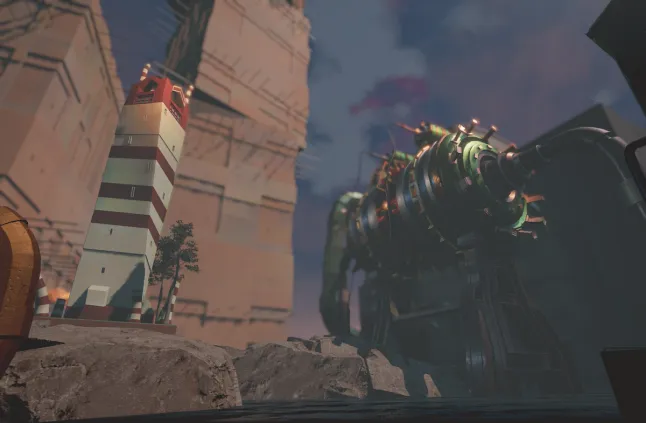 "In the end, you're trying to fix his mind through the environment. You will find a picture – something he has figured out, and you're one step closer to the goal of helping the Dreamer finish his final farewell," said Chuck Carter, Founder and Creative Director of Eagre Games. "Some of the puzzles will be fairly challenging, but you won't have to run to 20 different places to solve them. They won't be impossible or obtuse."
"Many people believe it plays and feels like the original Myst quite a bit, because of the look and feel. I think I may have had a slightly bigger impact on Myst than I thought, or maybe my art in some ways is Myst-like," said Carter, who has worked on 26 other video games including the Command and Conquer and Red Alert franchises, Marvel Ultimate Alliance 2, Nox, Pacman World Rally, Kyrandia and many others. But where Myst's art style felt Jules-Vernesqe, you'll see a fresh look in ZED. The game's dreamworld is like a carnival funhouse, with impossible architecture, wacky gravity, and menacing puzzles that call the player to make sense of the dreamworld's idiosyncrasies. Carter asks the player to imagine walking down a staircase that disappears behind you, then across a catwalk surrounded by distant spires that move away from you with each step you take. "In a dream, the world around you breathes, moves, and toys with you."
Carter also worked on TV shows like Babylon5 (as a digital Matte Painter) as well as having contributed work on Star Trek the Experience and Disney's Mission to Mars motion rides. His illustration and animation work has appeared on the BBC, National Geographic, US Dept. of Defense, Homeland Security, Scientific American, NASA, Caltech and JPL as well dozens of additional publications and organizations. He noted that video games are something that allow him the freedom to put all his creative ideas into a medium that really brings them to life. Much of his inspiration comes from his own dreams. Above all, ZED is about exploration without limits and the ability to have a tangible effect on the entire world. Things the player does will ultimately affect the outcome – for good or ill. And Carter has stated he is a big fan of allowing the player to go and explore wherever they wish without the developers hampering them with game mechanics.
Carter has been the lodestone for the project, but it has attracted talent from both near and far, including recent college graduates from Husson University in Bangor to developers who have worked on AAA games such as Bioshock: Infinite. Carter himself has worked on an incredible number of games spanning over 25 years in the entertainment industry, and has been contributing artwork to NASA since his work at Cyan.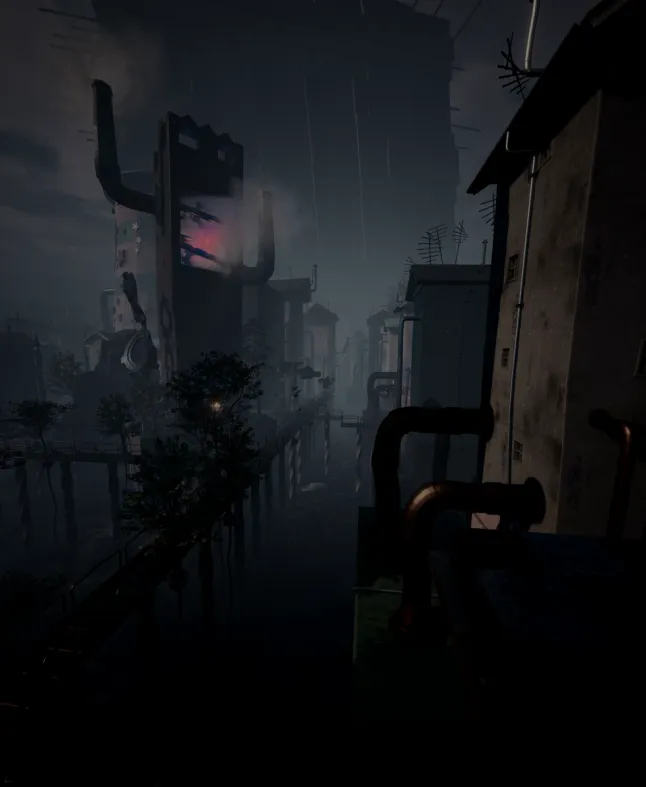 One of the biggest hurdles that Carter has fielded has come from Maine not being the most tech-friendly environment. Many local potential investors are unfamiliar with the gaming industry and how front-loaded the content is, which has made finding investment a challenge. As has had issues with finding the right fit for high-speed internet. Initially headquartered in Downtown Bangor, the internet wasn't up to the task of the scale of the file transfers needed by a game developer. Carter found a home at the Target Center in Orono, Maine where the fiber optic cable allowed him the level he needed to transfer such high res files back and forth.
In order to finalize ZED, Eagre has resorted to a crowdfunding campaign via Kickstarter. The Kickstarter is at over the halfway mark for the month, but there's still a ways to go and the team could use some help. The game is being developed by a small core of people, some from Maine, like Carter, but others from across the country, including Seth Mantye, Vice President and Producer of Eagre Games; Stephanie Frankiewicz, a designer; Josh Eckert marketing and design; Calvin Moisan, Unreal Engine developer, programmer and IT specialist; Joe Fielder, contributing artist and writer; Doug Goldsmith, contributing artist and conceptual illustrator; Alex Parish, contributing artist and musician; and intern James Cowin, contributing artist.
Frankiewicz teamed up with Carter a couple of years ago, and found they were on a similar creative wavelength and ended up writing a storyline for "Curio" one of Carter's other game projects that is related to the world of Zed. And Zed's storyline is similarly captivating for her.
"The idea that we're making a world that has puzzles and stories – creating a place that people want to visit and spend time in. It's a rare opportunity to craft that and I'm proud to be part of the team that does that."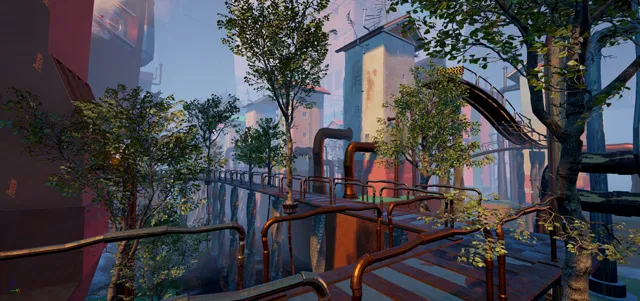 "Joe Fielder, who helped write Bioshock Infinite is putting together an extremely compelling storyline which I think is among the best of any game I've worked on," said Mantye. "A lot of people make comparisons to Myst, but ZED is going to stand on its own. It's dark, it's serious, it's complicated, it's heartwarming, it's fun, and in the end it's excellent. We have something really unique on our hands and all of us are very excited about moving forward with that."
Moisan is really enjoying working on a world where the puzzles effect the entire environment.
"Working on these puzzles, getting into them and trying to figure out how to make them work in code is the most exciting," he said. "Seeing it go from concept art to 3D assets to in-game environments is fun to witness, but the new and creative challenges which come with making our ideas actually work within the game is what motivates me the most."
Puzzle games fell off much of the radar for quite some time, either being mind-bogglingly difficult or so simplistic as to remove any challenge. The team wants to change the perception of puzzle games to use them as a story-telling device while still providing unique, compelling, and sometimes challenging gameplay.
"The most exciting thing is trying to push the puzzle genre forward and do something that is more narrative-heavy. We're bringing the inspiration of a few games together. Chuck has a much higher level of polish than most other indie studios and that is something that will really set our game apart," said Eckert.
There seems to be a shift in games. With the availability and advancement of new game development tools such as Unreal Engine 4 (which Eagre and many other puzzle games are using), many games of old are finding rebirth and fame, but one thing that sets ZED apart is not only its captivating visuals, but also the lack of violence as the mode of conflict.
"Lack of violence doesn't mean lack of conflict," said Carter. "The dreamer is dying and wants to finish his last gift, but he can't remember what he needs to do. You have to go in and reconnect those areas to finalize the project. The conflict is that at times the Dreamer, aware of your presence, doesn't understand why you're there and in some places he doesn't want to remember things from his past and puts up road blocks, trying to keep you out."
It's a type of storytelling that hasn't seen much play in mainstream gaming, but has been building a huge cult following and can't help but echo the roots of Myst. Carter draws on a lot of personal dream imagery to make the work in his dreamscape resonate with players. And based on the artwork that has been released thus far, Carter has a vivid and surreal dreamlife.
"When I talk to people they say, 'we needed this game and we didn't know we needed this game,'" said Frankiewicz.
When the Kickstarter reaches its goal, Carter said the team plans to shift into full production. Currently there is a demo for PC, Linux and Mac available from the Kickstarter page. And Eagre plans on doing a full VR version of the game to be released alongside the desktop versions.
For more information about ZED, you can visit them here; the Kickstarter campaign can be found here.