01 What is the accessibility feature in games?
Many people think that accessibility features are specifically designed for people with disabilities. However, in fact, ordinary people will also encounter some similar difficulties, such as using the accessible elevator in the subway station with luggage, or the need of reading subtitles because they can't hear the video clearly in a noisy subway, or wearing a mask during the pandemic and not being able to unlock their phones with Face ID, etc. These are all situational disabilities or temporary disabilities that almost everyone encounters every day.
Good accessibility design not only allows people with disabilities to smoothly play a game with good interactions, but also provides a better experience for ordinary users.
02 Are accessibility features important?
1. Industry trends
For games, the importance of accessibility has been put to an unprecedented level: in 2020 IGN started its first accessibility innovation award and nominated The Last of us 2, Assassin's Creed Valhalla, Borderlands, HyperDot and Watch Dogs: Legion. The Last of us 2, released in the same year, designed more than 60 accessibility features and won the IGN award. A fully blind player on YouTube burst into tears after successfully clearing the game.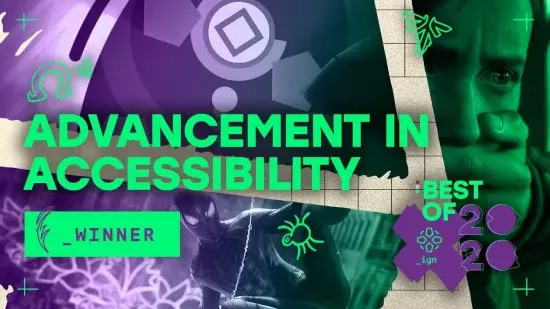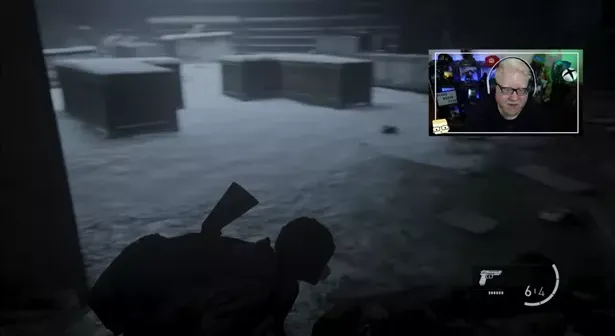 In terms of mobile games, PUBG Mobile has also launched a color blindness accessibility function, which is appreciated by global players.
For applications, China also vigorously promotes age-appropriate design, with Alipay, WeChat and bank apps launching caring versions of accessibility one after another.
2. Legal Compliance
21st Century Communications and Video Accessibility Act (CVAA) requires that all functional modules relating to communication (including, but not limited to, text, voice, and video) in video games released after January 1, 2019, must comply with its accessibility design requirements. In addition, since 2017, a growing number of U.S. commercial companies have been sued by consumers based on the CVAA or the ADA for neglecting to design their websites or apps for accessibility.
The chart below shows the annual trends for ADA digital accessibility concerned sues in 2020, and it is clear to see that the trend is moving upward.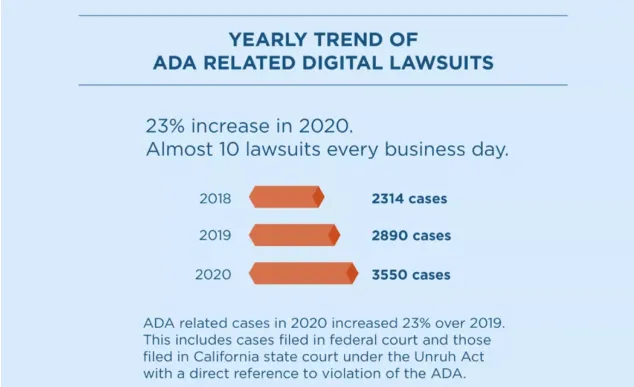 3. Market scale
According to the 2011 World Report on Disability, approximately 15% of the world's population experiences some form of disability (data from WHO World Health Organization). 1 in 7 people in the world has a permanent disability, not to mention the aforementioned situational and temporary disabilities. According to another previous report output by Thunderfire UX, the estimated size of the gaming market for people with disabilities in China is about 8.48 million.
03 Accessibility design in games
The Accessibility Guide to Gaming classifies accessibility featgures into six categories: motor, cognitive, visual, auditory, verbal, and integrated, and further classifies each category into three priority levels: basic, proficient, and advanced.
We scanned the world's AAA games and other popular games, and finally chose three games (Fortnite, Apex, PUBG Mobile, and The Last of us 2) to analyze their accessibility features, listing the advantages and disadvantages of accessibility design that are worth learning from and the disadvantages that need to be warned.

The following is an example of "The Last us 2", showing part of the research summary for reference.
The Last of US II
Accessibility page of The last of us 2: https://www.playstation.com/en-us/games/the-last-of-us-part-ii/accessibility/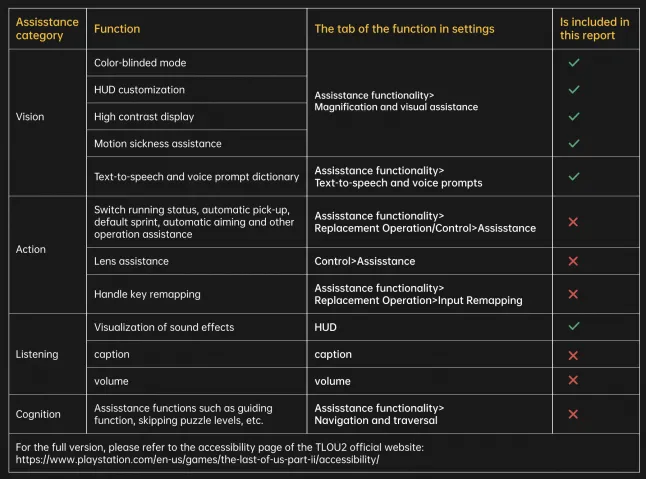 Feature 1: HUD customization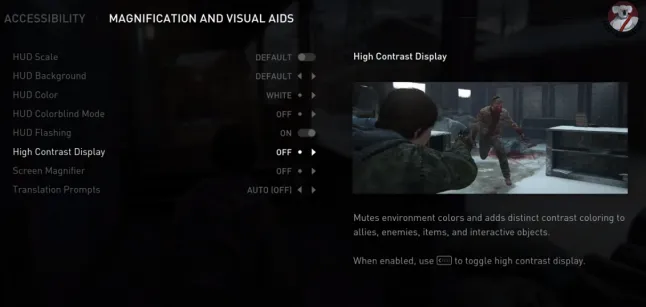 Settings: options>accessibility>magnification and visual aids
Priority: High
For your reference: 1. allow players to freely adjust the HUD size, background, color, and color-blind mode, etc. 2. provide three sets of color-blind schemes for the three HUD colors, and display them on the right side.
Feature 2: High contract display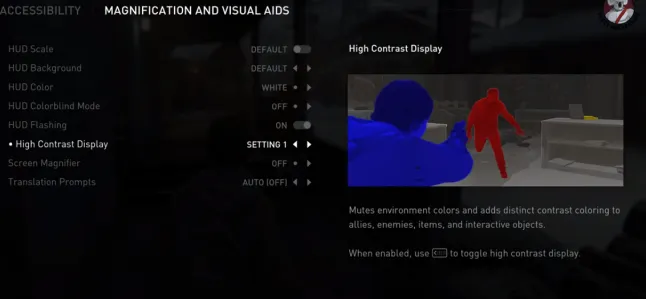 Settings: options>accessibility>magnification and visual aids
Priority: Low
For your reference: provide "high contrast display" configuration option, can reduce the environment color, and create contrast color for all kinds of interactive objects; to help low-vision players play the game more smoothly;
Potential problems: Sacrifice art quality and immersiveness experience
Feature 3: Awareness indicators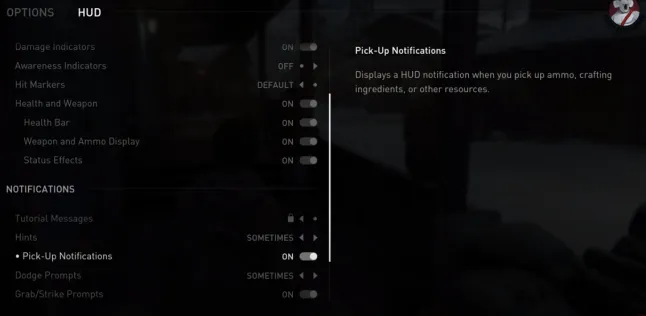 Settings: options>HUD>gameplay
Priority: High
For your reference:1. in the game, there would be special sound effect when detected by an enemy or killing enemies. Awareness indicators assist the hearing-impaired players to play smoothly; 2. Bushes on map prompting the direction of damage 3. When detected by an enemy, the center of the screen will appear white light bar, prompting the direction of the enemy.
Feature 4: Text-to-speech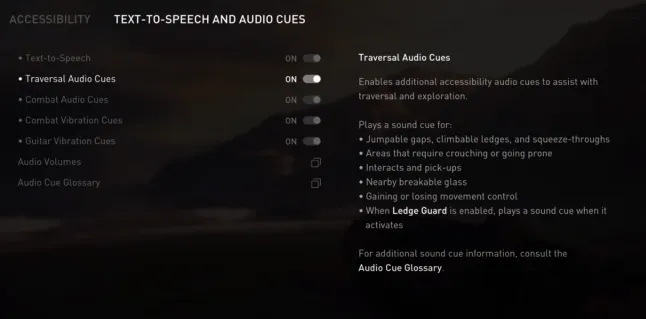 Settings: options>accessibility>text-to-speech and audio cues
Priority: Low
For your reference: to read all the contents displayed; Voice description of the character's current state (pose/blood/equipment, etc.); this feature helps visually impaired players to play smoothly to a great extent
Feature 5: Traversal audio cues
Settings: options>accessibility>text-to-speech and audio cues
Priority: Medium
For your reference: 1. Audio cues for all types of interactive scenarios to provide a voice reminder; 2. for different situations to provide a special sound as a reminder, and display it in the right panel; 3. combat vibration and combat audio trigger mechanism
Feature 6: subtitle direction
Settings: options>accessibility>subtitle direction
Priority: Low
04 Summary
1. the earlier accessibility design is considered, the lower the development costs and the better the results will be.
2. it is difficult for most designers to empathize deeply with people with disabilities, so we need to use all kinds of tools (such as eye masks, color blindness simulators, etc.)
3. integrate the concept of accessibility design into daily design process, because these features not only help people with disabilities to achieve basic needs and experience more life possibilities, but also may improve the life experience of everyone, including you and me here, in a subtle way.