The team of Renatus Media shared tips for game developers based on its own experience with creating a sequel called Bubble Chronicles Diamond Edition. This formed a solid base for a guide meant for every game developer who is considering whether to make a sequel or not.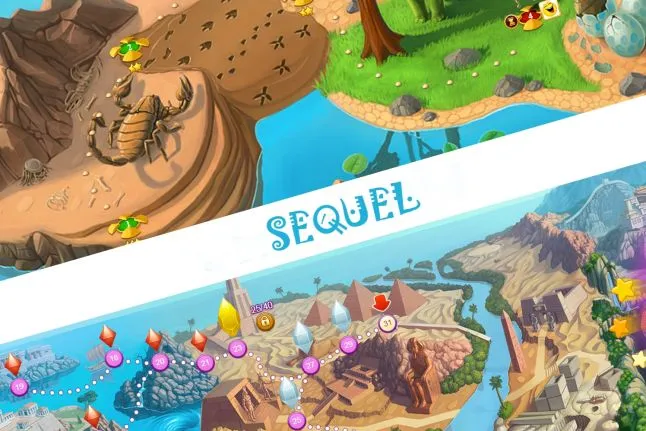 Bug fixing
First things first. Before getting down to something new, you should get a clear understanding of what was right and wrong with your previous project. Analyze all the main metrics that you've got to find the weak points. It is essential to avoid stepping on the same rake twice with your sequel and the best way to improving the quality of your second game. Think of sequel as a unique chance to fix all "bugs" that slipped out of your sight during the launch of original title.
Here's a check list of flaws that are most often found in an original game:
bad setting
style of drawing doesn't match the audience
wrong architectural solution
weak monetization system
ill-chosen platform for game launch
As soon as you know the problem by face, proceed to step-by-step planning of its solution. And outline in details what you expect to get afterwards. Do not trust words like 'success', think like a businessman and find real numbers to support your plan - estimate ARPU, lifetime value, and 1/3/7/14/30 day retention of your soon-to-be sequel.
Say, you've blamed it on the style of your game, concluding it does not quite match the target audience. The next thing you should do is have art properly redrawn, and watch the game metrics fly up high. That's the most probable scenario, as art is believed to be one of the key components in winning users' affection and loyalty. Keep that in mind.
Two games for the price of one
Sequel is the case when two games can benefit from one release.
You'll be surprised to see a huge gap between the budget of a from-scratch project and a sum you'd spend on development and marketing of sequel. First, you can use an old base of loyal users of the original game for promotional purposes, second, the launch of sequel will bring attention to the original title as well. And there will always be curious players who would want to take a shot at the original game and compare both experiences. Another money-saving aspect is development: slight modifications of game engine, server side and art will be enough for getting a good sequel and perfect for your pocket.
Addressing the fans of the original game is the most efficient solution in marketing strategy, but you should do it properly. Find the right words and tools which would convey that your new game has everything they've liked about the original one and even more. Convince them that your sequel is a better version of it.
And don't discount players who disliked the original title. There's a chance they might like your sequel, so it's definitely worth a try. Encourage them to test your second product - let them know you've polished your game, and all flaws are gone now.
Our main advice is: resist the temptation of over-skimping. There always has to be something new about your sequel.
Not everything new is well-forgotten old
The right combination of old and new is what makes sequel a success.
Players will hardly enjoy a blatant duplicate of the original title. Remember: every game must be unique and irreplaceble, in which case it will reach the right audience and justify all your efforts and investments.

Creation of a unique game experience requires a series of modifications in the first game. They can be conditionally divided into several types.
1) Structural.
Ask yourself: Is the structure of my game is a perfect match for genre? Is its functional used to the full extent? A 'No' answer to any of them means that the game structure needs to be updated.
Don't get too far in modifying the structure: every genre has its standards that must be respected. Ignore them - and you'll lose the bulk of users right on start. Users feel more comfortable playing the games with a familiar interface, ways of interacting with other users, and things like that. But if you're a daredevil planning some fundamental changes, please make sure to explain every new feature/mechanic to your users.
Imagine you are a player, follow the same way as he will for many times and add necessary functional. Don't be afraid of overburdening your tutorial with details - your goal is to make things simple for your users. Then they will stick with your game.
Bubble Chronicles Diamon Edition by Renatus is a good example of how fundamental changes can do good to your sequel. Here, the classical energy system of original game (1 life for 1 level) has been substituted for a bank of energy spent on making shots. The unlimited capacity of bank gives users an opportunity of refilling it at any time, with any energy amount, and playing levels for as long as they have it. The studio was first to introduce this system into a bubble shooting game. With it, all main metrics of the sequel got 2-3 times higher as compared to the original title.
2) Gameplay.
Modification of gameplay is another good way of creating a sequel. And the main thing here is to maintain the balance in your product: gameplay should be flexible and appropriate for the target audience.
There are a few alternatives that can lead straight to a well-balanced sequel.
Option #1: integration of additional functional (new boosters, additional game modes, complications of game mechanics). For example, the sequel Two Dots 2 features a totally new game mode, where player needs to get anchor tiles down to the bottom.
Option #2: blending of several game mechanics. Yes, you can experiment with mechanics to follow the latest game industry trends. A perfect blend may make your game a hit, but how can you tell when it's perfect? Our advice is to choose from a range of mechanics that are meant for the same groups of users as the original one. Otherwise, your pursuit of making a sequel 'for everyone' could end up with a sequel 'for no one'.
And always remember about the game balance while changing the gameplay. Your game should be equally simple and complicated. Players will quickly lose interest in your sequel, if it's too easy ot play or too hardcore to master.
3) Technical.
We live in the time of rapid technology advancement. Considering that it'll take you 6 months or more to launch a sequel after the original game, your second product should be optimized in accordance with state-of-the-art capabilities. And make sure to correct all major issues.
First of all, pay attention to the technical properties of game build: try to reduce its size and speed up loading.
And here are some more examples of high-quality sequels that have augmented the original title's success: Cut the Rope 2, Farmville 2, Candy Crush Soda Saga.
Follow these tips and soon your game will be in the list, too.
Meanwhile, ask questions, comment and share your own experience of creating sequels.
Let's make games together!
Check out Ievgen's blog about mobile apps & games: todaysweb.net