Please note: in this post I would use artwork from some popular games to elucidate the ideas of the article. As our team also creates map art, please don't mistake that the art work in the post are created by our team. And a big thanks to those developers who had released those great games!
Today almost every mobile game has a map, in this series of posts, I would evaluate the characteristics of maps of a few popular games: Bubble Witch 2 Saga, Jelly Splash, etc, from the point view of an art producer. If you're a game developer who's planning to have a map for your game, or an artist, this series is for you.
This is Part 4 of the posts, let's look into the fresh world of Jelly Splash.
Overview
Jelly Splash is a mobile & facebook match game. In the game there're many lovely Jelly figures, you remove them by connecting the same jelly in a row.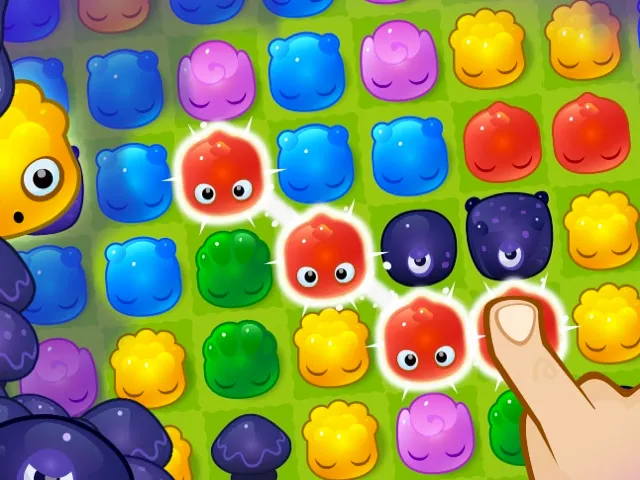 The art style is cute and simple. The art work takes minimal time & budget to finish, yet the appearance is pro-made. I think for developers who seek good budget and quality balance, Jelly Splash gives very good inspiration.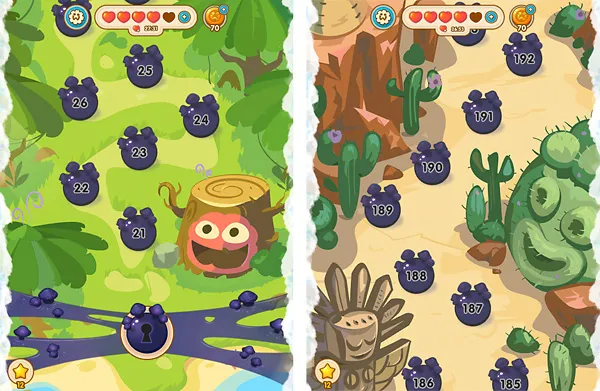 The biggest benefit of making art works in vector is that you can use the assets in whatever size of screen, high resolution or low.
Art production solution
The maps are simple vector style art. In comparison to other games with rich digital painting, the art style of this game is the simplest. Rich in design and simple in execution.
Themes
For the early zones, the theme is too general, mere representation of basic geological zones: islands, jungle, volcano, snow mountains.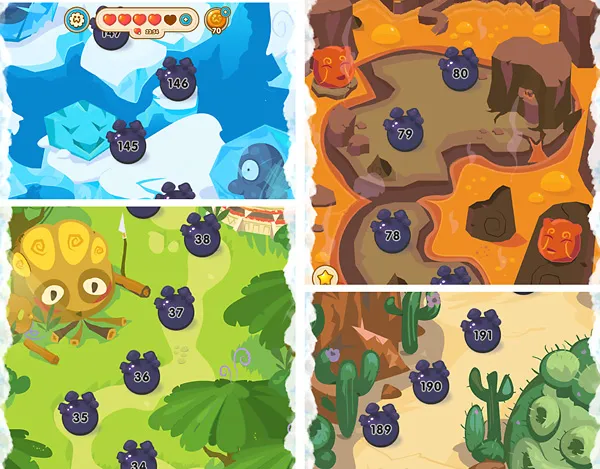 And in later zones, you can see many world famous sites are incorporated into the maps.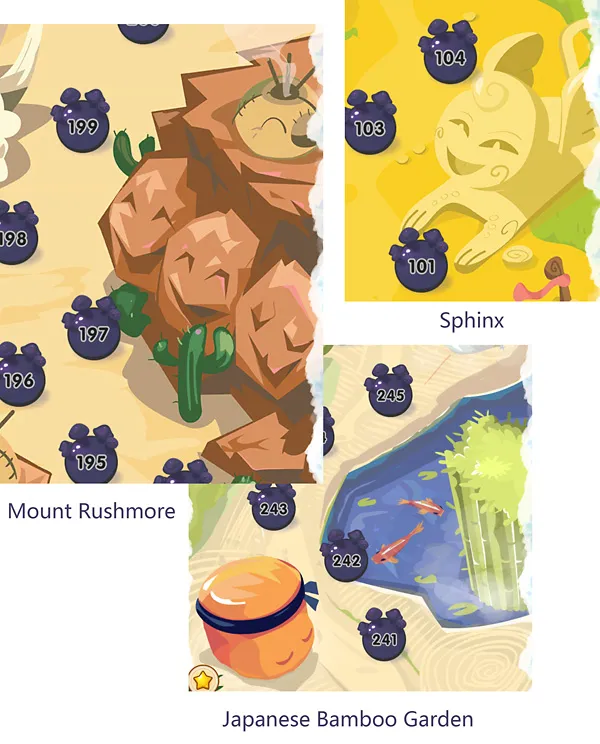 And fantasy themes: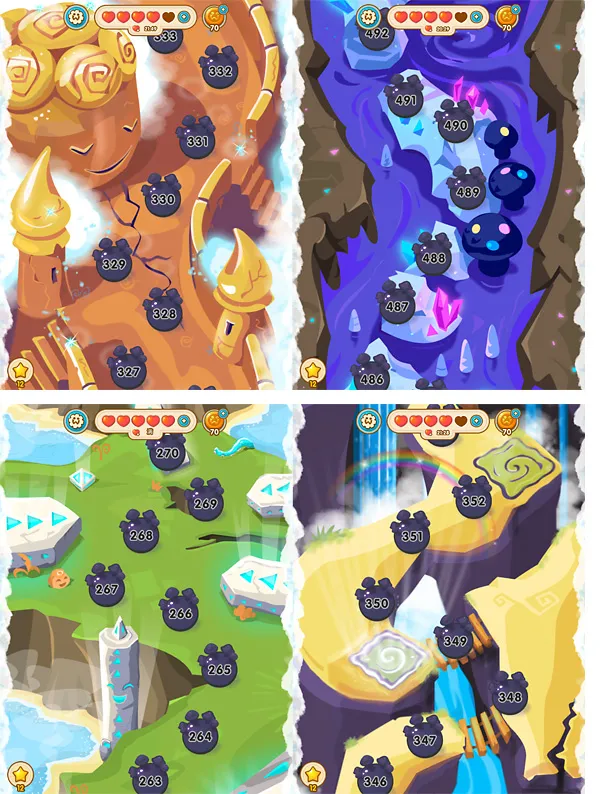 Mood
The mood is very happy, and relaxing: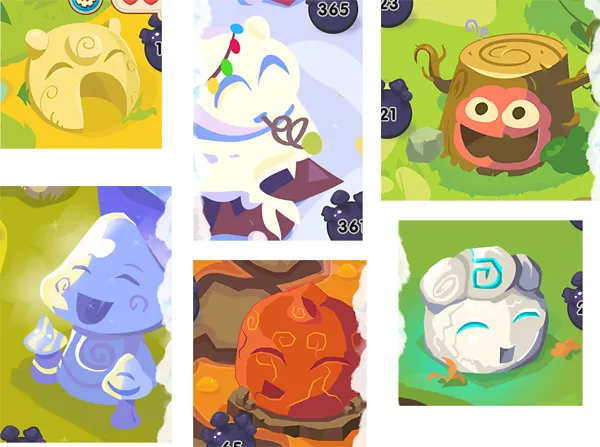 There are lots of duplicated elements:
No doubt, this helps to reduce production cost.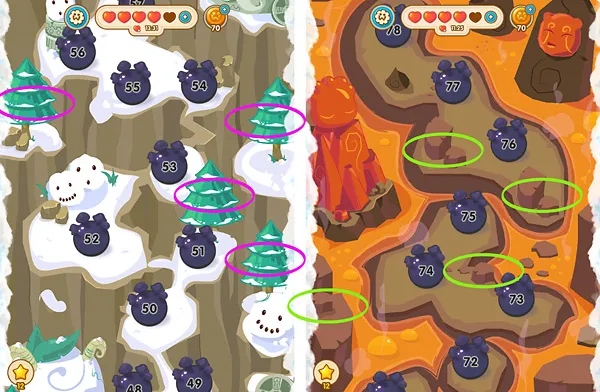 Color Palette
Generally a given zone is composed around a few key colors, of low contrast both in color and value, not very busy. It feels pleasant and soft.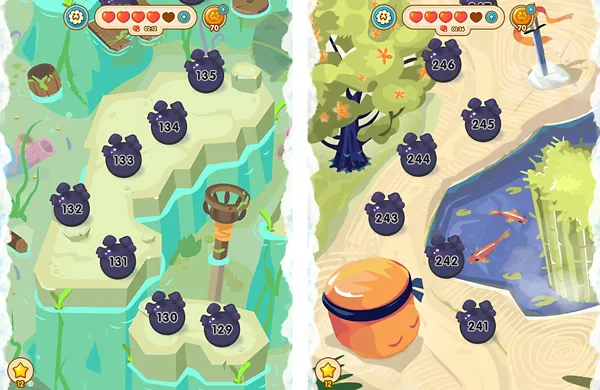 Good lighting
You can see the map artists are masters of handling lighting and light transmission: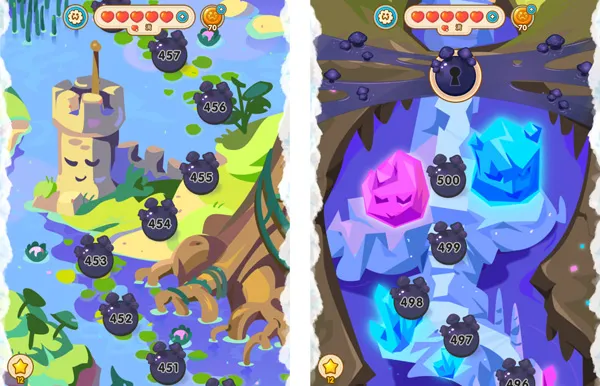 Great sense of space and depth
Although the painting is in simple 2D vector style, the landscape is designed in 3D space. Very good feeling of spatial composition.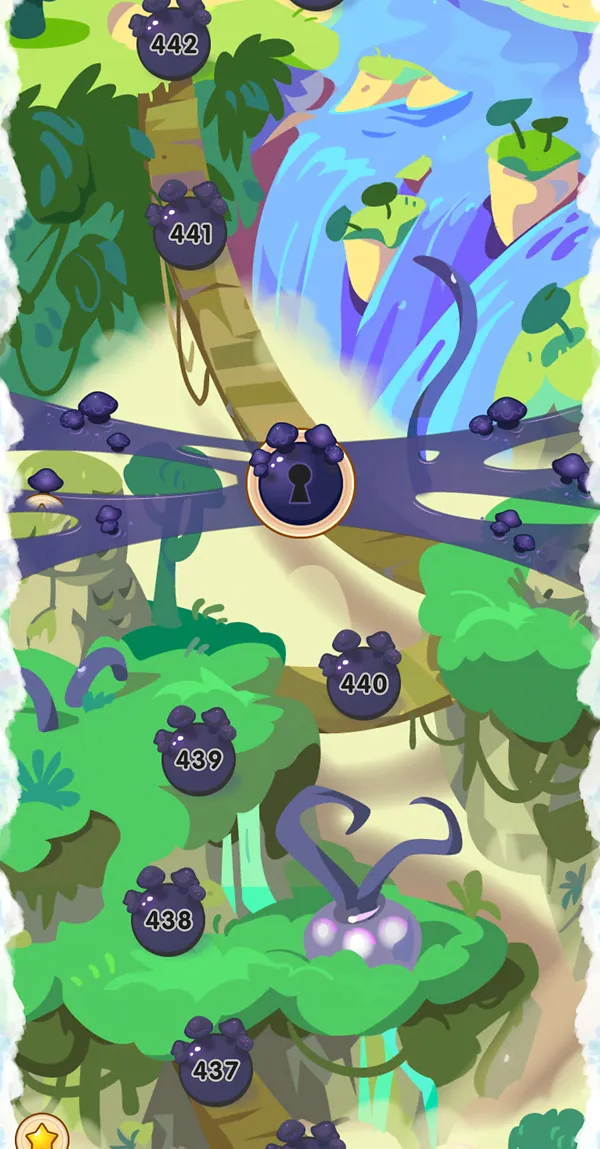 Iconic idols
You can see the iconic jelly figures across the maps:
If you have some iconic figures in your game, Jelly, chubby birds, or something the like, it's a good idea to incorporate their images into the map.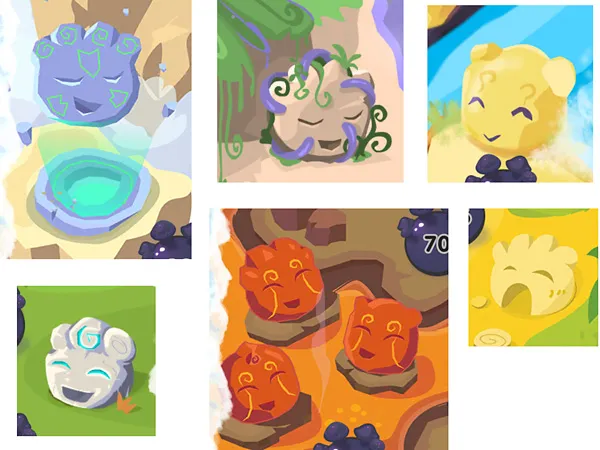 No need to do meticulous research
For other games with rich maps, the design team would take a lot time to do meticulous research: the Cookie Jam team researches into local snacks in many countries, and the Farm Hero Saga team researches local animal and plants in many geographic zones.
For games like Jelly Splash, you need to gather reference materials, do some research, but certainly you don't need to go that deep. Perhaps one designer is enough to deal all the concept and finish-up job for all the maps.
Simple graphic and game size
I have met lots of developers, who expect to reduce the game size by making simple, crisp vector style art, and compress the graphics. No doubt games size would influence downloads to some extent.
But the fact is, the size of Jelly Splash and other similar match games with very rich graphics, are almost the same. The ipad version of them are all around 140M.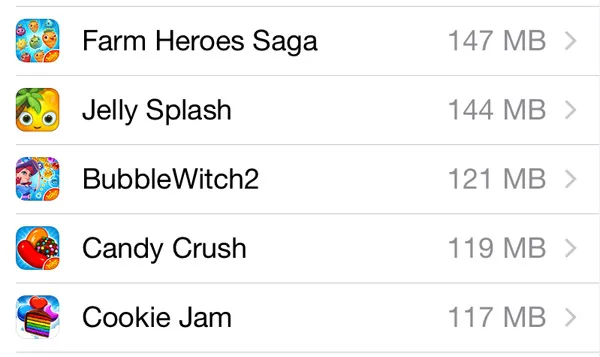 Although the map graphics of Jelly Splash are almost made of color patches, with high compression rate, the edges would become quite pixelated. Today, HD means not only more details, but also more clear-cut edges.
Rough estimation of production time
I'm not sure how much time Jelly Splash's team spend on each map, but I can give a time estimation to the production of a sample map zone, in a general sense, with breakdown of each stage's work:
For this map: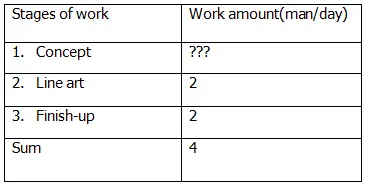 It would take a lot to come up with a concept in the first place, so how long this step takes, really depends on your team. So I leave this step blank.
In this Series:
P1: Developer's General Concern
I would post regularly--one article every two weeks, about game art production.