-Characteristics of a few mobile game maps -Part 6
Today almost every mobile game has a map, in this series of posts, I would evaluate the characteristics of maps of a few popular games: Bubble Witch 2 Saga, Jelly Splash, etc, from the point view of an art producer. If you're a game developer who's planning to have a map for your game, or an artist, this series is for you.
This is Part 6 of the posts, let's trek through space in Block Star Party!
Our team has recently taken over the job of designing and making new map zones for Block Star Party (BSP for short), I will share the procedure in a follow up article. I wish I can have your attention!
Overview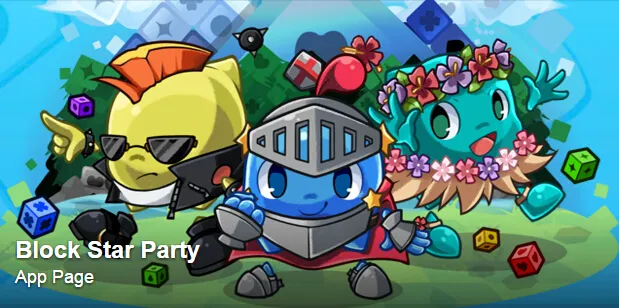 Block Star Party is a Match-3 game on Facebook and iOS. For its name's sake, in the game the lovely star blobs would journey through many worlds in the cosmos.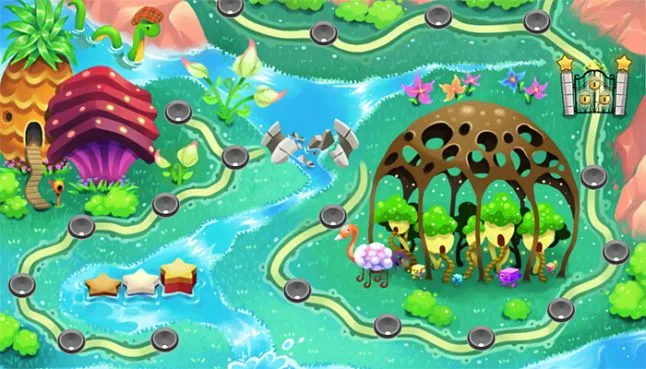 The map art is well designed and full of imaginations. For the goal of producing nice maps at low cost, the art works are not in very rich painting style, such as that in Mystery Match and Cookie Jam! While the assets are not even made in HD, they're well painted and beautiful nonetheless.
This game feels like a fresh wind blowing into the Match-3 kingdom.
Art production solution:
Again, the production solution is digital painting all around. You can find the procedure of making a digital painting in my previous article.
Rich of contents and full of imaginations
If you look through all the zones in the current game, you can feel the richness of the map, with all sorts of places imaginable: a myriad of geographic zones on earth, space, alien land, green energy country, etc.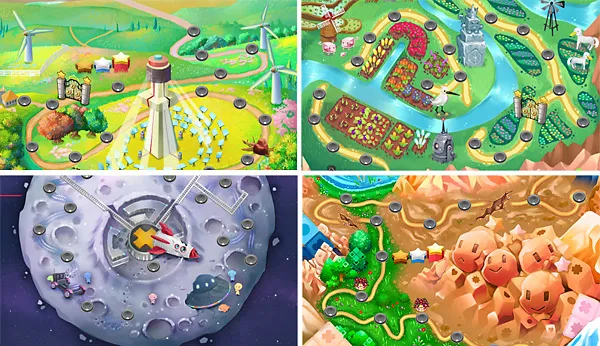 In a section of the map, you will be launched into space from Arctic, first float in the Milky way, then reach a moon-like asteroid, leave it and then get to another planet. Very romantic and imaginative.
Full considerations given to overall design
In most mobile games, adjacent map zones are always smoothly connected, often the two zones are not really connected in contents though. In BSP, you can feel that fuller considerations are given to the overall design, that many zones in a string are related. For example, those zones are arranged in a row: Caribbean coast, temperate forest, Christmas village, North pole, space, moon, space, alien land.
Terrain
In every zone, the terrain has distinctive geographic feature. We can see that the team endeavor to avoid make the maps flat and uninteresting.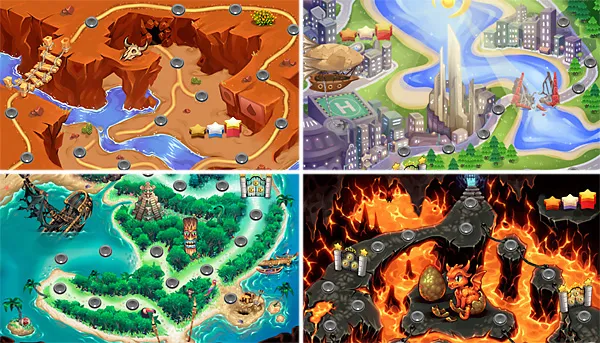 Wider than one screen
The width of most vertical maps is one screen. While the iOS version BSP has a wider map, you can scrub right and left.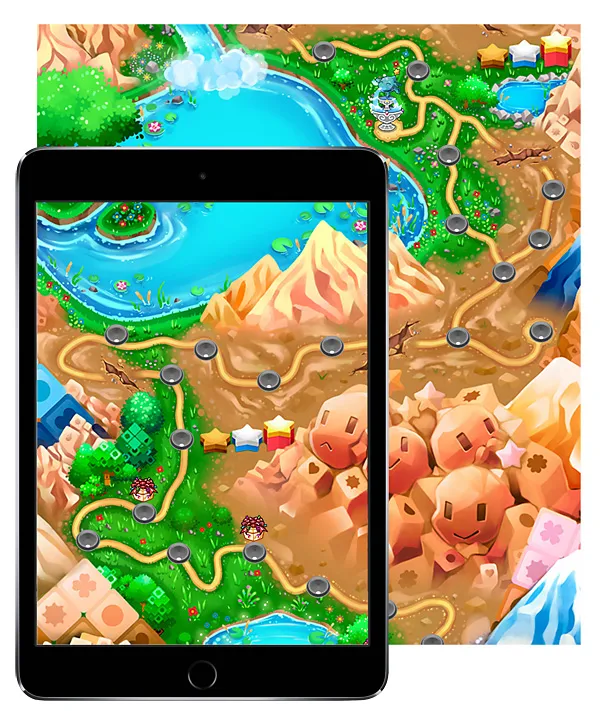 The wider map offers larger space to put more interesting design. On the contrary, for one-screen-wide maps, designers usually don't have much freedom. "All the map design are essentially the same, we only need to Stack buildings on two sides of the winding road," Our art director Claire says, "we take only a day to design a zone."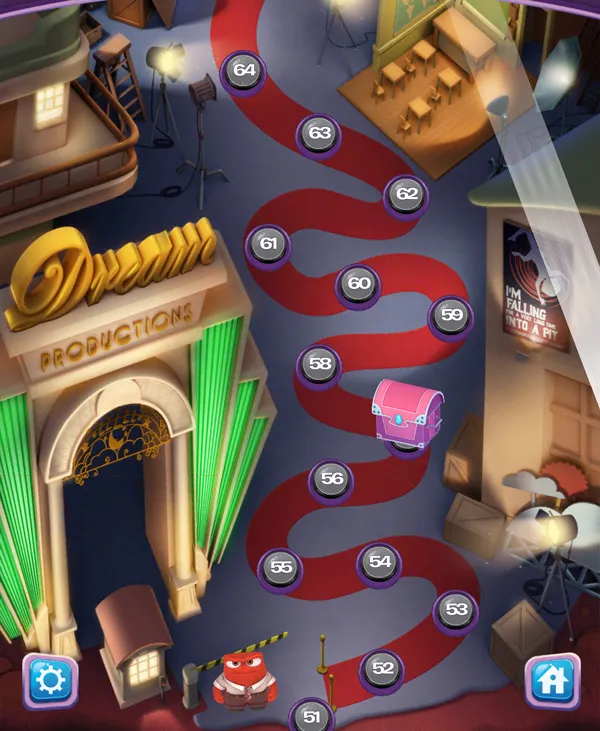 But for map like that in BSP, our team may take much longer.
Winding path
In most mobile games, the path on map would steadily go upward, only make some turns. While in BSP, as the map is wider, the path would wind back and forth more.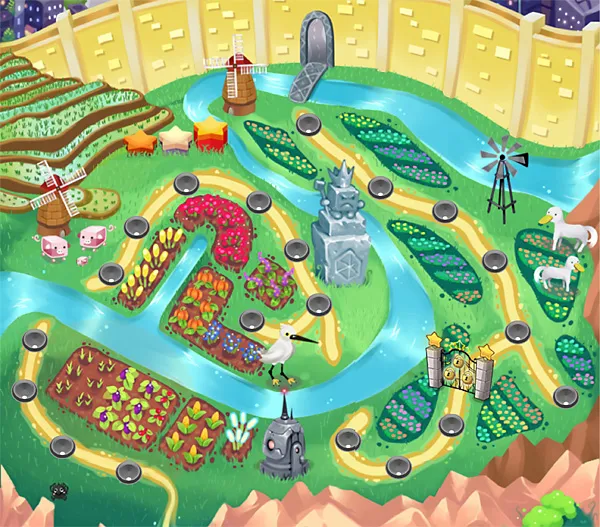 Path branches
Typically there's only one main road with no branches. In BSP, there are regular branches like these. They are bonus levels, designed in a way to look like a secret hideout.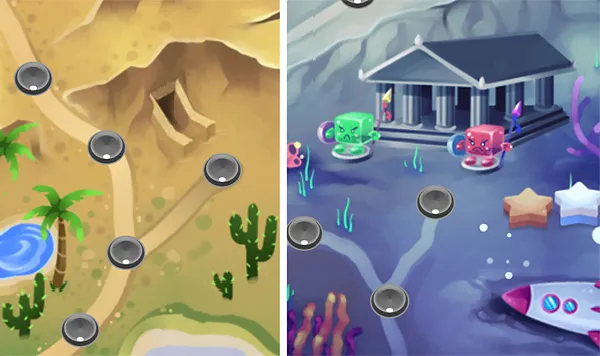 Monument
In many zones, there are monument features. Like the General Sherman tree in this map, and Mount Blobmore at the beginning.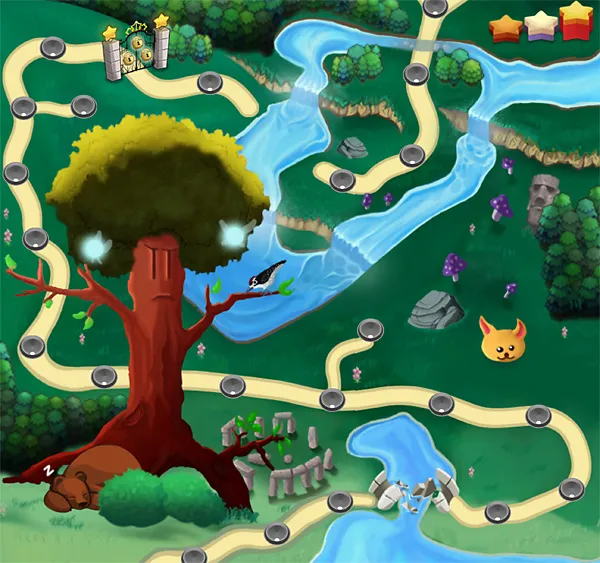 Rough estimation of production time
I'm not sure how much time BSP team spend on each map, before we join the BSP project. But I can give a time estimation to the production of a sample map zone, in a general sense, with breakdown of each stage's work:
Each map zone would accommodate 25~30 level nodes.
For this zone: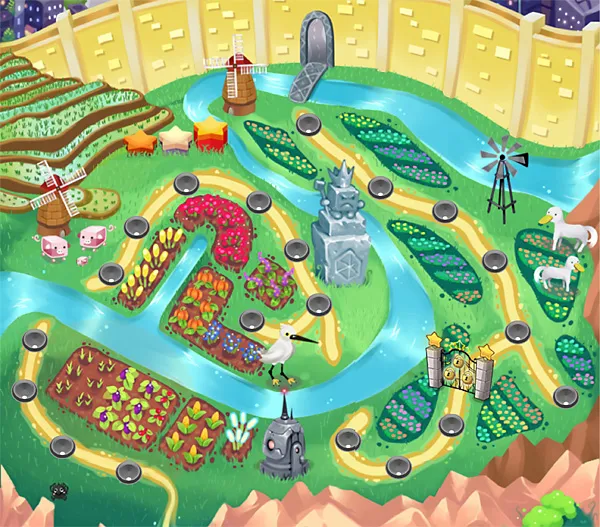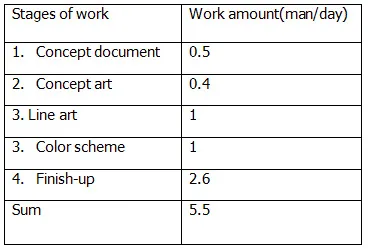 In this Series:
P1: Developer's General Concern
I would post regularly--one article every two weeks, about game art production.