[In the latest in a series of Gamasutra-exclusive bonus material originally to be included in Bill Loguidice and Matt Barton's new book Vintage Games: An Insider Look at the History of Grand Theft Auto, Super Mario, and the Most Influential Games of All Time, the duo presents a history of Tony Hawk's Pro Skater, the game that popularized a niche genre and sparked a host of imitators in the early part of this decade.]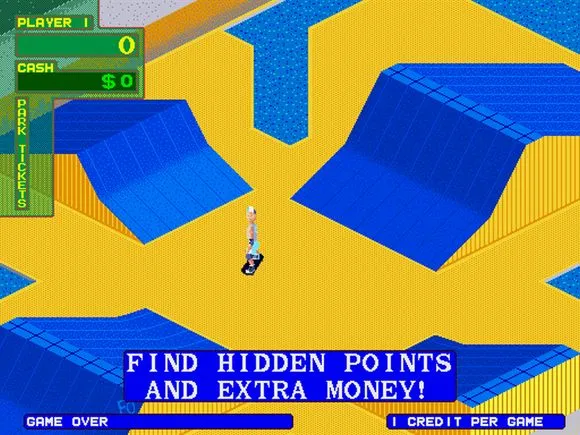 Screenshot from Atari's 720 Degrees arcade game.
Extreme sports video games have a long and storied history, culminating with the first Tony Hawk's Pro Skater in 1999, which ramped the genre to superstar status. As we've seen, nearly every game in this series has predecessors, and Tony Hawk's Pro Skater is no different.
Games like 720 Degrees, a 1986 arcade skateboarding game from Atari, and Skate or Die!, a 1987 multiplatform home release from Electronic Arts, made scores of gamers happy, but it was Tony Hawk's Pro Skater that would take the genre successfully into the realm of 3D[1], offering unparalleled levels of control and fluid motion so critical to such games, in turn spawning a whole slew of me-too products that wanted to outperform and be more extreme than skateboarding icon Tony Hawk himself.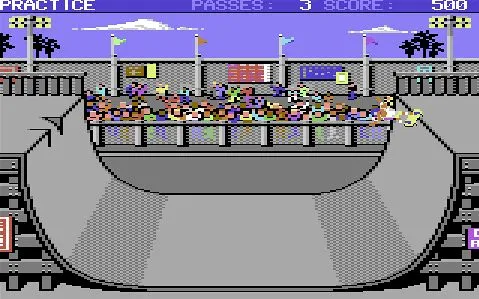 Screenshot from Skate or Die!, Commodore 64 version.
Of course, extreme sports -- also referred to as action or adventure sports -- are not limited to the skateboard. The term can represent any over-the-top or dangerous sporting activity, which is particularly at home in the world of video games.
From the early Olympic sports video games, culminating with Epyx's multiplatform California Games (1987), which featured skateboarding, freestyle footbag, surfing, roller skating, flying disc, and BMX minigames, to the classic NBA Jam (1993) and NFL Blitz (1997) series of highly stylized and simplified arcade sports video games, there has been no shortage of compelling, action-packed alternatives to traditional sports gaming.
What Tony Hawk's Pro Skater, which has now generated $1 billion in sales across the course of the series, added was an extraordinary level of realism to the over-the-top antics that resonated with many players who were turned off by the overly competitive nature of the previous games. By making it about technique over style, Tony Hawk's Pro Skater expanded its audience to far more players than any other game of its type before.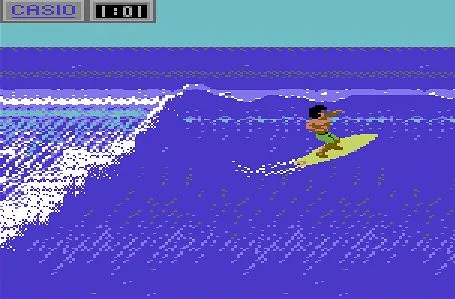 Screenshot from the surfing event in California Games, Commodore 64 version.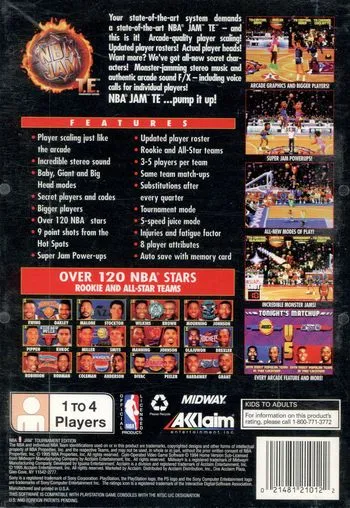 Box back for the Sony PlayStation version of Midway's NBA Jam Tournament Edition (1994).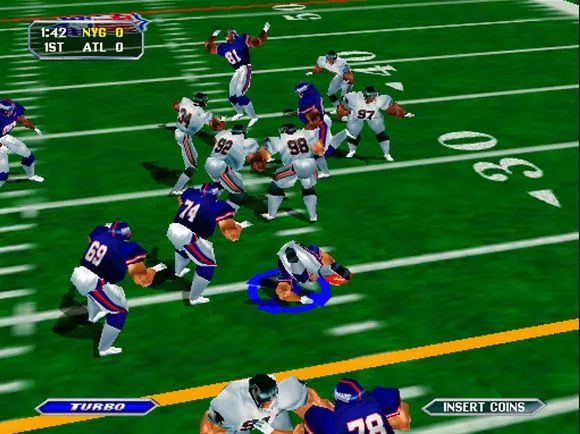 Screenshot from the arcade version of Midway's NFL Blitz (1997), which put a more violent twist on the over-the-top antics of the successful NBA Jam formula.
---
[1] Sega's hit Top Skater (aka, Top Skater Sega Skateboarding) arcade game from 1997, which featured a skateboard controller and railings as part of its oversized cabinet, was one of the first 3D skateboarding simulations, but was as much about racing as it was about performing stylish tricks.
Despite the eventual release of mostly mediocre home skateboarding controllers thanks to the popularity of games like Tony Hawk's Pro Skater, Top Skater never received a home port.
---
Neversoft's Tony Hawk's Pro Skater (also known as THPS) was released by Activision for the Sony PlayStation late in 1999 and for the Nintendo 64 and Sega Dreamcast in 2000. The game's fluid control scheme, smooth animation and goal-based progress were immediate hits and mimicked in similar games for years to come.
Single-player options include "Career Mode," "Single Session," and "Free Skate." In career mode, the objective is to capture the best sessions on videotape. This task is achieved by attaining the goals shown on the loading screen in the allotted two-minute period.
There are a total of nine levels, and tapes (objectives) can be obtained in six of them. These tapes unlock levels, equipment, and competition invites as the game advances, and they serve as replays.
The other three levels are contests, and the goal is to win medals (gold, silver, or bronze) by scoring higher than the competition. In single-session mode, the objective is to set new high scores in a two-minute period.
Initially, only one level is available, but the rest are unlocked in career mode as tapes are obtained. Free skate is just as the name implies -- no time limits and no rules. Players can practice their moves until their "tricks are tight."
As in single-session mode, only one level is unlocked initially. Two-player games include "Graffiti," "Trick Attack," and "HORSE" modes. In graffiti mode, there is a split-screen race to see which player can tag the most obstacles in a two-minute period.
Players can steal their opponent's obstacles by performing even bigger tricks. The player who has tagged the most objects at the end of two minutes wins.[2] In trick attack, there is again a two-minute time limit, and players must rack up more points than their opponent. They can also attack their opponent by running into them. HORSE is a one-on-one best trick contest, with the goal of beating the opponent's score.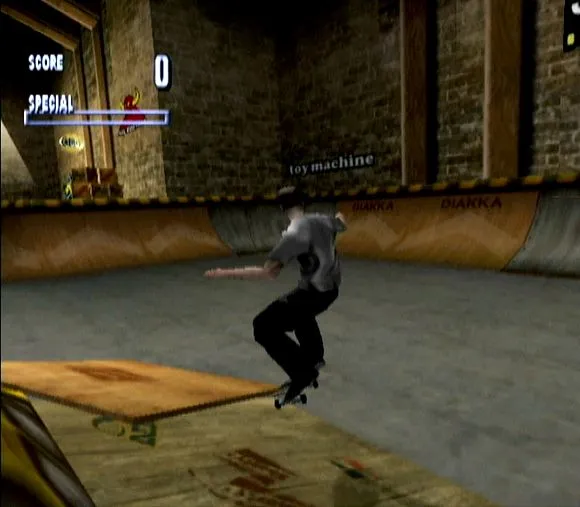 Screenshot from the Sega Dreamcast version of Tony Hawk's Pro Skater.
While this depth of play modes is impressive, it was Tony Hawk's Pro Skater's sense of motion and authentic feel that really won over gamers. Of course, as the Website Planet Tony Hawk describes, this was due in no small part to the game's namesake:



"It wasn't until later in the development process that Tony Hawk was signed on and the game took on the name we all know. Tony had an active part in the creation. With each new build of the game, he was given a copy to go through. If something didn't feel true to skateboarding, or if it looked off, he would report back to Neversoft. Such attention to detail truly gave the final game a polished feel.

Additionally, the first game featured Motion Capture, in which Tony Hawk participated. This process had Tony donning dozens of small balls covering his body. By performing his standard moves the developers could build a working 3D model. This process was abandoned for the most part by the time the second game came out. However, it was utilized in future versions of the game."[3]
In 2000, Tony Hawk's Pro Skater was adapted for the Nintendo Game Boy Color. While it was a three-dimensional and highly interactive game on console, in this version it became something of a throwback -- two-dimensional and more limited, allowing for considerably fewer moves.
The two main gameplay modes are "Half Pipe" and "Tournament," the latter of which features two options. Players can race three computer skaters through five stages or select a "versus" mode, in which the player races only one other player through one stage.
In versus mode, the opponent can be computer-generated or a player on a second Game Boy Color who is linked to using a link cable connection. In half-pipe mode, the goal is to rack up as many points as possible by performing ollies, heelflips, or any of the seven other tricks that are possible.
Although the courses in the Game Boy Color are not as varied as they are on the console versions, they are well thought out, the backgrounds are colorful, and the animation is smooth. The controls are also easier to master than its console cousins, consisting of a series of d-pad and A and B button presses.
Nevertheless, there was considerable room for improvement and the game was criticized for its low replay value, receiving only average review scores. Despite this, there weren't many handheld skateboarding game options at the time and the brand was hot, so the game still sold well.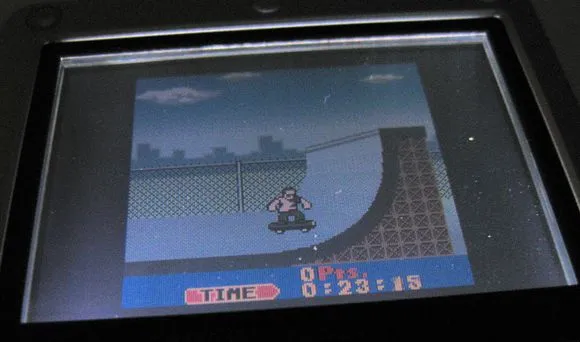 Tony Hawk's Pro Skater for the Nintendo Game Boy Color, shown here running on a Game Boy Advance, tried to adapt the Tony Hawk formula to 2D, but met with mixed results.
---
[2] This gameplay is somewhat reminiscent of Paperboy, which was released by Atari to the arcades in 1984. In Paperboy, the primary objective is to deliver newspapers to subscribers, but the secondary objective is to vandalize the homes of nonsubscribers by damaging their property.
[3] http://planettonyhawk.gamespy.com/View.php?view=histories.Detail&id=1.
---
Tony Hawk's Pro Skater 2 (THPS2; for Apple Macintosh, PC, Sony PlayStation, and others), released in 2000, was very similar to the original version, but offered some notable innovations, such as the "Create-a-Skater" and "Park Editor" features. These have become staples in the Tony Hawk franchise.
It also offered new moves, including the "manual"[4] and a slew of other skate boarding tricks. This game was very well-received and met with considerable success, selling 5.3 million copies by 2007.[5] It is considered by some as the best Tony Hawk game off the increasingly crowded quarter-pipe released to date.
In his review of the ninth game in the series, Tony Hawk's Proving Ground, IGN's Chris Roper states: "THPS2 was so robust and encompassing, there wasn't a whole lot missing that Neversoft could add to the formula."[6] Indeed, every year new innovations were added, some deemed better than others.
Tony Hawk's Pro Skater 3 (THPS3; for Nintendo 64, PC, Sony Playstation 2, and others), released in 2001, introduced the "revert." This trick allows for considerably longer combos than were possible in the previous games.
Variations to standard tricks can also be performed and there are hidden combos to be discovered. This was the first game to include nonskating advertisements in the form of in-game billboards; mobile phone maker Nokia, whom we'll discuss shortly, was one of these advertisers.
Tony Hawk's Pro Skater 4 (THPS4; for Apple Macintosh, Mobile Phone, Sony PlayStation 2, and others), first released in 2002, was the last in the Pro Skater series, with some fearing it would be the last true Hawk game. This version eliminated the two-minute time limit in "Career Mode," and players were free to explore levels as desired.
Many players felt this game was truly fresh and had the greatest replay potential, because instead of having to complete a goal in a set period of time, they were now free to explore many new locations, including Alcatraz and London, while accomplishing goals according to their own schedules. Once a goal was accomplished, it did not need to be repeated unless desired.
In his review of the game on Website Mania, James Stevenson says, "The first thing gamers will notice is that the levels are huge, the goals are plentiful, and basically its everything you know and love about Tony Hawk, except bigger."[7]
Furthermore, because the game uses a completely different engine, there are certain enhancements that become obvious as gameplay continues. For instance, boards become worn, clothes or knees become scuffed, and there are other subtle touches that add a new level of realism to the game.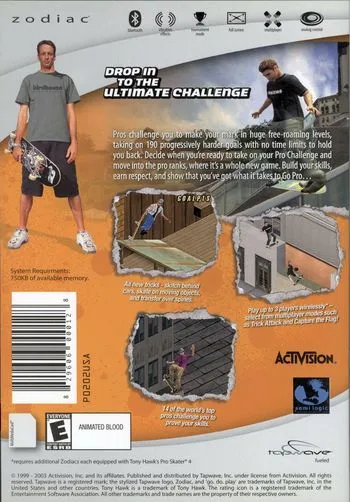 Box back for the Tapwave Zodiac version of Tony Hawk's Pro Skater 4 (2003).
In 2003, Tony Hawk's Pro Skater was released for Nokia's N-Gage handheld. Much of the game was faithful to the original console versions, with a few innovations and several levels from Tony Hawk's Pro Skater 2 tossed in. Although this conversion followed the three-dimensional model of the console versions, it was criticized for its lack of innovation.
Players had already "been there and done that" three or four years earlier, a common problem for games that receive regular conversions and new releases, and something that the Tony Hawk series of games would suffer and become synonymous with. Nevertheless, the game was considered by some as among the best titles on Nokia's controversial platform.[8]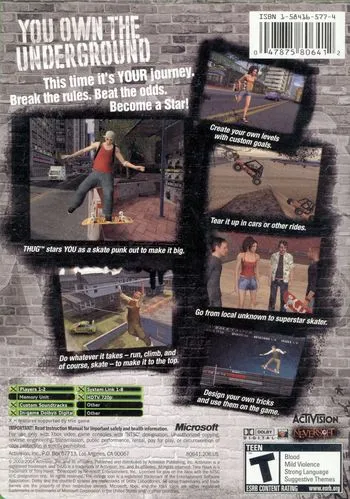 Box back for the Microsoft Xbox version of Tony Hawk's Underground.
---
[4] "Manual" refers to a trick in which the skater balances on two wheels.
[5] Figure from sidebar at http://www.signonsandiego.com/news/business/20070925-9999-1n25halo.html.
[6] See http://xbox360.ign.com/articles/828/828249p1.html.
[7] See http://www.mania.com/tony-hawks-pro-skater-4_article_36918.html.
[8] A final version of the original Tony Hawk's Pro Skater would be released for many standard mobile phones in 2005, but of course suffered from whatever control limitations or quirks the particular model of phone in question exhibited.
---
Of course, the growing success of the Tony Hawk series did not go unnoticed by the competition, though few competitive releases were able to gain anywhere near the same type of critical acclaim or traction in the marketplace.
A game released just before Tony Hawk's Pro Skater even serves as a good example: Street Sk8er (Electronic Arts, 1999; Sony PlayStation), which was based on a Japanese title from a year earlier, had few distinguishing characteristics and quickly became an afterthought.
Another very similar title, Thrasher: Skate and Destroy (Rockstar Games, 1999; Sony PlayStation), was released shortly after Tony Hawk's Pro Skater and banked on being the superior skateboarding simulation, which it was.
Unfortunately for Rockstar, players preferred the more user friendly approach found in Tony Hawk's Pro Skater to the hardcore simulation of Thrasher. Other titles like Acclaim's Dave Mirra Freestyle BMX (2000; PC, Sony PlayStation, and others), changed the mode of transportation, but still relied on the same style of play to thrill gamers, making some players wonder why they just shouldn't be playing Tony Hawk's Pro Skater instead.[9]
Others still, like Sega's cel-shaded Jet Grind Radio (2000; Sega Dreamcast), mixed stylized aesthetics with unusual gameplay mechanics -- in this case riding around on inline skates and spraying graffiti while avoiding the authorities -- receiving critical, if not commercial, success and a sequel on the Microsoft Xbox in 2002, Jet Set Radio Future.[10]
The fifth game in the Tony Hawk series started the Underground series, which consists of two games: Tony Hawk's Underground (2003; Microsoft Xbox, Nintendo GameCube, Sony PlayStation 2, and others) and Tony Hawk's Underground 2 (2004; same platforms plus Sony PlayStation Portable). These games are sometimes referred to by their acronyms, THUG and THUG 2, which fit perfectly with the games' premises.
These games represented a radical departure from the other games in the Tony Hawk series, as they focus more on a storyline than on strict gameplay. Players can create a skater, using face mapping with a camera if desired, and take the character from amateur to pro status.
For the first time, players have the ability to step off their board and walk, run, climb, and even drive vehicles, which is actually required to reach certain locations. Although the game is littered with colorful characters and interactive experiences, some criticized it for not having enough skating quests.
THUG 2 is a direct sequel to THUG and continues the story, though this storyline was criticized by many fans of the series because it seemed to promote the punk skating culture rather than the extreme sports aspects.
The basic premise is that the player accompanies Tony Hawk on a World Destruction Tour, the purpose of which is to raise havoc in various locales around the world in order to beat the competition, Team Bam]. The idea is that the losing team has to pay for everything at the end of the tour. One feature THUG 2 brought back that was praised was the two-minute time limit in Classic Mode.
Fans of the Hawk series also largely applauded the expanded versions of locales that were ported in from previous Hawk games. Overall, both of these games were well-received, for instance with IGN rating THUG and THUG 2 as 9.5] and 8.6] out of 10, respectively.
One key reason why THUG 2 received a lower rating was best summed up by Douglas Perry in his review of the game on IGN: "It's hard not to see Tony Hawk's Underground 2 as Neversoft's hurl-everything-you-can-in-a-last-ditch-effort in the hope to create something new. The effort, while recognized, is an example of a series that in many ways has perhaps run out of steam and good ideas, and fans of the series are likely to respond with a mixed reaction of disappointment, while grumpily trudging to the store to buy it anyway."]
This statement could in fact be applied to all the other Hawk games that followed, which suffered from what some refer to as "Tony Hawk Syndrome," which is similar to the "Madden Model" (see book Chapter 10, "John Madden Football (1988): Modern Sports video games Kickoff") of releasing the same game year after year with only incremental improvements or differences.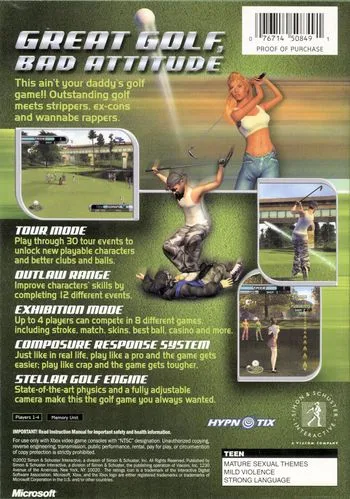 Box back from the Microsoft Xbox version of Outlaw Golf (2002). Golf is a surprisingly common target for "extreme" and comic video game interpretations, probably because it contrasts so sharply with what most think of as the sport's stuffy reality.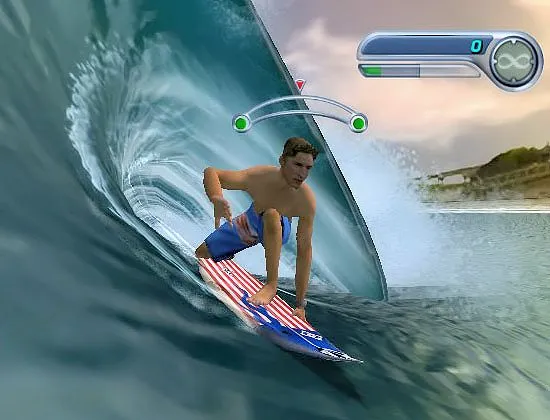 Screenshot from Kelly Slater's Pro Surfer (Activision, 2002; Nintendo GameCube, Microsoft Xbox, PC, and others), which mimicked Tony Hawk's trick system and use of real athletes, but had nowhere near the same commercial or cultural impact. Despite repeated attempts at unique alternatives, the most consistent performers have been games based on skateboarding and snowboarding, such as Electronic Arts' SSX series (starting 2000, various platforms).
---
[9] An infamous sequel, Dave Mirra BMX XXX, was in development until Mirra refused to endorse the troubled production. The game was eventually released by Acclaim Mirra free as BMX XXX in 2002 for the Microsoft Xbox, Nintendo GameCube and Sony PlayStation 2, with the notable addition of crude humor and nudity, the latter censored for the PS2 version. Naturally, these questionable additions did not make up for the poor gameplay or mediocre visuals and the game was poorly received by critics and gamers alike.
[10] Jet Set Radio was released on the Nintendo Game Boy Advance in 2003, and, despite the lack of 3D graphics, retained much of the gameplay of the original.
[11] Led by Brandon Cole "Bam" Margera, a skateboarder and media personality associated with the "Jackass" TV and movie series.
[12] http://ps2.ign.com/objects/545/545800.html.
[13] http://ps2.ign.com/objects/640/640600.html.
[14] http://ps2.ign.com/articles/554/554325p1.html.
---
In 2005, Tony Hawk's American Wasteland was released (Microsoft Xbox 360, Nintendo GameCube, Sony PlayStation 2, and others). This game was also known as THAW, and was a sequel to THUG 2.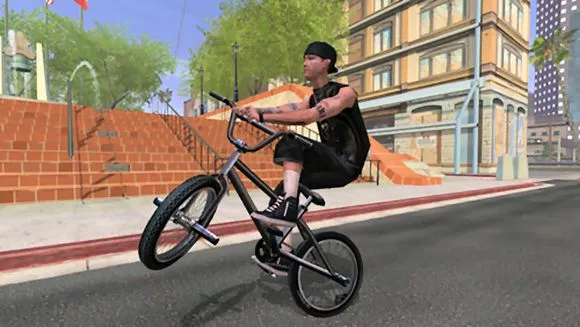 Screenshot from Tony Hawk's American Wasteland.
The goal in story mode is to win the approval of the pros by mastering various feats and obtaining pieces from Los Angeles and the surrounding area to build a skate park, which will be called "American Wasteland."
This game is the first to allow the game to be played in one large streaming level, and the game world is much larger than any of the Hawk games that preceded it. It also features a classic mode in certain levels.
This same year, Tony Hawk's American Sk8Land, which was loosely based on THAW, was introduced to the handheld market for the Nintendo DS and Game Boy Advance. It was the first Tony Hawk game for the DS, but the sixth for the Game Boy line.
The Game Boy Advance version did not have the same graphics and capabilities of the DS version, which made good use of the dual screens. For instance, players could use the touch screen to create skateboard art.
In 2006, two more games were released: Tony Hawk's Project 8 (Microsoft Xbox, Sony PlayStation 2, Sony PlayStation Portable, and others) and Tony Hawk's Downhill Jam (Nintendo DS, Nintendo Game Boy Advance, Nintendo Wii, Sony PlayStation 2).
Project 8 featured a complete graphics overhaul with all new motion captures, lending a more realistic feel to the animation. There is one large city to skate in and all levels are interconnected, with no loading times. Another option that was added was the "nail trick," which allowed the player's feet to be zoomed in on and controlled with the analog sticks, thereby allowing new types of moves.
Another unique feature is the ability to control characters during crashes, with the goal being to injure the player as much as possible and receive a large hospital bill -- which results in cash rewards in the game.[15] Downhill Jam is a spinoff of the Hawk series and does not have a story mode. The goal is to race opponents, complete goals, and achieve high scores.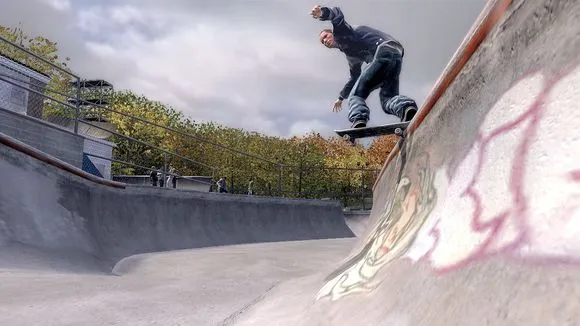 Screenshot from Tony Hawk's Proving Ground.
In 2007, Tony Hawk's Proving Ground (Nintendo DS, Nintendo Wii, Sony PlayStation 3, and others) was released and met with mixed reviews. Naturally, many felt that it did not bring anything fresh to the drawing board.
They had seen most of this before, and the similarities in the Hawk games were even more apparent after Electronic Arts released Skate (also known as skate., 2007; Microsoft Xbox 360, Sony PlayStation 3), which gave skateboarding game fans an exciting new option.
No major Hawk games were released in 2008], as Activision took a much-needed hiatus, but the company has resolved to continue on with the series under the stewardship of new developers
With aggressive new competition from the ever expanding Skate series, as well as games like Shaun White Snowboarding (Ubisoft, 2008; various platforms), whose Nintendo Wii version supports the Wii Balance Board as a controller, and Stoked (Destineer, 2009; Microsoft Xbox 360), which is an open-world snowboarding game featuring dynamic weather conditions and multiple mountains to explore, Activision will be forced to put a truly new spin on the ollies, grabs, and grinds, hopefully reinvigorating the genre once again.
Even if future Hawk games fail to make an impact, the legacy of Tony Hawk's Pro Skater is undeniable and will continue to be felt in the genre for the foreseeable future.
---
[15] Idol Minds' Pain (2007), a popular downloadable game for the Sony PlayStation 3, would base its entire premise around hurtling characters via catapult to inflict as much damage and bodily harm as possible.
[16] Series offshoot Tony Hawk's Motion for the Nintendo DS was released in November 2008 to critical and commercial indifference. Tony Hawk's Motion is bundled with the DS Motion Pack add-on, which is an accelerometer that allows for twisting, tilting and turning using the handheld itself, and the game, Hue Pixel Painter, where the objective is to "paint the town." Activision has promised that future Tony Hawk games will feature alternative control schemes.