December 2019 update: What a difference a couple of years can make... Blade Runner is now officially available at GoG! Get it here and read on for the original post.
You are a Blade Runner - a bounty hunter tasked with detecting and 'retiring' rogue replicants, genetically engineered beings virtually indistinguishable from humans. You find yourself in a small kitchen of a take away joint on the streets of Los Angeles in the near future. The clues in a barbaric animal murder case have led you to Zuben, a burly cook whom you suspect to be a replicant.
Things quickly get ugly. Zuben throws a pot of boiling soup at you and escapes into the back alley. You draw your gun and follow. Just around the corner, you see what appears to be a man getting into a trash container. You shoot him in the back.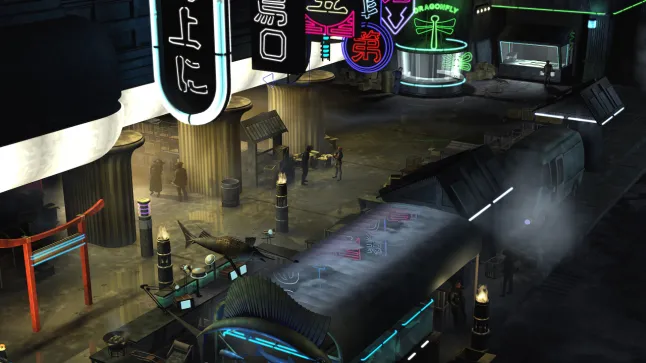 Animoid Row. One of the first locations players visit.
As you inspect the body, it turns out it is not Zuben. Just a bum fishing for gold in the pool of urban waste. You have retired a human by mistake. Your career could be over. No one will miss a homeless man, though. No one will look for him. You decide to stash the body in the container. At this point, you don't know that it will resurface in the sewers near the end of the game, making your life difficult. You're not aware that the character would appear again later had he survived, offering precious clues for the price of a bottle of booze.
Rewind. The man is still dead but this time, you are determined to make things right. You return to the precinct and confess to your commanding officer. He chews you out of course, but appreciates your honesty and pledges to help you resolve the matter. Your reputation is damaged but your conscience is clean. As you return home after a disastrous day, Zuben is already waiting for you in the parking lot. He charges at you with a meat cleverer. You shoot him in self-defense, thus retiring your first replicant.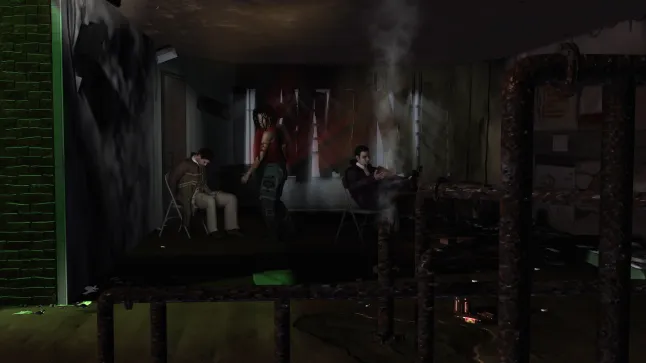 The cutscenes are directed by Joseph D. Kucan, best known from his work on Command & Conquer.
Rewind even further. You rush past the homeless man and into an abandoned building. Zuben ambushes you in a lonely corridor. But you don't fire. You put your weapon away and try to reason with him. He gives you a lead on the animal murder case. Then, as you are wondering what to do next, he pushes you aside and runs. Don't worry, though. You will have an opportunity to meet him again before the game is over. Depending on your actions, Zuben might die in the first act or live through the entire adventure.
Such malleability of the narrative is the main draw of the Blade Runner game. While ostensibly a point-and-click adventure, it doesn't feature traditional puzzles. The gameplay mostly consists of collecting clues and interrogating people. Since crucial leads can be obtained in multiple different ways, it is rather difficult to get stuck, even if one is not a thorough investigator.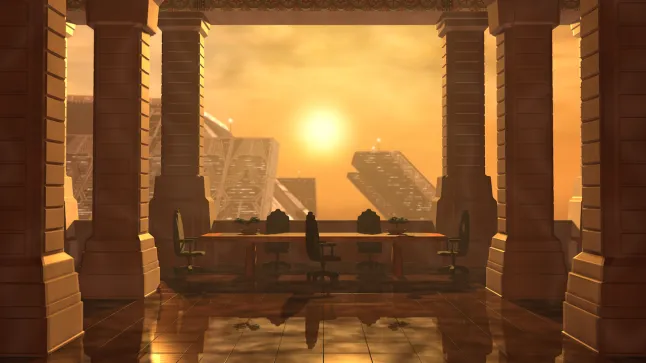 Tyrell Building is one of the many locations from the original movie that were recreated for the game.
What the game lacks in challenge, it makes up with atmosphere and reactivity. All of the backgrounds are animated, retaining the original film's trademark use of light and rain. More importantly though, while the critical path is ultimately linear, the number of variations based on player choice is so vast, I have been able to uncover completely new scenes and bits of dialogue even after replaying the game over 20 times.
To make things even more interesting, some things are randomized on each playthrough, including who is or isn't a replicant. By my count, only two characters are androids in every game. Humanity of the rest of the cast is decided by an invisible demiurge on a case-by-case basis.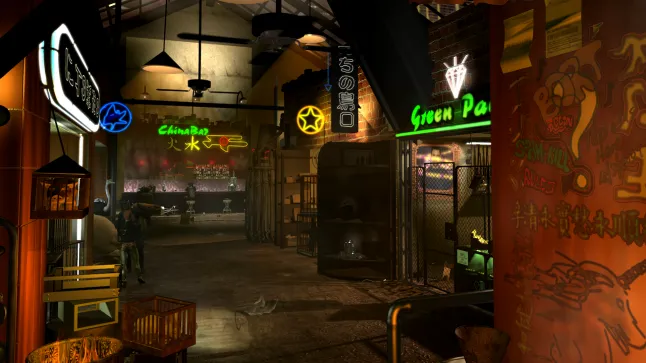 Chinatown. Note the cameo by Gizmo, a creature from the film Gremlins.
There wasn't anything quite like Blade Runner back when it launched in 1997. Worse yet, there still isn't. The game deserves to be influential but remains virtually unknown, even among fans of the movie. I think part of the reason is that it is currently very hard to obtain and even harder to run. The engine was specifically tailored to perform well on 1997 computers without 3D hardware which doesn't make it play well with modern machines and operating systems. A potential rerelease dealing with this problem seems unlikely due to tangled rights, which are currently divided among Electronic Arts and The Blade Runner Partnership.
However, there are some unauthorized installers out there that make the game work (although not without fault) on Windows 7 and beyond, provided you have the original discs. It is worth tracking those down if only to experience a now forgotten vision for the adventure genre's future. A vision that is in a very real danger of soon being lost in time, like tears in rain.