In the first of the two articles on the topic, Darina Emelyantseva, Lead Level Designer and Game Economy Designer at Room 8 Studio, shares the peculiar secrets of the level design: why the industry sticks to manual craft, and what are the latest know-how in the industry.

Tile-matching games level design in the history of video gaming
Let's start with a definition. What is level design?
Being a part of the game development, the level design is a process of creating a game environment where players spend most of the time. It can be the core of an action phase of the game, its locales, stages, and missions. Depending on the genre, the environment may be an open territory, a battlefield, or, say, an apartment. In casual mobile games like match-3, bubble shooters, blast or line games, this environment is mostly a 2D field with grid, where a player interacts with game elements using simple mechanics like tap, swipe or drag-n-drop. The main challenges for a level designer are to create a playable game field, find fun mechanics combinations, predict player's progression, and set target difficulty rate.
Also, we don't work with lightning or camera settings since the camera position is predefined and fixed. Such differences make the process of levels creation for tile puzzle games completely different from the classic one.
How casual level design has changed during the history of the genre?
The first tile-based casual game was Tetris, released in 1984 by programmer Alexey Pajitnov, and the first very similar mechanics to the contemporary match-3 game was introduced in the Shariki game, developed by programmer Eugene Alemzhin in 1994. At first, tile-matching games didn't use manual level design. The shape of all the levels in the game was similar. Since then, the genre has evolved tremendously. In the 2000s, PC and browser casual games started using manual level design: level designers now created different grids, preset blockers, and boosters.
The market truly exploded on mobile devices. In 2010s Candy Crush Saga for mobile phones showed that you can make billions on good match-3 level design. Nowadays, several new tile-based casual games are released every week.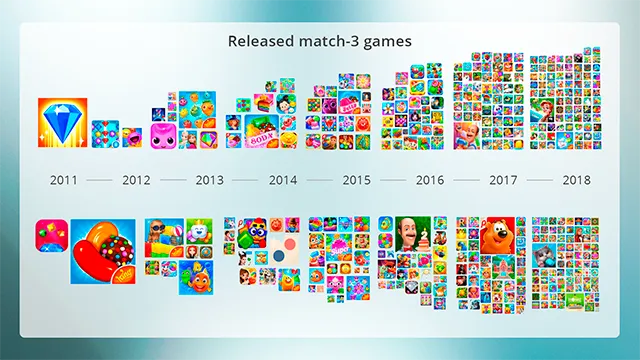 Many gaming companies copy approach to level design from their successful rivals. Some titles tried procedural generation to cut costs, but in most cases generated levels were either impossible to pass, or too easy, or just dull. The industry now sticks to crafting their levels manually. Only a few battle match-3 games use one size and rectangular shape of the field because they don't use blockers, and the 'enemies' stand beyond the field.
We provide our customers with a manual level design service for tile-matching casual games. Our team consists of several level designers working on different projects with match-3, line, tap-2, bubble shooter and other mechanics. For over 2 years now the team creates levels according to different customer requirements, game types and needed emotional UX.
Level design as a service: how it's done
What are the customers' usual requests?
To fill the game with new content, a particular amount of levels, over a certain period of time. Also, we often receive requests to create levels with specific difficulty rate, or with some special time-limited event, or levels that would be enough for 28 days retention.
So my job as a team lead is to make sure that the team has the capacity to create high-quality levels and make regular deliveries. Each designer is involved in a couple of projects simultaneously, which provides them with the experience necessary for creativity, and prevents the burn-outs.
We've created an educational system for new level designers that includes adaptation courses, development maps, lectures and workshops within Room 8 Academy. On top of that, we have proven pipelines for creating high-quality levels.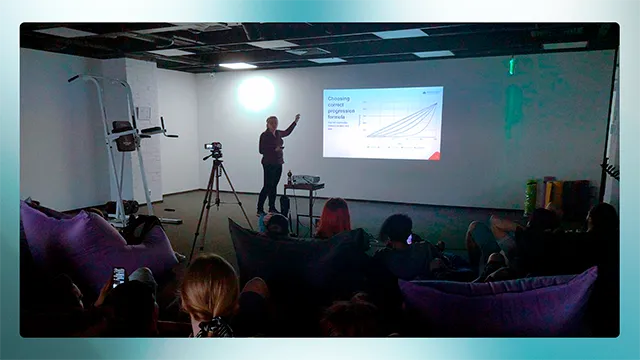 And what is our standard production pipeline?
Batch levels creation usually follows 4 steps. Here they are:
Step 1. We ask the client to share access to the level editor and its user guide, level requirements documentation, rules of level design, and balance sheets. As soon as they are provided — we can start work.
Alternatively, the customer may provide high-level requirements and mechanics for us to create the balance sheets on our own, or develop a level editor.
Step 2. Our designers create and test levels internally in the level editor according to the balance sheets, share the feedback and re-polish levels.
Step 3. We deliver levels batch to the client, who, in his turn, plays them and lets us know if we did everything correctly. If levels need more work, we update out internal documentation with the client's feedback and new requirements we've gathered, and re-polish the levels. These rules are usually set by the customer at the beginning of the project, but practice shows that the list is rarely complete.
Step 4. We ask for users' statistical data and re-polish the batch, usually when such statistics become available — after the soft launch. We analyze it and tune levels accordingly or reorder them to perfect the difficulty curve. And only then we make the final delivery.
How is the level design process different on pre-launch, soft-launch or live-ops stages?
Our team has vast experience in creating levels for each of these stages. Our experience shows that the approach is, indeed, different.
On pre-launch we focus on two things: initial requirements of the customer, and on the process of the players on-boarding. The most attention is given to tutorial levels and FTUE. We can go as deep as defining particular moves that players would perform to create a maximum user experience. At this stage, it's very important to define the core mechanics and test the viability of their combinations.
On soft launch, we assess what our players like in a game. If there's enough traffic, we get data of what levels are liked and what are not to eliminate the mechanics that irritate players on hard levels with low pass-rate.
On the live-ops stage, everything depends on the number of levels the customer picked as an optimal quantity for weekly or bi-weekly deliveries. We advise all our customers to opt for weekly regular updates so all players would know for sure when new levels will be introduced. On average, we provide from 40 to 80 levels per month on live-ops.
What's new in level design today, what are the most common issues you see in your day-to-day work?
What works really well for tailoring UX is a dynamic game difficulty balancing system that targets each particular user, determining their playstyle and skill level, and regulates game variables based on collected data, helping with monetization and retention. Such a system can use machine learning to search, learn and execute the most effective strategy for reaching target KPIs.
Plus, the KPIs that are being set to levels, for example, a pass rate, are not entirely valid these days. With the dynamic difficulty system, a number of average and median attempts became the right index to control difficulty. So we advise switching from the pass rate to defining a number of attempts per each level.
To be continued soon. Next time Darina will share even more secrets of the level design: types of levels, differences between games in the genre, why that last move win feels so rewarding (and how knowing dopamine triggers helps her team to engage players).
More about level and economy design:
Case study: Angry Birds Dream Blast Level Design (+PDF)
Case study: Meow Match Level & Economy Design
Article: 5 Basic Steps in Creating Balanced In-Game Economy
Have a project in mind? Contact us to discuss how we can leverage our experience to help you create the next best game.