Babe Ruth's Called Shot

(Part 1 LINK)
Is app success just a matter of survival? Consider this:

We have build over 44 iOS games. 24 native games launched since 2008. Before that, over 20 web based iPhone games. That includes iWack, arguably the first iPhone game, launched the weekend the iPhone first appeard. Not quite 51 the games Rovio built prior to Angry Birds.

As I said in Calling The Shot we've managed to come up with some successes. Even a game that climbed to #6 in the app store. Still, the dream is to have an app that shoots up to #1, hits the big time, just because people can't stop playing it. I believe we have that app. Here's how we got there.

I love word games. I've been a fan of these games since I played Scrabble™ decades ago. In the summer of 2010 we started design on a word game, specifically a "find the words" game that have been popular on paper long before computers came on the scene:


I just checked the App Store, and today's #1 Free Word Game (WordSearch Unlimited) looks very much like this. The classics never go out of style.

The code name for our game was "Word Wars" (this is NOT the name of the game we eventually built, since Word Wars was already taken). The idea was to build a real-time, multiplayer game.

The concept was:

•Compete in tournaments based on words found.
•First player to find a word, locks out that word.
•Real time, quick competitive play.

So individual play, player vs. player realtime play, tournaments. Etc. etc.

And then something happened that changed all of that.
I am fond of saying, understand the success of Draw Something™ and you understand the App Store.

There were a bunch of feature rich 'pictionary-like' games before Draw Something, but none of them recieved the success of this app. Simplicity itself, the only mode was turn based, player vs. player.

Meanwhile we were playing every and all word games we could find. We need to find a different game mechanic. We needed to find the fun.

Many years ago I wrote an article titled "In Praise of Paper," about how paper prototypes can and should be a key part of design. Then during 2007/8 I briefly taught game design at a local art school, where the class project was to create a paper-based game (card or board). Both of these experiences convinced me of the value of playing with prototypes.

It doesn't have to be paper, of course. I've seen strategy games prototyped in Excel.

In the case of a word game, there's a great tool for prototyping ... Scrabble™ tiles.

So that's we did. We envisioned the game with scrabble titles and played it. Not only us, but anyone we could find. In a way the game evolved during these play sessions. We know what we wanted to see, but by playing it we improved the game over and over again. All before a line of code was written.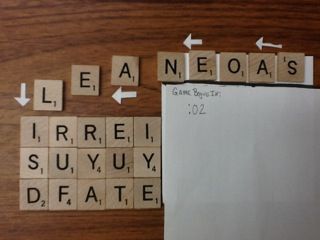 Of course the game would change, once again, when we decided on a theme and style. But those play sessions formed the basis of the game mechanic. They were fun and they were invaluable.

So today (Friday, Nov. 23rd, 2012) Word Carnivale was submitted to Apple. It will be up to the players to see if this was all worth it, but if the people who have seen this are any indication, this is a shot worth calling.