A Boom Begins
On September 10th, 1889, already successful toymaker Charles Martin Crandall, was issued a patent for the first blockbuster puzzle game. "Pigs in Clover" was a genre-defining, subset of "dexterity games" sometimes referred to as "ball-in-maze" games. In these types of puzzle games, generally a single player tilts, shakes and/or taps it to beat it. Crandall's design was simple; a maze of open concentric rings with a central covered "pen" in which the player had to send the "pigs;" which were marbles. While this little piggy wasn't the first "ball-in-maze game" to hit the market, it was the one that "blew up."
Three weeks after the product was released, the Waverly Free Press reported that the company was turning out 8,000 a day and was 20 days behind in orders. Five U.S. Senators had been found having a tournament for the best time. It had appeared in political cartoons as a metaphor for inefficient government and Mark Twain had mentioned it in his book "The American Claimant." A satirical piece in the Chicago Tribune stated "Dinners grow cold. Young ladies are not dressed for the theaters. Gentlemen appear with glazed eyes...Clerks doze over their desks after sleepless nights." In the first season of HBO's "Westworld," the show gave a nod to this piece of game history by presenting "The Maze" in a Pig's in Clover themed box.
Kinda sounds like what happened with Tetris or Angry Birds, doesn't't it?
Variations on the theme
These types of games have been popular ever since and the antique ones can be found, off and on, via on-line marketplaces like eBay. That said, most of us experience them as giveaways in a child's birthday party "gift bag;" often just simple plastic boxes with a colorful picture filled with holes in the bottom and a corresponding number of balls to fill the pits. However. since 1889 hundreds of this style of game, most often pocket (or cell phone) sized, have been produced with a wide range of themes, equipment, mechanics and goals. The collection in The Strong National Museum of Play includes military, pop culture and historical (or at the time they were created, current events) themed puzzle games. Players had to collect, align, avoid obstacles and arrange, "equipment" such as rolling rods, "jumping beans" mini-jigsaw style pieces, and more as you can see below.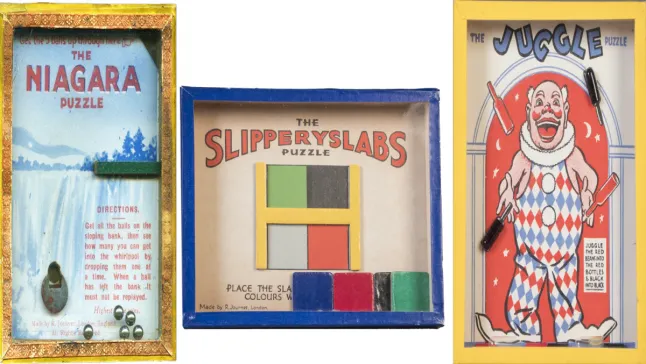 These three above were all produced by the R. Journet & Company, which was the most prolific producer of these types of puzzle games from 1891-the 1960's. And these types of puzzle games keep coming back. Check out this Mario-themed one available in "Happy Meals"
Want to play? You don't need to go to eBay.
The Original Mobile Games, a co-production of The Strong National Museum of Play, The Rochester Institute of Technology, and Second Avenue Learning, Inc. digitally recreates a playable subset of The Strong's collections of these games. Now available on iOS, the minigame collection also features historical backgrounds and images for each of the games. The free download contains six such puzzle games.