When my daughter Ella was eight years old we made an iPhone App together called Silly Snaps. It's a simple photo captioning app designed to be kid friendly. She did the art and I did the coding over a few days. In return for her efforts she earns a royalty from app sales. To date she's earned a whopping $60. Not enough for her to retire on later in life but not bad pocket money for a kid.
Ella's now nine. With our family holiday fast approaching she wanted to earn some extra spending money for the trip. She did some dog walking for the neighbours and wrote up a list of chores to do around the house. At the same time her little brother Zac, who just turned seven, wanted to make a game.
I proposed that they make a game together and split the royalties. Who knows, they might end up with another $60 and they might also learn a thing or two at the same time.
I run a games accelerator where we help get indie games to market. From this I realise that scoping a game is super important. It's so easy to let feature creep blow out the games schedule. To make sure this was a doable project for the kids I laid down some ground rules:
1. It had to be on a single screen.
2. It had to use minimal sprites with no animation.
3. It had to use touch or tilt controls.
4. The art would be hand drawn by them on paper.
5. It had to be adorable.
Zac had pitched a game a year earlier that he called "Bees Get Dead". The object was to tap flowers to shoot water at bees flying overhead. I was impressed with the idea at the time and could see it running on a tablet.
"How about we make Bees Get Dead?", I suggested.
They liked the idea of the bees, but quickly came up with a new angle.
Their pitch was simple. You play a bee and have to pollinate flowers. While trying to land on flowers you have to avoid bad bees. You control your bee by tilting your device.
Simple. And it sounded adorable!
Ella and Zac divided the art tasks between them. Ella drew the player bee, the bad bees and the background.
Zac drew the flowers and stems and took on the lead design role.
My wife also contributed to the process by coming up with the name Beetastic.
Armed with my Macbook Air we sat around the dining room table where the kids drew the art and I set up the game project using Corona SDK. As they finished their art I imported the pieces into the game to get them on screen as soon as I could.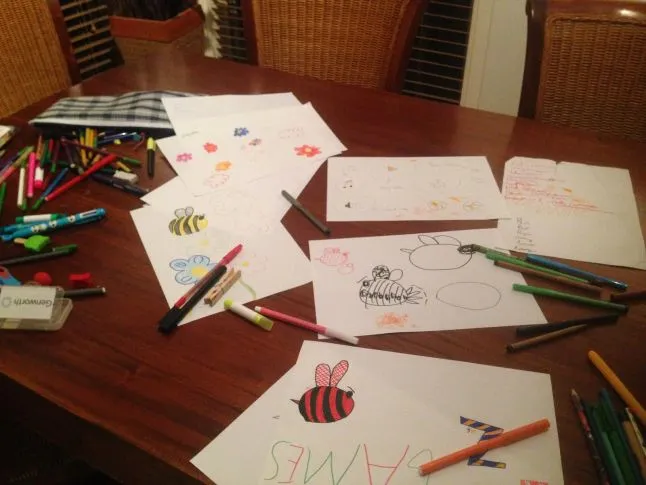 The "office" where Beetastic was made.
It was a liberating experience making the game. I took a long hard look at other simple but fun games on iOS like Timberman and dEXTRIS and was impressed at how minimal they were. As a result I tried to minimize the interface as much as possible. Timberman initially didn't even have a pause or credits screen - screens I usually pile into my games. I resisted the urge to do this again and excised them from Beetastic. The goal here was to spend the most time on what matters - the gameplay.
The final game consists of just 3 screens - the start screen, the core game loop screen and the game over screen. The start screen has a leaderboard, play and more games button and the game over screen has the same except the games button is replaced by a share button.
The initial start screen with pixel art. Later replaced by Ella's hand drawn logo.
I plugged in Apple Game Center and launched the default leaderboard view from a button press. No need for fancy hand crafted leaderboards here. Time saved building and testing could be spent on game balancing!
I added iAds and made sure that every 4th death would show a Vungle video ad. These are the only two monetization points in the game and they don't feel too intrusive. Besides, the kids need their holiday spending money!
I logged the time I spent on the project which added up to around 32 hours. We started on the weekend of the 10th of May and did bits and pieces whenever we had time after school or on the weekend. We didn't have a hard deadline so there was zero pressure if we didn't do anything for a week or two.
I would give Ella and Zac a build of the game to play and wait for their feedback.
"Move the score to the middle of the screen dad." or "The bees have to hover over the flowers for 5 seconds to make them disappear." Zac would tell me with the authority of a lead designer.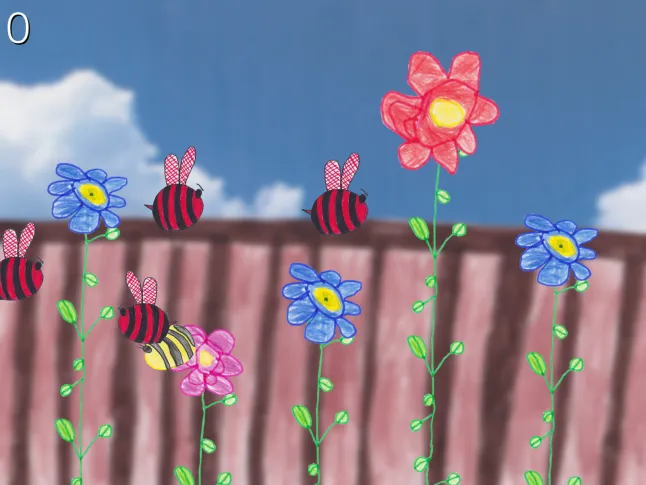 The score needed to be centered.
The only designs I didn't implement was the flower scoring system where orange flowers were worth 10 points, yellow 15, green 10, blue 25 and rainbow 100. I suggested we award 1 point per flower to keep it simple. "But Rainbow flowers are worth more points" Zac told me, "And they're rare." So we compromised and I made those double points.
We run a monthly test session at Right Pedal Studios where we invite in around 40 members of the public to play the games the teams are developing in the accelerator. Ella, Zac and their friends attend every month and play the games offering sage advice on how to improve them. This time my wife suggested Ella and Zac test their game. It was a thought that hadn't even crossed my mind.
So on testing day Zac volunteered to show off his work. He took mental notes and the next day he and Ella had a list of things to fix in their game.
We needed another bigger, badder bee that chased the player. We also needed instructions to tell players what to do. And we need powerups to make the player invincible or to slow down the bad bees.
So that weekend I worked through the list. Ella drew a new bad chaser bee with 4 stingers ("Why four?" I asked. "Because he's a bad bee!" she replied.) I hooked up the leaderboards, added in Vungle ads and the Chartboost more games screen.
We didn't add the power ups. Our goal was to keep it simple and what we had worked. It was simple. It looked adorable. And it felt fun.
It was time to test it and ship it. And so we did.
You can download Beetastic for free from the App Store:
The game has been out for just over a week and we've been incredibly fortunate to make the App Store Best New Games feature list in 73 countries. I'm quietly confident that Ella and Zac will be earning some spending money for their holidays.
I had a lot of fun working with the kids on this game and we plan to do it again real soon. In fact, Ella has already started designing game sprites for the next game!
The new game has an otherworldly vibe!
So, have you made a game with your kids? If so, how was the experience and will you do it again?
Tools and services used to make Beetastic:
Corona SDK to build the game.
GameAnalytics to track in game events.
Pixelmator to resize and flip the kid's art.
Audacity and SFXR - to generate sound effects.
Chartboost to show the more games screen.
Vungle to serve video ads.