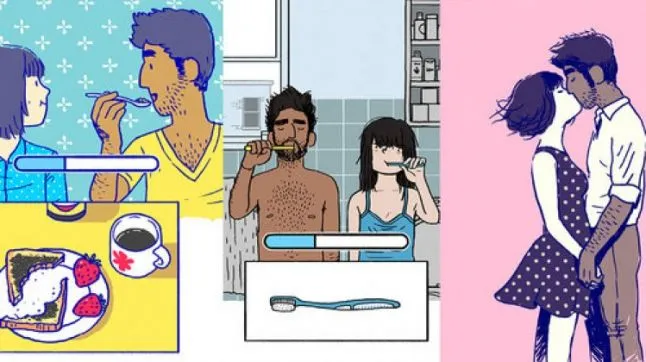 The "game" Florence has received the 2019 BAFTA best mobile game award. Offering an incredibly short player experience and nearly no gameplay, Florence can barely qualify as a game. Nevertheless, the BAFTA jury has not gone mad; it has rewarded a title that illustrates a significant trend in game design.
Florence was developed by Mountains, an Australian team, and published by Annapurna Interactive. It is about a sentimental episode in the life of its main character, a young woman named Florence. The latter is an ordinary girl, and her love story is quite common. The narrative is told through fixed or little animated pictures. Interactions are limited to touching the screen to display the next image and text or to accomplish straightforward actions. The title offers a few mini-games such as jigsaw puzzles though. However, their presence is merely a metaphor of what drives two persons to get close to each other; they don't offer any real challenge.
So, if this title has no gameplay, what is making this game so appealing? Why did it get such a prestigious award?
Florence deals with a theme that is overly important to all of us and with which we are all familiar: romantic relationships. The banality of the characters, Florence, her mother and Krish, her lover, the commonness of the situation they live make it easy for us to project ourselves in their story. We all know persons like Florence, and we have all gone through similar circumstances.
As a result, this work of art touches us deeply and intimately. The BAFTA jury did not reward this game for its gameplay but the intensity and universality of its experience.
Florence reminds us that storytelling mechanisms that have been so successful since ancient Greek tragedies are very effective, no matter the media.
So that's the lesson to draw for game designers: When a game features characters we can identify with and situations we can relate to, the intensity of the gamer experience is multiplied.
This BAFTA reward illustrates a trend I identified several years ago: The growing role of emotions in games and their consequences on their design and the part of a good narrative.
Other publications related to storytelling:
Do Telltales Games difficulties sign off the death of episodic content business model?
Games that make us think (FEATURED POST)
Episodic design 2.0 - Gameplay and storytelling at its best - Part 1 (FEATURED POST)
Episodic design 2.0 - Gameplay and storytelling at its best - Part 2 (FEATURED POST)
Episodic design 2.0 - Gameplay and storytelling at its best - Part 3 (FEATURED POST)