This post originally appeared on Kids Got Game on Kidscreen.com.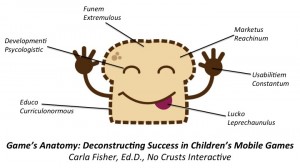 There are a lot of pieces that go into the success of any app, as I discussed in my iKids Session last week, "Games Anatomy – Deconstructing Success in Children's Games." For those who missed it, one of the topics that I spoke about was the importance of doing market research, especially on competitors, and how that intel can help you identify trends and make decisions about your own work.
Before entering any market, it's important to figure out who else is out there and what they're doing. Knowing how an app has sold and on what devices is helpful not only for financial reasons but also for examining what kinds of features make for a successful app. You might have noticed, however, that this information isn't readily available in a neat little package. If you're lucky, you can ask the developer directly for the app's stats, though few of us are on such chummy grounds with our competition!
Instead, we must poke around and triangulate information as we can. Thankfully, there are a lot of resources out there if you know where to look.
The iTunes Store
The iTunes store is a great place to learn about a specific iOS app's content and general details, such as its publisher and developer. You can get a sense of what the app looks like from the screenshots, and reading customer reviews lets you see how consumers respond to different app price points and features.
At a general level, spend time looking at the storefront and collections in various categories. By doing this you may notice trends in icon design, artistic styles, You may also observe where there's a glut of content (such as alphabet content) and where there's potential opportunities (general biology for preschoolers, anyone?).
App Annie
In our research, we've found data-aggregating sites like App Annie to be perhaps the most helpful tool to see how games are performing on different platforms, both domestically and around the world. App Annie requires a login but is free of charge to look at the data. It warehouses sales data for both iOS and Android apps. Just search for any app and you can pull up a list of worldwide sales rankings, both current and historical. This database also has information including app release dates and the different categories (e.g., Education, Puzzle) that the app has been sold under, which are interesting in and of themselves.
Note that App Annie can be confusing, so spend time understanding what you're really looking at. Triple check that you're looking at the platform of your choosing as well. It's quite possible to think you're looking at iPhone when you're in fact looking at Google Play!
The Amazon Android Market is a huge market for Android apps, and the only market where Kindle Fire apps can be purchased. As with the iTunes store, it doesn't provide granular sales data, but the number of user reviews can give some hint into the relative popularity of a given app. As with iTunes, it's also useful to review the top lists to identify trends and opportunities.
Similar to the Amazon Appstore, Google Play only tracks sales through its own service, which is exclusively Android. However, Google Play provides a general tracking of how many installs an app has and, in some cases, a graph representing how it has done in the past 30 days. This can make for fascinating graphs, like ones that show a huge dropoff or if it's had a sustained level of sales over the course of the month.
Triangulate the Data
That's four sources we use to triangulate trends and opportunities in the market. Without the research, you're likely to storm into an incredibly crowded content area or miss features that have become standard across the board, leaving your app at risk. In this day of gajillions of apps, the best strategy is to differentiate, no matter if you're the biggest children's brand in the universe or an indie just getting started.
We know that pulling all the info together from the various sources feels a bit like watching Bloomberg News or some other financial news crawlers. But if you can sort through the noise, there's a wealth of information that may well help you find the path to app success!
I'll follow up with some additional thoughts from the presentation in the following weeks. Feel free to drop a note at [email protected] or follow us on Twitter @noCrusts.