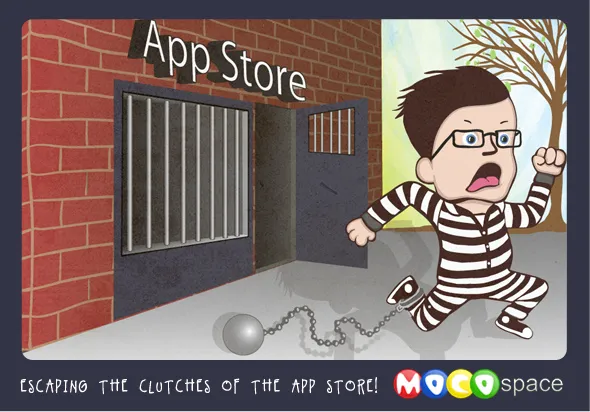 To date, if you wanted to create a successful mobile social game, an app was the way to go. But as Facebook and others mull over a major move to HTML5, it's time for developers to seize the day and cash in on the next great mobile adventure.
We all remember the debut of the iPhone. Even with a limited app ecosystem, the early movers developed core expertise around the iOS platform, created innovative game experiences and gained mass market share.
We are at another crossroads in 2011. Beyond Android and iOS, the mobile Web is sexy again. New technology enhancements of HTML5 have brought app-like gameplay and experience to the Web and will be part of the architecture of any major mobile social game in the future. Whether your game is fully HTML5 or leverages just part of the infrastructure, the question remains: Why should developers be chained to the app store and rely on a gatekeeper for their success? That's so 2010.
At any top mobile social games company around the world, the discussion of HTML5 is not about "if" but "when and how." We've seen this first-hand with our games platform – strong Average Revenue per User (ARPU), viral growth and a solid base of indie game developers looking for mobile Web game distribution. Companies that crack the code of distribution will profit wildly from HTML5, purely based on the scale potential of social games across any smartphone. Developers are salivating at the chance to refocus their budgets around improving gameplay and creative aspects of the game versus wasting money on multi-platform mobile dev costs.
Zynga, AOL, YouTube, the Financial Times and AT&T are already on the HTML5 train. The real catalyst will be Facebook and its release of Project Spartan; it's going to be massive, and will kick off a battle I think Apple is likely to lose. And that's great news for consumers and developers.
Why?
For developers, there are a number of reasons. First off, they won't have to play by other people's rules. It means developers can build what they want. Look for more creative, edgy and controversial titles to come to a device near you. Secondly, developers won't depend on time-consuming and fairly lengthy approval processes to launch new apps, updates, bug fixes, etc. Third, developers will have a much easier time supporting a broader range of devices as mobile devices and their browsers improve. For all of these reasons, Apple is in for a major disruption.
For consumers, it will be fantastic, for the simple reason that they will have greater choices. Over the next few years, every company – from retailers to newspapers to social networks - will support the mobile Web, building and supporting applications across a fragmented market of device and technology-specific application stores. This means that consumers will not have to wait for a company to build an app for their new phone in order to use their service. It also means consumers won't be stuck with a phone full of applications they no longer need, want or use.
Is the end of the application ecosystem near? No - but HTML5 is definitely set to gain huge traction among businesses and consumers. And one thing is for sure: Mobile is about to get a lot more interesting for developers and consumers as Apple, and to a lesser extent Google, lose their stranglehold on the mobile ecosystem.