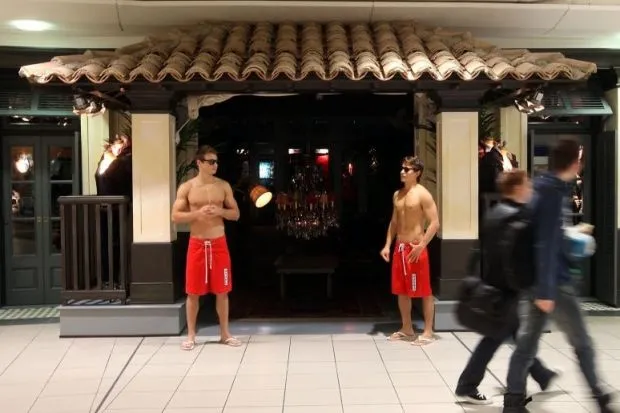 There's a shop in the Buchanan Galleries shopping mall in Glasgow that doesn't like me.
It's true; there are a lot of shops in there that I myself don't like, but this time, the fingers
on me.
There is no signpost above it, no logo. A roofed facade juts out of the rest of the store
unit, blatantly ignoring the building's 3-foot rule on exterior shop displays. The windows
are partially shuttered. The interior appears to be lit only by desk lamps. Subtle wubwubs
of dubstep waft through. Come in if you dare.
Left Out
"This can't be a very successful shop," I thought to myself; "maybe it's just a really
elaborate set up to hide the fact that retail is running out of money."
Yes, that's it, it has to be. But I was fatally wrong. The shop I am so afraid of turned out
to be the Hollister shop in Glasgow, an upmarket, surf themed clothing brand from the
minds behind Abercrombie and Fitch. On weekends, shirtless life guards man the
obscured entrance to the store. The condition of entry: a photo shoot with your arms
wrapped round the perfectly toned, sun kissed torso of the lifeguards, who I had no
doubt could not have originated from Scotland. On Saturday, there was a small crowd of
teenage girls and their Justin Bieber tribute boyfriends sipping Frappuccionos waiting for
their shot at the Hollister admission rite before they were permitted to fumble around the
darkly lit dubstep room filled with T-shirts and undie-things.
One could laugh at such a spectacle, but as I drifted on past with the rest of Scotland's
genetically inferior population, I couldn't help but think: "I want to be in there." I, a
twenty-something, twig of a programmer who can barely carry an office chair let alone a
lady out at sea, vowed to hatch a plan so that I too could have perfectly chiseled biceps
with a Vitamin-D rich complexion.
Despite my lofty, probably unattainable newfound aspirations, there's a bit of genius to
be analyzed in the way Hollister appeals to it's followers. Those who want in, and believe
it that they are the type of person who belongs in there, get in, while those who don't are
left with an aspirational longing to join them.
All for One, None for All
As game creators, we can sometimes feel like we need to appeal to everyone all at once,
or target nobody at all. This can lead to watered down, mediocre clones designed by
committee, or a cast out Frankenstein. We mustn't be afraid to avoid appealing to certain
kinds of consumer, not just in terms of genre, platform or age rating, but by mentality
and attitude towards your products.
Games a rife at attempts to utilize this idea already, but many miss the target. Creating a
game and a brand which people aspire to play and play well is not an exact art and never
will be. A game like Minecraft has very subtle nuances of elitism around, not through
direct actions of the the creators themselves but the shear talent and quality of their
player community. Many of us (including myself) have bought Minecraft thinking "I could
do that," but when we try, we don't even get close.
We mustn't forget about the good ol' MMO as well, for both good and bad examples.
CCP's EVE Online could perhaps be the Hollister of Online Gaming. Beautiful, high quality
and edge, but also complex, long winded and punishing. Only a select few in the gaming
population truly belong in CCP's Universe, but it doesn't stop the rest of us from trying.
It's easy to create a game thinking that you're going to wind up with something that's
prized and high value, but completely miss the mark. If Primark, for example, started
planting lifeguards outside their front door, would that make their brand aspirational, or
a laughing stock?
The best sort of elitism in games is something we must aspire to achieve and can. If I put
my mind to it, I could create a working replica of Edinburgh in Minecraft, with trams.
What I don't feel like doing however is something everyone else can. Higher gear levels
and ranks may seem like a sure-fire way of creating 'Positive Elitism' in game, but
without any belief or feeling behind their attainment, your game becomes a grind
machine that nobody wants to play.