I get a fair number of unsolicited emails about game design - most often of the "I've got a great idea, could you build it for me and we'll split the profits?" variety. So I was skeptical when I received this:

Hi Noah,

My name is Matthew DeBlock, I am a Canadian currently living in China. I came across some of your writings in my usual searching and "nerdyness".

I have developed a conscript ( constructed script ) called Dscript that I have been developing for nearly a decade. It "matured" to a reasonable level recently.

Dscript is a 2D writing system that turns alphabetical words into glyphs and symbols, they look quite "ancient/alien" that are legible in both letters and sequence.

If you or anyone you know may be interested in applying Dscript I will gladly help out in whatever way I can, free of charge of course. Dscript itself is creative commons, free to copy, edit, sell by anyone. I am always happy to see it used.

I have attached a small PDF intro, there is also plenty of info online at Dscript.org and Dscript.ca. Or just google/youtube/etc search for "Dscript".

Please don't hesitate to contact me if you have any questions.

Now, the fact that he is giving this away made it interesting and less likely to be a waste of time. So I took a look - and it's actually very cool. I would love to have had this when I was working on Indiana Jones and the Fate of Atlantis. Or as that title would look in Dscript: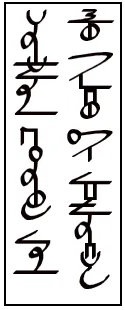 I urge anyone intrigued by this to check out Matthew's work at dscript.org and www.dscript.ca
He's hoping to find work in the games industry, and the creativity of his approach (and the quality of his web site) certainly make him look like a worthy candidate to me. There is contact information at the dscript.org site - and this is unsolicited, I just chose to let people know because I thought it was a cool approach.