Now that Disney has bought LucasFilm, what will happen with the Monkey Island franchise?

The creator of Monkey Island, Ron Gilbert wonders the same in a interview recently, if you have not read that yet, do so and then continue here, I'll wait...
And if you have no clue what Monkey Island is, take a look at the trailer, you can also see Ron Gilbert and others at Lucasfilm (at the time) talking about it.

OK! Let us continue then...
A new Monkey Island game By Ron Gilbert, starring Dominic Armato. And the biggest Lucasarts/Lucasfilm franchise potential besides Star Wars?
Ah yes, myself (and many others agree with me) also hope that Disney will see the past success of the franchise and that it can make money. (and after a buyout like Disney did, they do need to re-fill those coffers, and all those smaller projects makes for a good financial foundation.
What would a new Monkey Island be like?

I hope that it will stay true to it's roots, which is what has kept it as popular as it is. The enhanced/HD re-release of Monkey Island and Monkey Island 2 shows the direction it could take.

Currently Ron Gilbert is working at Double Fine with Tim Schafer who is another legendary name in the game industry (and also worked on Monkey Island), so who would make a new Monkey Island and how would it be? Maybe a mix between that and the style that Telltale's Walking Dead series uses would work well?

One thing is clear is that Ron Gilbert is a shoe in as the lead on this. And as he works at Double Fine with Tim Schafer my guess is that Tim Schafer and the rest of Double Fine would be heavily involved. I'm also sure that some of the folks at Telltale Games (if they are not too busy with The Walking Dead and other projects) might be interested in collaborating as well. And Lucasarts and Disney would probably be able to provide some support as well. One thing for sure is that there would be no lack of animators or artists for the project.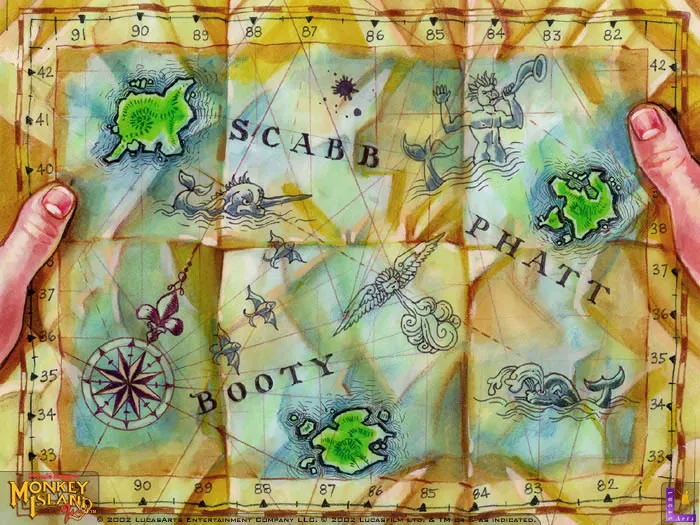 What about the characters and plot?
Well. The name do dictate that Monkey Island and the islands near it is the focus, and a Monkey Island game would not be a Monkey Island game without the character Guybrush Threepwood in all Monkey Island games to date, all you need to do is hand him the script and a second later he'll be dueling with the best pirates on the island in no-time. And i'm pretty sure that a lot of the previous voice actors would be happy to reprise the roles of certain characters.

Considering that Monkey Island and Monkey Island 2 exist in remade/enhanced form I do not think a remake of them will be much point. It would either have to be a alternate telling/reboot in that case. And if a rough idea is needed... Disclaimer; I hereby officially give Ron Gilbert all rights to the following idea: Maybe Dominic could voice the son (or Grandson) of Guybrush. This would allow gamers to "discover" Monkey Island along with Guybrush Jr, and narration tricks like "What happen then Grandpa?" could also be used easily for story leaps! And maybe Jr need to go find Sr, making Guybrush from the classics the new game's Maguffin!

Something along those lines would allow a "remake/reboot" without it actually being one, while still honoring the classics without being limited (and allowing the classics to be remade many years from now instead if needed). If the new game turns out really well, then a Disney movie could turn out to be a real big it, Disney did great with Tron Legacy, and a Monkey Island movie would have the same appeal (a cartoon motion picture would be ideal, Dominic Armato and the voice cast could be "re-cycled" for that, thus cutting down a lot on production time and cost).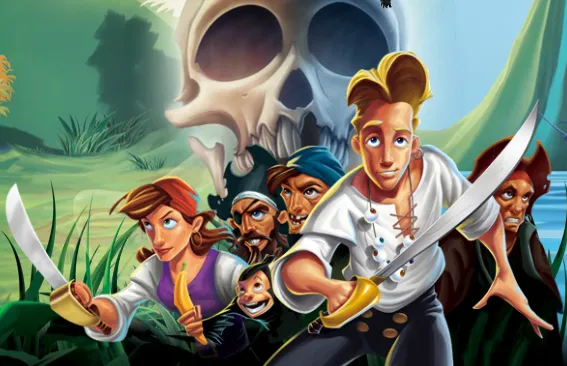 Unlike Pirates Of The Carribean, the Monkey Island franchise have more appeal to demographics beyond what PoTC could ever have!
Monkey Island is more laid back, with a mix of silly humor and intelligent humor, some poking fun at the trends of the time. And with both logical and really silly puzzles and secrets. A game that dad/mom and their kids can even enjoy and play together. As a franchise Monkey Island is on stronger footing that PoTC and Tron together. And not to forget the merchandise possibilities, figures, toys, lego, comics, board games, morning cartoons, books/novels.

And if Disney feel too chicken to finance a new Monkey Island game, then why not try this idea: Create a Kickstarter for it, and if the kickstarter hits the budget mark for the game, then Disney will double whatever the kickstarter amount stops at, allowing Ron Gilbert to take the project several steps further.

The potential that Monkey Island have is the same as Rockstar's Grand Theft Auto franchise game-wise, but combined with PoTC and Peter Pan, with some Tron and Star Wars sprinkled on top.
Actually, there may be "two" Monkey Island games that need to be made. One to "conclude" the trilogy (story/plot was split in three, the 3rd game was never made). And another (new) game to continue expanding the franchise.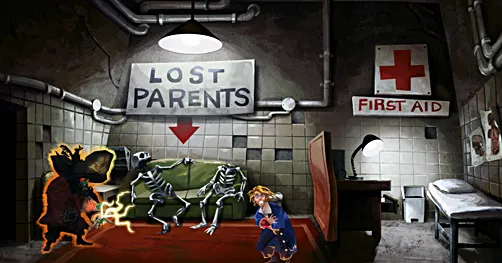 When? Is it out yet? Is it out yet?!!
Ron Gilbert would probably not be able to release (if funded) a new quality Monkey Island until Fall 2014-Winter 2015 if being conservative. If being highly optimistic, maybe Winter 2013-2014/New Year 2014, but Disney and Lucasarts better step up then, the sooner plans are laid, the sooner you can start digging for hidden treassure.
And please visit Ron Gilbert's Blog and Twitter, and support him in his quest, and also contact Disney and Lucasarts to tell them (kindly) that; I want a Monkey Island game created by the only man in existence (Ron Gilbert) that actually do know The Secret of Monkey Island!
(Images used under Fair Use and are copyrighted by Lucasarts.)
* * *
Roger Hågensen considers himself an Absurdist and a Mentat, hence believing in Absurdism and Logic. Has done volunteer support in Anarchy Online for Funcom. Voicework for Caravel Games. Been a Internet Radio DJ with GridStream. Currently works as a Freelancer, Windows applications programmer, web site development, making music, writing, and just about anything computer related really. Runs the website EmSai where he writes a Journal and publishes his music, ideas, concepts, source code and various other projects. Has currently released 3 music albums.