As a recap...With our 10th DLC Pack, Amazon Fury Part I, there were two challenges – our ongoing need to create fun, rewarding content that players will want to repeat, and a new feature – Weapon Mastery – that would expand and deepen our well-established action combat system. We covered Weapon Mastery in part one of the post-mortem, so now let's talk about Amazon Fury.
PART 2 - Amazon Fury Part I Playable Content
For the Amazon Fury Part I DLC, our initial idea was to revisit Themyscira, home of the Amazons. In our 3rd DLC, The Battle for Earth, Braniac had invaded the island and been defeated, so we wanted to explore the fallout of those events, discover how Hippolyta and her Amazons reacted to his invasion, and then throw players into the middle of the resultant civil war. There's a strong precedent for this war in the comics already and we drew a lot of inspiration from there—it's always great to base your story, environment or activity in a familiar setting and I feel we really nailed that.
Looking back, I can proudly say that we did many things with this DLC really well, but there were also a few things that we are looking to improve next time around. I'll run you through a few of the strongest aspects of the DLC as well as some of the key learnings.
Strength #1: Early Internal Feedback
The DLC cycle always begins with big brainstorming meetings, where everyone can voice their opinions on the content and what we should make to support the high-level concepts. After presenting my team's ideas for missions, locations and gameplay to Directors and the other team Leads, we received tons of great feedback and (eventually) buy-off from all levels. This feedback part of the process ensures that everyone is on the same page and we don't run into issues where a Director or Lead is surprised by content and asks for last-minute changes. Also, it really motivates us as designers to know that the entire team stands behind us as we lead the charge on some cool content.
Strength #2: Cool Story Missions
To help tell the new story, we first looked into revisiting our cool Iconic Anomaly missions (wherein players take on the role of a hero or villain during a historic event from their past, originally released in the Origin Crisis DLC). However, we wanted to find new ways they could be used to help tell the larger story we had in mind for Wonder Woman and Circe, not simply play out an origin story already retold many times before. We concentrated on the idea that the event would support the background story from the perspective of Wonder Woman and Circe. Eventually, we decided players would relive the pivotal moments after Brainiac's defeat, confront a now-warmongering Hippolyta, and ultimately choose to either join or rebel against her. These missions were right on target and players have given overwhelmingly positive feedback—not just on the cool game mechanics, but also for Wonder Woman and Circe's personalities really supporting their personal objectives and how they interact with the other Amazons.
Strength #3: Visiting Familiar Locations
The story of the DLC centers on Queen Hippolyta attacking Gotham City in retaliation for the mortal world allowing Brainiac to attack Themyscira. This premise gave us a strong impetus to set our grandest content back on the island of Amazons. For efficiency, we reused an existing map for a common safe area, but we needed more. We needed to see more of the island, not an ancient catacombs, but the actual home in which the Amazons lived their daily lives. Our Environment Team breathed life into two new and distinct areas of the island: The Bazaar, which includes three large market squares and the path up to Hippolyta's palace; and The Warehouse District, where much of the support for the war and supply manufacturing occurs. These distinct and iconic locations help inspire the story and interesting gameplay mechanics we put into these missions.
Key Learning #1: Sprawling Map
Looking back on our final level design for The Bazaar area, I think we over-planned the area. My original intention for the area had to include three completely distinct, non-simultaneous pieces of content, and unfortunately I think I overcompensated. The Environment Team did an amazing job given those original guidelines, but having such a massive map with several large open areas made it difficult for me and my team to design specific tasks within each section that flowed well and didn't cause odd gameplay issues. Ultimately, we designed gameplay-flows that were distinct between the different missions that would re-use the same spaces, but if we didn't have the hurdle of having an area bigger than necessary for the mission tasks, we could have spent more time improving other parts of the gameplay.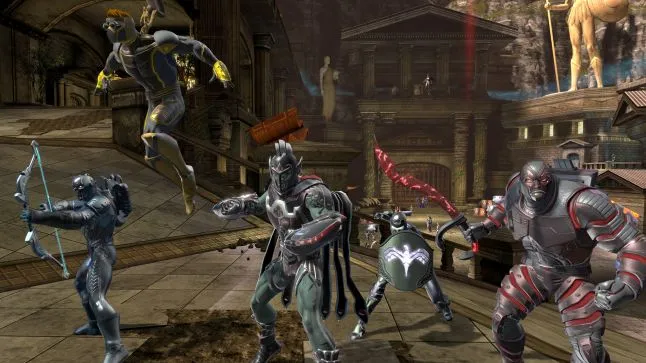 Key Learning #2: More Internal Playtesting
While a few minor bugs can be expected, we strive to present excellent work so that the players don't have interruptions in their gameplay. When Amazon Fury was pushed out to our public test server, there were a few glaring bugs that came back to bite us (after they were found by players—ouch!). I really try to schedule as many internal playtests as possible with my design team before anything is shown to the public, but getting a full QA pass and playtests from people who haven't enough time to become sufficiently familiar with the content can be really difficult. Often, players will find new ways to approach content that we never thought of—which is great and I encourage it—but we want to make sure that all major bugs and exploits never make it into any public release.
Key Learning #3: Optional Combat Mechanics
Back when we created the Home Turf DLC, I came up with a few ideas that couldn't be implemented at the time—like letting players mount and fire turrets and adding an anyone-can-join public quest system. We didn't have enough engineering resources (many of us were working almost exclusively on our player housing), so we couldn't get these features in within the necessary time frame. The Amazon Fury DLC came with a bit more engineering support, allowing us to try adding a few new combat and gameplay mechanics, including getting that player-operated turret idea off the backburner and putting it into the game. We also introduced an interesting mission where you could transform into an eagle (or harpy) and drop fire-barrels on the opposing Amazon forces. The community generally gave positive feedback on these mechanics, but there was also mixed feelings about forcing the player to play the game in a new way that they weren't familiar with. We are very sensitive to feedback like this. We want the player to play the game the way they think is fun, so we will try err on the side of making gameplay like this optional in the future.
Conclusion
All our efforts culminated in a cool storyline involving several great cornerstone characters, Wonder Woman, Circe, and Hippolyta. While the DLC tells a story all its own, there is still a mystery to be uncovered regarding Hippolyta's true motivation for war—but we'll leave that story for another day.
Currently, we're wrapping up work on our eleventh DLC, "Halls of Power Part I." It focuses on the New Gods (previously unseen in DC Universe Online), our new League Hall housing system, and how they cross over. There are a lot of cool surprises in store with the DLC and, as always, we'll introduce a couple of gameplay features that are new and exciting.
Going forward, we'll return to the War of the Light to learn more about the mysterious mists and where the entities have gone. After that, we'll continue where the Amazon Fury DLC left off. It'll be exciting to explore Hippolyta's impetus for invading Gotham, travel to other exotic and supernatural locations, and of course find new ways for the players to enjoy our game!
Donovan Kennedy is the Lead Content Designer on Sony Online Entertainment's DC Universe Online with over seventeen years of software development experience, including twelve years the game industry. Donovan has worked as a designer (both content and systems) and producer on MMOs, ARPGs, TPSs, and social games.