-Characteristics of a few mobile game maps -Part 3
Please note: in this post I use artworks from some popular games to elucidate the ideas of the article. As our team also creates map art, please don't mistake that the artwork in the post are created by our team. And a big thanks to those developers who had released those great games!
Today almost every mobile game has a map, in this series of posts, I would evaluate the characteristics of maps of a few popular games: Bubble Witch 2 Saga, Jelly Splash, etc, from the point view of an art producer. If you're a game developer who's planning to have a map for your game, or an artist, this series is for you.
This is Part 3 of the posts, let's look into the delicious islands in Cookie JAM.
Overview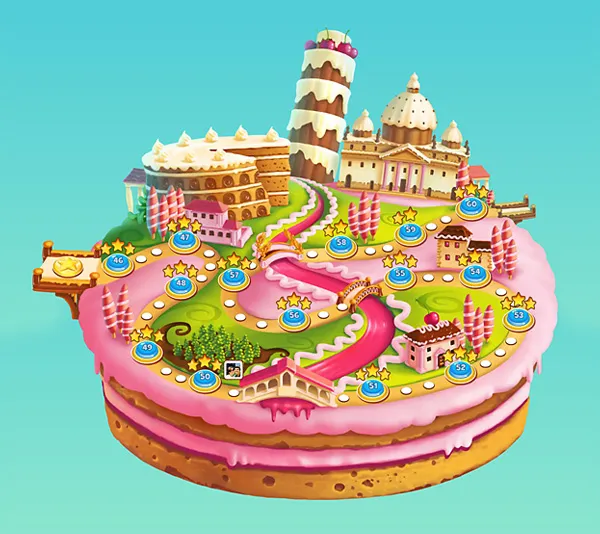 Today there's no lack of dessert themed Match-3 games. And Cookie JAM turns out to be the one of the finest art making. Its maps give a great show of floating islands, each one is a dreamy world of candies and desserts. These islands are beautiful and a display of top notch hand paintings. Going through them makes your mouth water.
Each zone is an island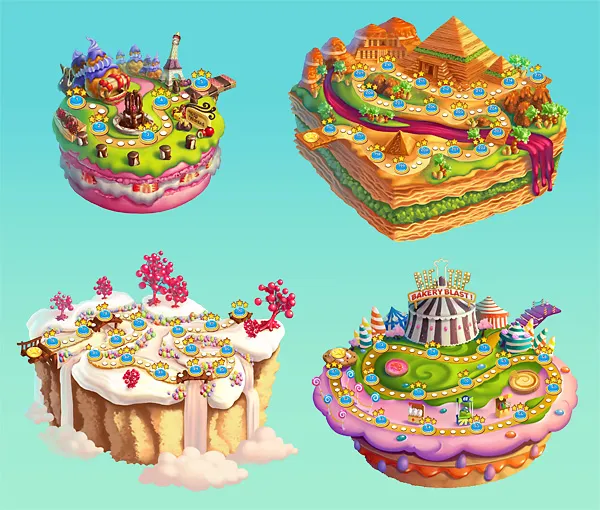 In this design, each zone has no physical connection to the others. It makes adding new zones easy.
Art production solution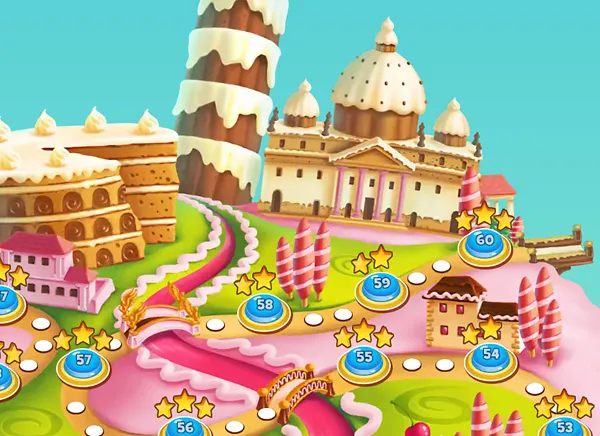 The art production solution is quite conventional. It's digital hand painting all around. And we could see the procedure is conventional too, you first come up with a concept draft, then refine the line art, and make color palette and finish painting.
Cookie JAM adopts pure digital painting, every thing is painted stroke by stroke. The use of photo texture is very limited, in that case the textures would be overpainted to match the style.
We can see the digital paintings are of very high quality, with good representation of materials, good sense of details. Which means a lot of time in the making.
Themes: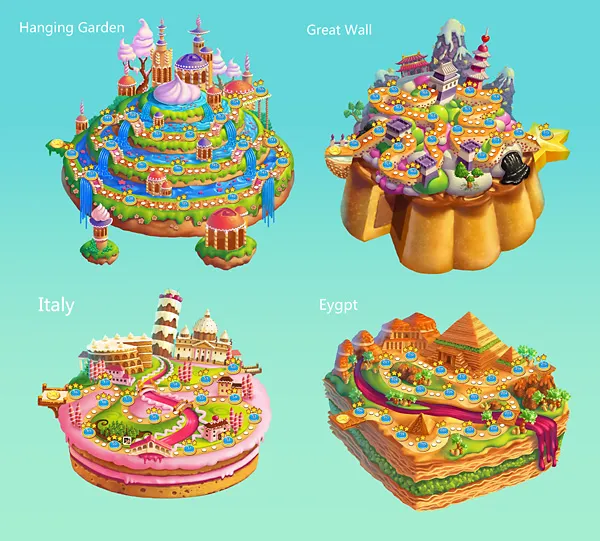 Same as most mobile games, the story is weak, and the themes are rich. In cookie JAM, each island/zone has pronounced theme. And the themes can be put into 3 main categories:
Fantasy themes: like that you would see in a dream.
World famous sites: Great Wall, London city, Hollywood;
Fairytales: Wizard of OZ, Peter Pan. And in the game it wouldn't literarily name those islands after the fairytales. For example, the OZ island is named Marshmallow Brick Road.
Basic Design of an island:
There's no fixed form for island design. However, lots of island come in this configuration: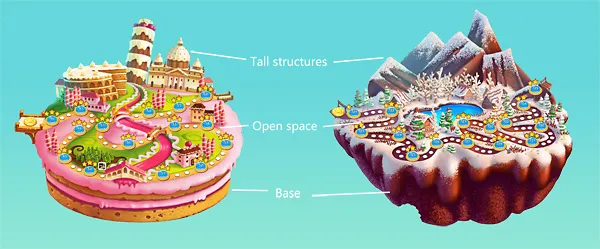 The main body of the island is a rounded mass. The lower part of this mass is hanging structure sticking into the air downwardly. And the front of upper surface is open space, flat or with gentle undulation. There would be houses and small buildings dotting this open space, but generally they won't be very high. While high mountains or buildings often sit on the back edge.
Everything is some sweet food:
You can see everything on the maps: terrain, buildings, trees, is represented by some type of sweet food –cakes, candies, marshmallows. You virtually can't find something on map, and wondering: wow, what is that made of?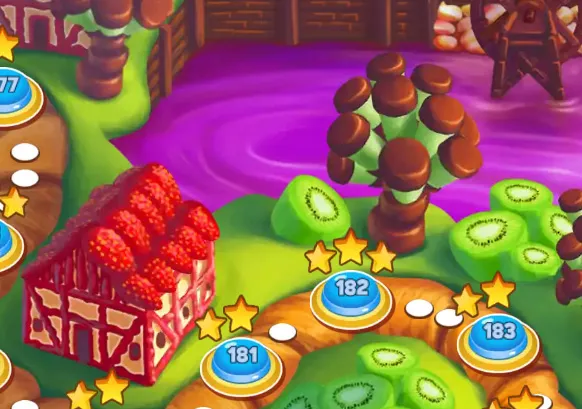 And the Cookie JAM team goes beyond making everything "recognizable", they put a lot of heart to make things "delectable". The color, transparency, reflection are carefully treated, the goal is to make the food look as more appetizing as possible. I can find no better samples to demonstrate this, than the lower parts of islands, they're bulky and well executed :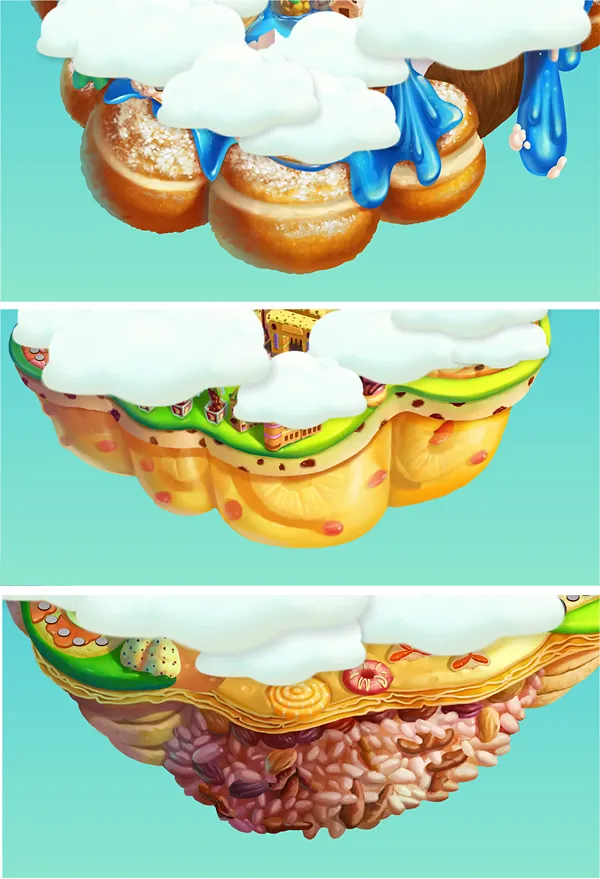 Palette
Few islands would have a dominate color. And for most islands, there would always be green, for there are more or less grass or trees, to bring forth a breath of nature and life; And yellow, that is the color of most baked food. And besides these two, there are many more to complete the world.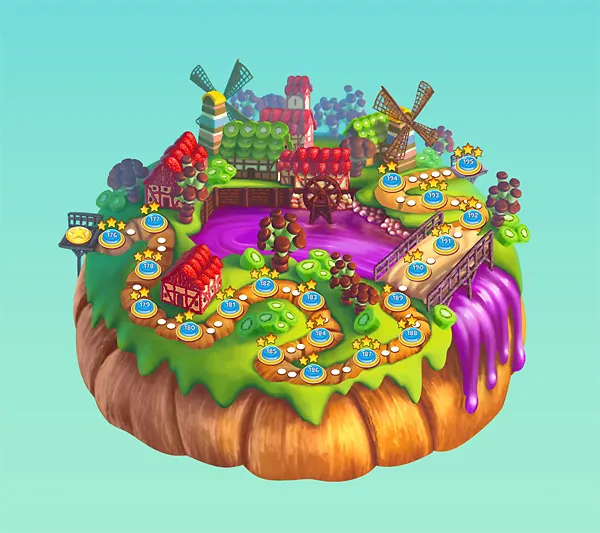 Painting style gets richer
You can observe that over updates, the painting style of later islands is getting richer and richer. Here is a comparison between early and later islands. This is the lower part of the island.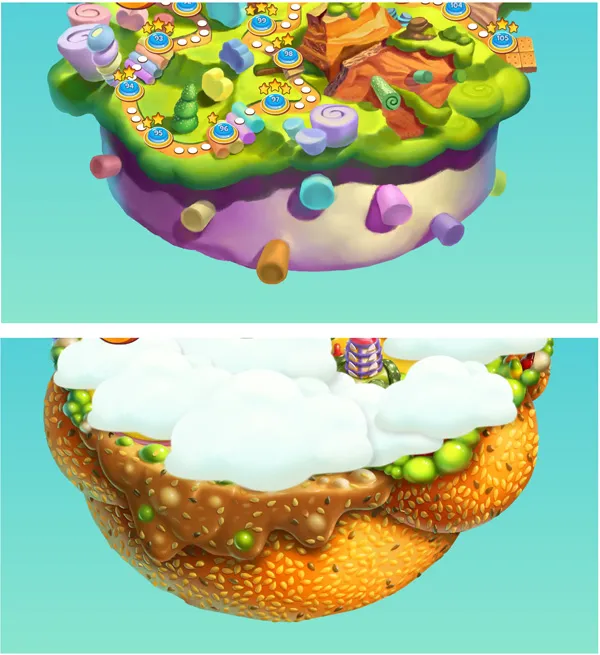 Research into local snacks
The first few islands give me the impression that they are mere some general cakes, chocolates, candies struck together. And for later islands, especially those world famous site ones, we can see that the cookie JAM team has done lots of research into local snacks. Let's see this Great Wall island: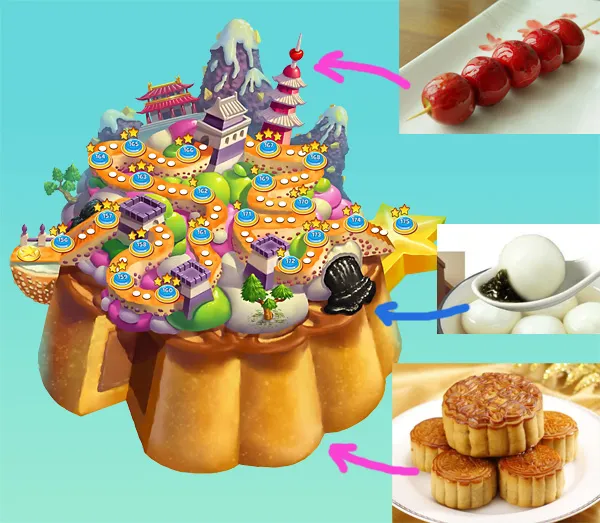 It's not only for this island, you will find lots of local snacks in Venice, Japan, south Asia islands. Sorry I'm a Chinese guy, that I'm not good at the English naming of these food, I can only generally call them "local snack". If you play Cookie JAM, you will find out for yourself.
A sense of adventure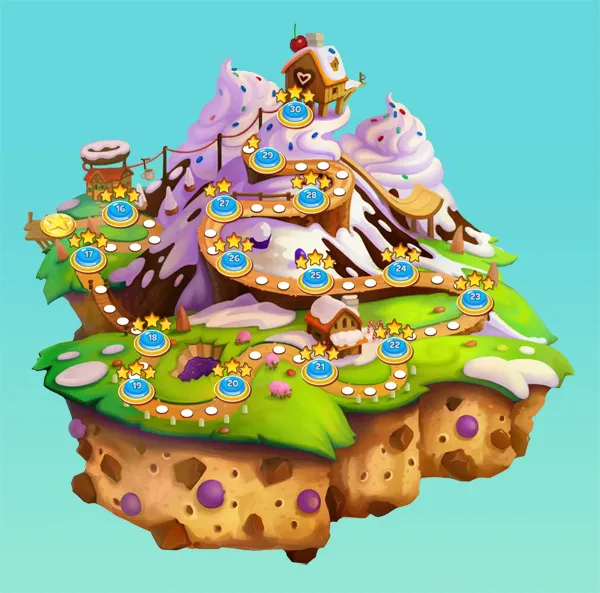 If you hike through the meandering path of an island, you will find yourself lie down in green pastures, go beside still waters, climb mountains, and see world's wonders.
Each island has its adventure.
Rough estimation of production time
I'm not sure how much time Cookie JAM's team spend on each map, but I can give a time estimation to the production of a sample map zone, in a general sense, with breakdown of each stage's work:
For this island: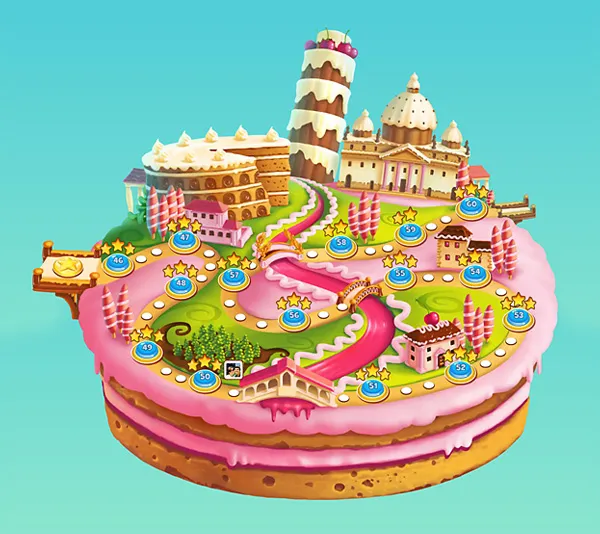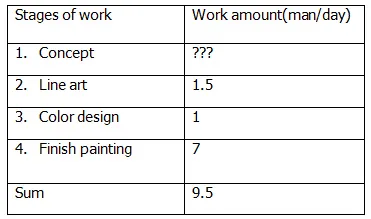 It would take a lot to come up with a concept in the first place, so how long this step takes, really depends on your team. So I leave this step blank.
In this Series:
P1: Developer's General Concern
P4: To be continued…
I would post regularly--one article every two weeks, about game art production.