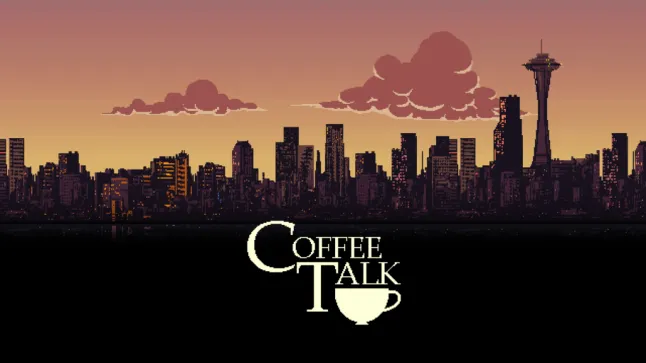 It was a cold rainy night. I was working on a press release while browsing in front of the computer in my room. Just like any other night, I made a cup of something warm to drink to calm my senses and relax my body. That night it was a cup of green tea latte. During one of my short breaks to take a sip and stare out the window, I thought, "this is such a nice calm experience, I wish there were a game that simulated this feeling." Then the thought came. If I couldn't find a game like that, I could make one. And thus was born the idea of a game known simply as "Coffee Talk."
The game jam that started it all
Before we go further, let me tell you a bit about us. My name is Mohammad Fahmi and I'm part of Toge Productions, an indie game developer and publisher based in Indonesia. We were founded in 2009 by two game-loving people (and have since grown to 14), and are mostly known for our hit title, Infectonator. I am the writer and designer of Coffee Talk, but my primary job at Toge is to handle the marketing and PR, and because we are also a publisher with a total of ten games we're working on, the task is steep.
One of the best things about working at Toge is our annual game jam. At the end of the year, we hold a two week long internal game jam where anyone can make anything. A programmer wants to try making a GDD and concept art for a game? Please do! An artist wishes to take a break from using their drawing tablet and create a board game with traditional watercolor art? No one will stop you! A marketing and PR person wants to make a game about serving green tea latte or coffee to a freelance illustrator elf in the middle of the night? Just do it!
And that's what happened during the game jam in the second week of December 2017. I pitched the idea that had been brewing in my mind for months prior. A game about serving warm drinks in a cafe that only opens at night, located in a metropolitan city where creatures like orcs become programmers, succubi become business development managers for trading companies, and humans…well, humans do the things we know they always do.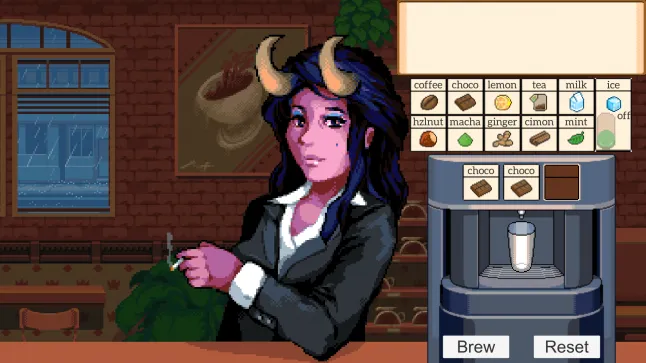 The main selling points of the game would be its story, its pixel art with 90s anime-inspired graphics, and its lo-fi chill-hop tunes that became so popular suddenly on YouTube that year. There was no title for the game yet, so we called it Project Green Tea Latte. During the two week game jam, prototypes were made, art was drawn, teams were changed, and in the end we had four prototypes. You can check out all of them here. After the game jam, the studio decided to work on two games at once, and one of them is Project Green Tea Latte.
Intermezzo: Before going with Coffee Talk, we came up with a lot of titles, and one that stood out the most was "Things We Talk About at Night." We loved it, but the title was too long, and localizing it to other languages would be required to release in non-English speaking countries like China or Japan. A shorter title was needed. Thus "Coffee Talk" was born.
The anxiety of not-a-game
One of the things that worried us most through the first half of the development was gameplay. Toge has been making games for almost a decade, but all of them have been mechanics heavy. None of them play like Coffee Talk, which is primarily narrative based and text-driven.
Debates regarding how players should enjoy the game were frequent and plentiful. As the writer and designer of the game, I believed that story and vibe are the core experience that we needed to focus on.
But we also had our doubts. Can we call Coffee Talk a game when there's no consequences or skills required to experience it? Categorizing the game as a visual novel was the most natural solution we could think of, but this proved problematic because our fans largely follow us due to the "gameplay" in our games.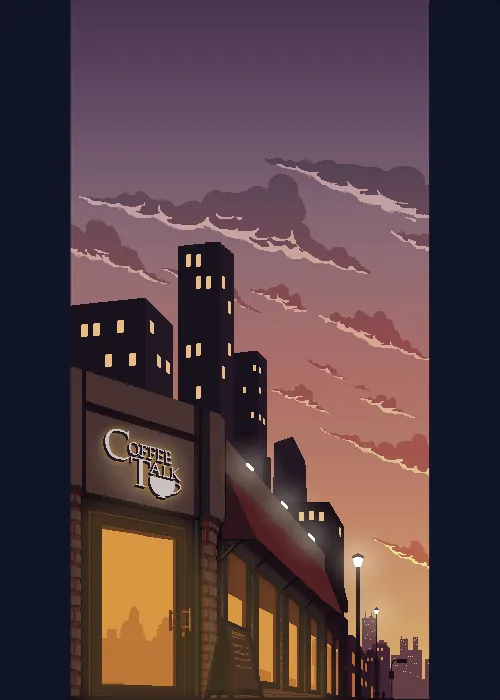 We decided to change the game's branching narrative and brewing mechanics to better quench these worries. The game jam version has very straightforward brewing and branching mechanics, where all the combinations are predetermined. The new version's mechanics, however, will work differently. While every concoction will result in some kind of drink, the game will automatically generate the name, visuals, and stats of most beverages, which will be the key to the branching mechanism.
Each drink will have four stats: sweetness, bitterness, warmness, and coolness. You might think that it would be better to have only two stats, in which the value determines whether the drink is sweet or bitter, warm or cold - we thought of this, too - but as weird as it sounds, some drinks can give you that feeling of sweetness and bitterness at the same time, or the sensations of warmness and coolness split seconds apart.
Design by Subtraction
Even with the changes mentioned above, we were still plagued with concerns. This changed when we went to BitSummit to showcase our other games and met the fine folks of Sukeban Games, the developer of VA-11 HALL-A.
During a party on a river bank in Kyoto, we talked about how Sukeban achieved what they have from VA-11 HALL-A. One thing they told me to keep in mind was not to add features just because you can or because you don't think the gameplay is deep enough to be called a game. If it has achieved the messages you want to convey, then stop there. Focus on things that matter and don't force in things that, in the end, will only reduce the quality of the experience you want to deliver.
Our interaction hit me hard. I never mentioned our anxiety about the lack of gameplay in Coffee Talk and yet here they were, telling me that the first thing I needed to make sure of was something we'd been thinking a lot about for the past few months. We didn't even showcase Coffee Talk at BitSummit, but I have to say that amongst all of our games, it was one of the few that made the trip so worthwhile.
The discussion also triggered my memory of one of the best videos by Mark Brown, the six minute and fifty seconds essay about Ico and the "Design by Subtraction" philosophy coined by Fumito Ueda. In the video, Brown talks about how sometimes you don't need to add more things to make your game feel more wholesome, taking examples not only from Ico itself, but also from how Ico inspired other popular games such as Fez, Journey, and even The Last of Us. So, while it may sound strange, it's safe to say that Ico heavily inspired games like Coffee Talk.
"Because it's easy to add features that you think are cool or will increase the game length or give you another bullet point in your Steam description. Or is it just diluting the core message of your game, and hurting your ability to have your game be about something, to say something, to resonate."
- Mark Brown
What's next?
We've been working on Coffee Talk for a few months now, and the warm and kind responses from the people who have played the demo have definitely boosted our motivation to finish the game and present you all with a full experience.
For now, we're going to continue working on the game while giving you updates in the form of social media posts on our Twitter and devlog. In the meantime, take a sip of coffee, wishlist the game on Steam, and tell us what you like or don't like about the demo.