Menus are a huge part of a game even though they may not be seen as significant as gameplay or mechanics. A game without menus well... would not be very functional! Menus allow the player to pause, restart, end, or make vital changes to the game, such as screen resolution or sound volume.
Last sprint Adam Toth, lead artist, designed the journal menu. This menu stores all the evidence that the player collects while playing the game. The player has access to important evidence that they may need to revisit later, either solely out of interest or to grasp a better understanding of the story. The journal also contains a dynamic map that reveals itself once areas are explored. Without a map a player could easily get lost in the game, not knowing where they are. However, since this is a noir game we wanted to add mystery to the locations that the player has not yet explored. Unexplored areas on the map are represented by question marks, as seen in the image below. The map was designed by Will Falk, design lead. The room that the player is currently in highlights.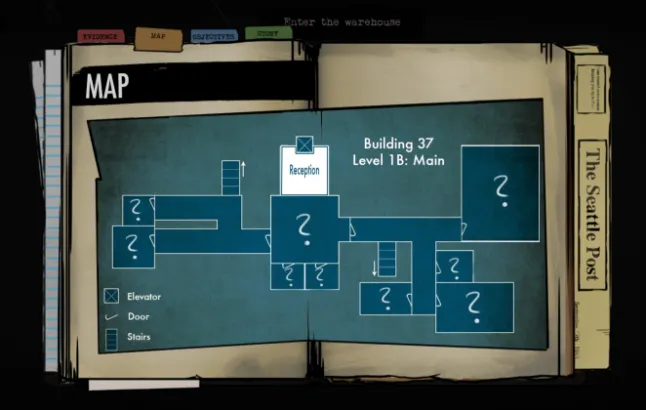 Once the level is fully explored it will reveal all the room names.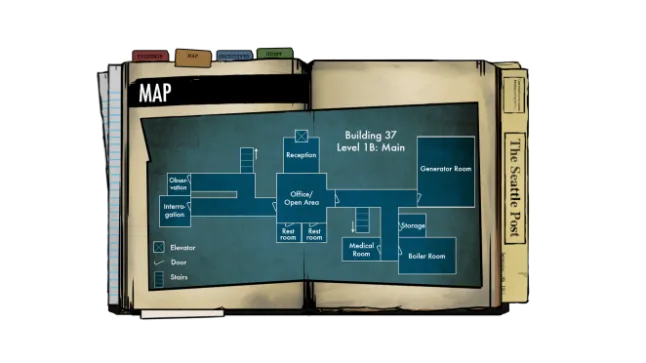 The player can also click on the journal tabs to access other features within the journal. The tab to the right of the map is the objectives. This menu displays the current objective on the bottom left hand side and completed objectives on the right page. The image below is a prototype of the objectives page.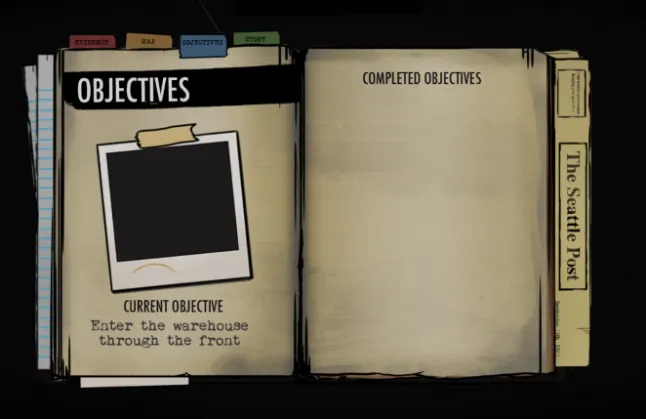 The left most tab contains the evidence that I mentioned above. It currently looks like the image below and will soon be populated with evidence documents for the player to examine.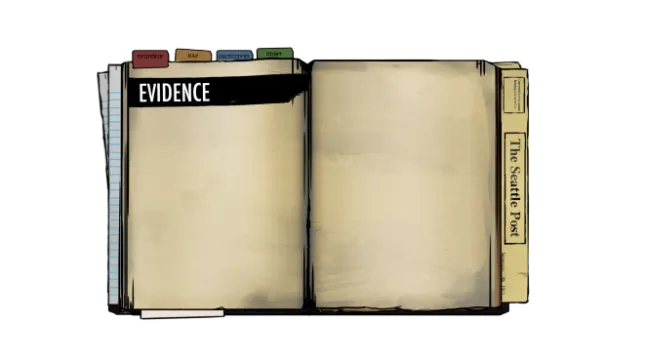 Below is a rough prototype that Adam designed. When a document is clicked on, it will pop up and the player can read at it. After the player is done reading the document it can be minimized and will return to the evidence tab of the journal. The story tab, which is the rightmost, will function similar to the evidence tab.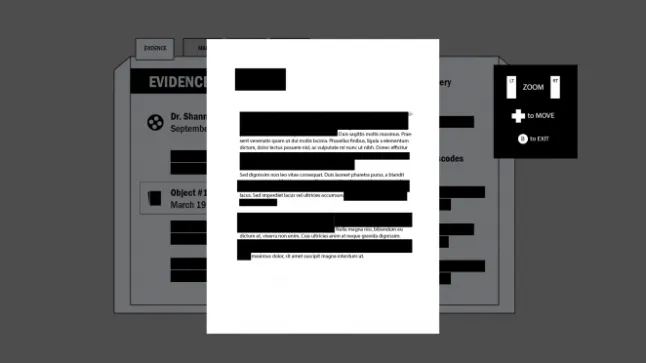 The pause menu is separate from the journal and can be accessed by pressing "esc" on the keyboard. The player can save the game or load a previous save. Game settings can be changed and currently include sound volume and mouse sensitivity. More options might be added in the future. The player can also go back to the main menu or exit the game through the pause menu.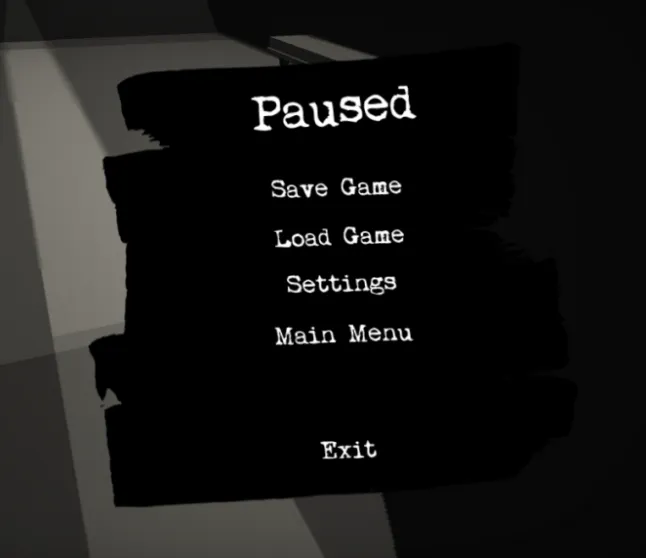 The last menu in Building 37 is the main menu! But, I will leave that as a surprise for when you experience the game.
For more of our develpment process you can follow us on:
Facebook: https://www.facebook.com/TwoHatGames/
Twitter: https://twitter.com/TwoHatGames
Blog: https://twohatgames.wordpress.com/
Website: http://building37.com/
Thanks for reading!
-Ally Schultz