During the process of discussing our game's environment, it soon became clear that, even if our game is set in a fantasy world, we wanted to keep the mechanics as realistic as possible and in accord with real-world laws of physics. This means that interactions with objects and the environment should not happen based on 'black-box behavior' (I'm using this term as a synonym for 'not further specified or comprehensible behavior') but should follow well-defined rules. This was (and still is) quite a challenge, as it required us to really dive into the world we're creating. We must ask ourselves what living in Nangrim must have felt like:
How was it to spend one's days deep down inside the mountain, only occasionally seeing the light of day?
How did the humidity of the cold stone feel on one's skin?
What difficulties would have arisen from the smaller stature of the Stonebeards when compared with real-life humans?
What consequences – both physical and psychological – might have occurred due to open-cast mining?
As well as some basic, but no less important, questions, like:
What did they eat? Where did they sleep? What was their social life like?
As you might have guessed, this is quite a time-consuming task and requires a lot of documentation, commitment and networked thinking.
A good example of this is how we worked on our door mechanics:
First, we began with the look. This was the easy part, as we all had plenty of ideas for how an epic dwarven door could look.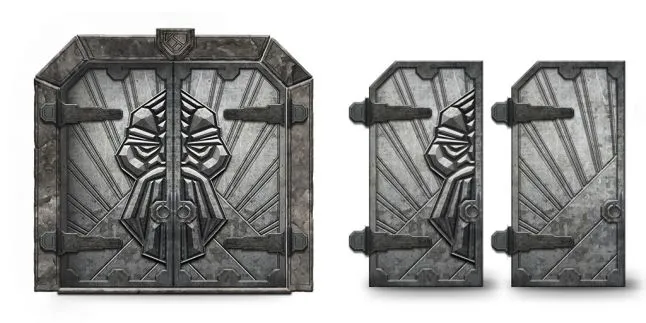 As a second step, we asked ourselves what different kinds of doors would have been used in Nangrim: Wooden doors, stone doors, massive doors, smaller doors, two winged doors – plenty of different materials, shapes and sizes – but there was one very important feature that challenged our gray cells: some doors need to be lockable.
The easiest solution would have been to say: 'ok, we've got a door, it has a lock and we've got a key that opens and closes it'. Probably in 99 percent of the cases this would have been sufficient, but then again, we're back to our black-box-magic. And what if there's a broken door somewhere? Shouldn't part of the underlying mechanics be visible for the sake of realism?
So we did a lot of research on locks and keys and how they were engineered in ancient times. Did you know that Homer mentioned a lock on a temple door in his Odyssey? Well now you do!
Based on this newly acquired knowledge, we worked out our own concept for the door mechanics in Nangrim.
So, if you come across a closed door in Nangrim, rest assured that there's some functioning real-world mechanics behind it!