When thinking back on Adventures of Pip and the design work that needed to be done, the main thing that was important was making sure to supplement Marc's vision without overstepping on anything layed before me. At the time, when designing enemies, the "Pip" look is cute. Cute is the mean theme of Pip. Cute colorful blocks with appeal was fun to experiment with.

The process started with pages and pages of Megaman inspired broad shapes. I am talking simple squares. Why Megaman because the shapes are bold, and simple. Thus easy to read. A design couldn't be too busy because capturing it would be too messy to be appealing. Marc would choose the basic shapes he liked from the pages. After that process were the details and for the details I pulled from nature. The more exotic forms of nature that dwelled in the deep ocean on in a deep earth cave. The oddities would help inform which key features to pull from and which to ignore. This gave Pip and the creatures that cute/ fresh details with that classic pixel appeal.


The most challenging creatures to design for where the caves. It was a combination of the creatures not looking like Lava characters and designing an original looking fish. I have played video games for a long time and to design water enemies was something I took a silent joy in figuring out. Finding the shooter for water levels and wall crawlers were especially challenging. I think Marc and I made good decisions on the creatures. I am happy with the result. The kingdom is a world with unique Pip enemies. These baddies are Pip only and that feels good to know I helped in that. Of course a design didn't hit screen until Marc over saw the final design and gave any notes of elements I overlooked. Example would be making of the skeleton queens minions and how that certain details needed to be simple on the characters armor. While not all my designs made it to the screen, the process of making them was well worth it.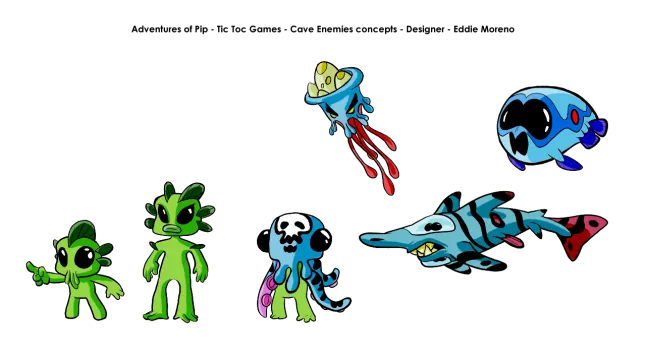 After designing the characters, these baddies needed to come alive. So Elazar and I would talk, have lunch meetings on motivation of movement. Why is a creature moving this way, what is the driving force behind that action. Like with the Steam blower, when he did his attack, it wasn't out of aggression but out of fear. Trying to get you away. Another baddies intention would be different and I tried to have fun with that when animating. Secretly I put in animation sets that never see the screen because it was important to have a fresh mindset with motion and intention. Experimentation took away a lot of the stress and produced a game that looks good!

I hope the gaming community supports Tic Toc by purchasing Pip because reaching the goals with Kickstarter was a moral boost for the studio. I am grateful for the backers and I do hope Pip is in a future Super Smash Brothers. Until then, I hope the community enjoys the game and I hope to see more Adventures from Pip.