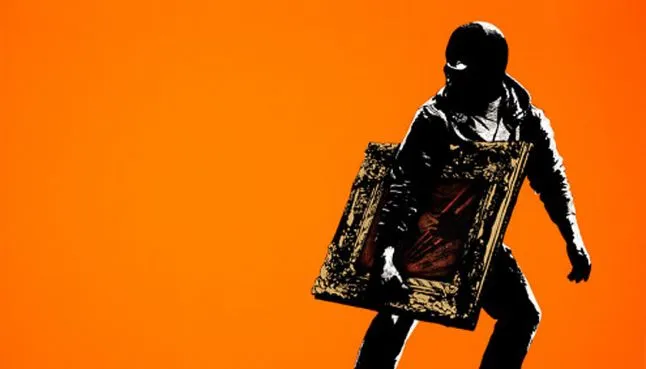 Preface:
A few days ago, I came across a blog article on Zcool, the top art portfolio site in China (something like deviantArt). It was written by a game artist, she shared how she take art assets from a Korean game, to make map screen for her game(This is the link to the original Article.).
And many artists have left comments, generally "Well done", "I do the same."
I think this article might be interesting to you, so I translate it and repost here.The author is wscjyiyi, as she states if someone repost the article, her name should be indicated.
Special note: My writings are in bold fonts, that you will not confuse them with the original article.
The Original Article
Title: How I Piece Up a Map Screen in the Way You May Despise
Long ago I came across a piece of nice artwork on Zcool, and I felt there's something plagiarism in it, that I left my comment. To my surprise I got many criticizing replies, I was laughed at by all. Today, I too feel myself was laughable then, I shouldn't be that arrogant, for I do artworks much the same vulgar way right now, "Let's copy!"
Indeed, how to copy is an art. If you think I'm not qualified as a designer, I'm sorry that I have to earn my bread in this way. Every person has his own criteria for artworks, that in my heart I think if I copy yet with my inputs added, and the artwork earns me bread, then it's a good work.
Here comes my map screen, it's the finished art: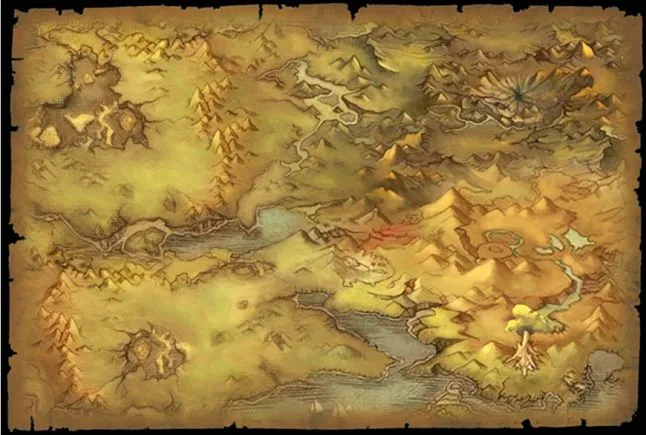 It took me 3 days to make, and my boss greenlighted it. The boss was happy and I was even more happier. The following is my procedure.
First I think the map screen of Korean MMORPG –Aion: Tower of Eternity is close in style to what we need.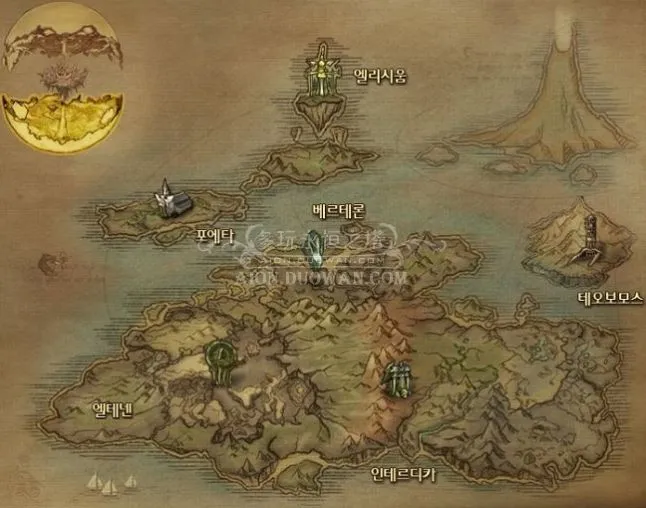 Then I take a few screenshots from Aion: Tower of Eternity: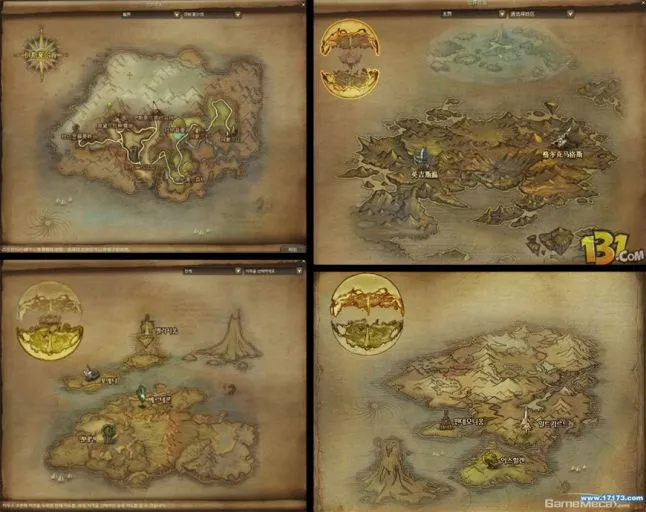 In step 1~6 , I piece up the screenshots to make a whole map: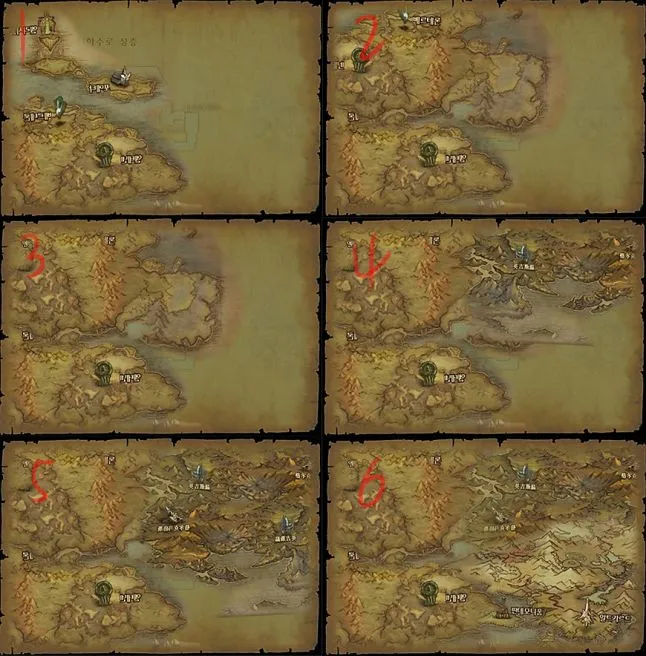 Then I start my artistic retouch.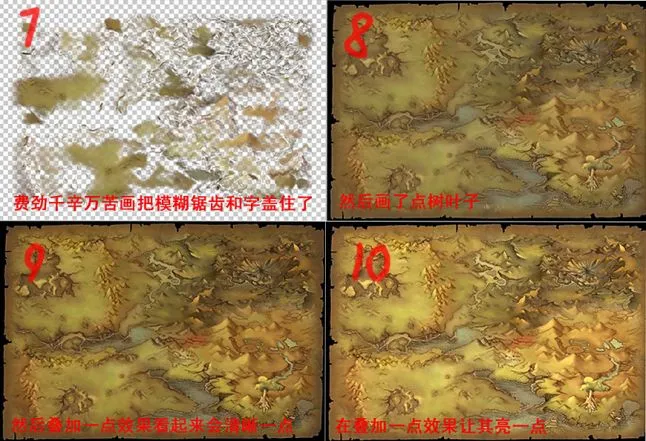 In these steps:
7. By painstaking work, I remove the texts and landmarks;
8. I add some foliage;
9. Add some effects to make the picture sharper;
10. Brighten the picture up a bit.
Ok, it's done!
It's not difficult to earn breads in this way, hereby I bow to those true designers!
My friends, I have some suggestions for you, if you want to improve your design skill:
1. Cultivate your taste, what you choose as target quality affects the result very much;
2. Give a lot of patience;
3. Keep in mind the above two points all the time, make your upmost efforts.
~~End of the original article~~
Comments:
For video game art production, there are two parts of work, design and finish up. We have many nice looking games here in China, the artists go a long way to make very polished art work. But the art production schedule set by the developer clearly states that they don't wish to pay for the design. For example, I have a friend who is an UI artists, he says his boss would give him 5 days to deliver a set of assets, which normally would need 15 days.
Plagiarism is prevailing here, in big and small productions. However I have to point out two misconceptions about Chinese artists and developers, after knowing so many developers both in the West and East:
1. The Chinese are less people, they would only commit IP theft.
In fact developers from all around the world have the same propensity to copy the other's design and game play. There are tons of "remastered" games in the west, even by leading developers. Consider this new Disney game, which is a total copy of the hit Crossy Road.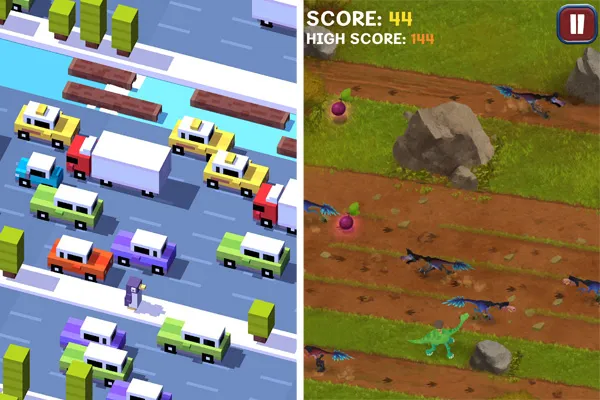 The difference is that in the West they have IP administration and bottom line. If not, the theft would be the same rampant as in China- people are no different here and there.
2. Chinese artists are only able to copy.
Most of the case is that they are not given the essential time to do research and design, for their boss cut budget in this way. They can deliver nice design if the time and budget is given, for example, you can see from my previous posts the nice works done by our studio.
I would post regularly--one article every two weeks, about game art production.