Today most mobile games have level progress maps. For the sake of my job, I have researched many mobile games, and list 10 games with the best map art here.
The common hallmarks of maps inside these games are that they are well designed, colors are well balanced, and every detail is properly taken care of. And we can see the designers had made lots of studies into geography, culture, and folklores.
If you're working for a mobile game which needs a level map, I believe you can gain great points in looking into the full map of a few of these games, no matter you're a game designer or artist.
Below there's no ranking order for these games, for each of them excels in its own way.
Cookie Jam!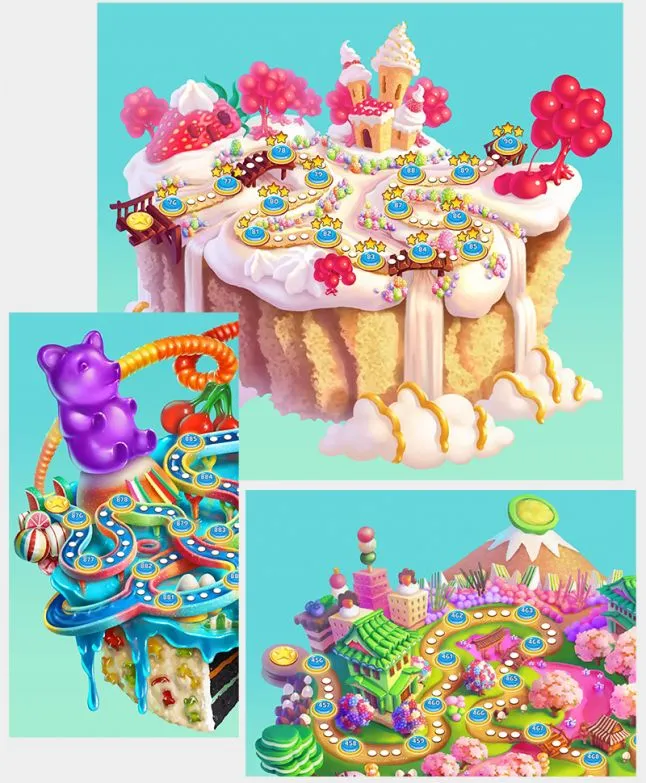 This game developed by SGN is a hot Match 3 game now, it won Game of the Year 2014 on Facebook.
The maps are made by master level digital painters, everything on the maps are represented as sweet desserts from all corners on earth: France, Italy, Vietnam…
Bubble Witch 2 Saga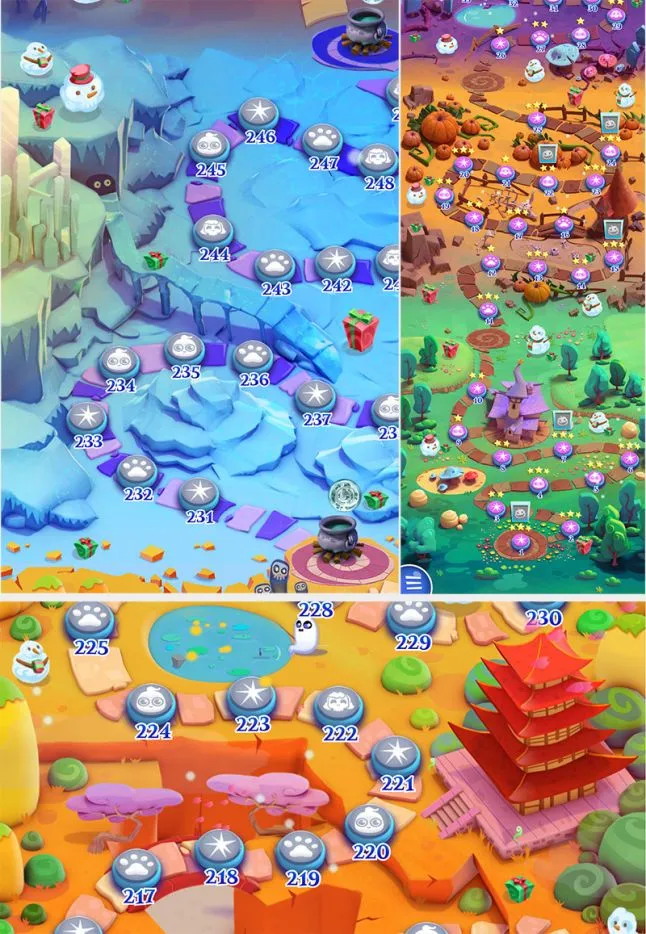 This bubble shooter series has long history. In this one you will journey through spooky locations with the pretty young witch Stella. Of course this is no scary game, so that the design is cute and appealing. This game provides a good role model of 3D made maps.
Mystery Match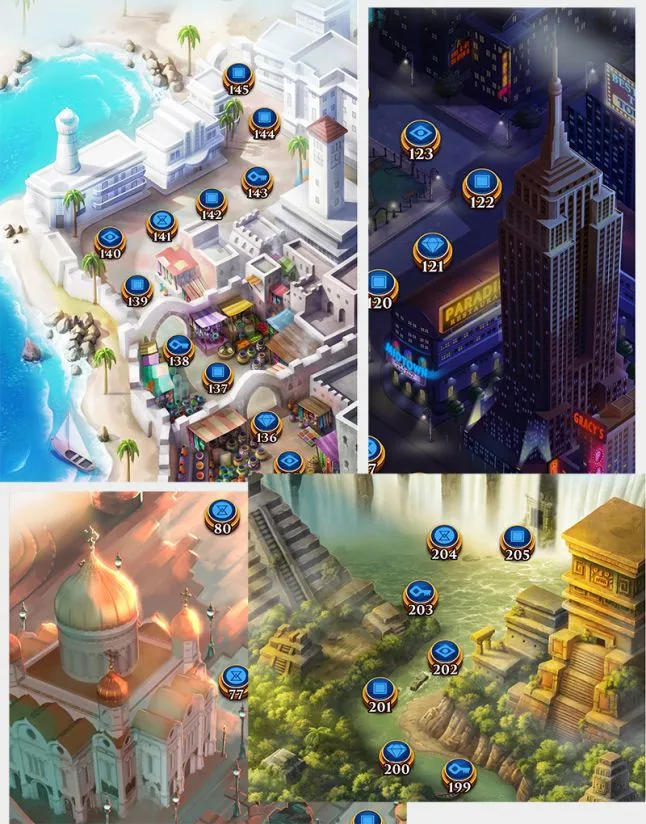 This is a story driven Match-3 game, it's set in the 1930s, and the heroine Emma would trace a mystery cult around the world. The maps feature famous cities/sites in the real world, in classic painting style.
Candy Crush Soda Saga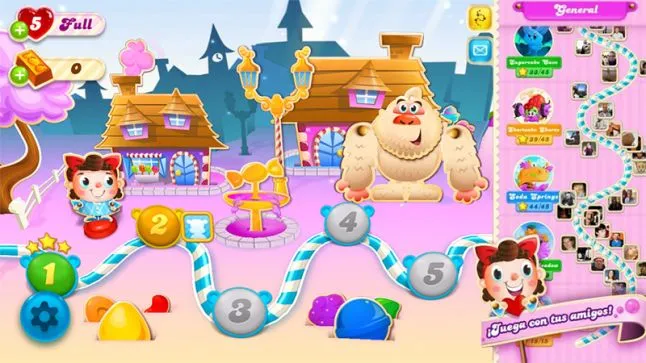 This is the sequel of the famed Candy Crush Saga, the map section is greatly enhanced. The map is a 3D horizontal scroll. Everything on map, the characters, the trees, houses, is a standing 2D sprite. The funny thing is that you can touch every sprite to interact with it. For example if you poke the little girl and she would sway and speak a word.
And there is a small side map for overview, you can check your progress vs friends.
Block Star Party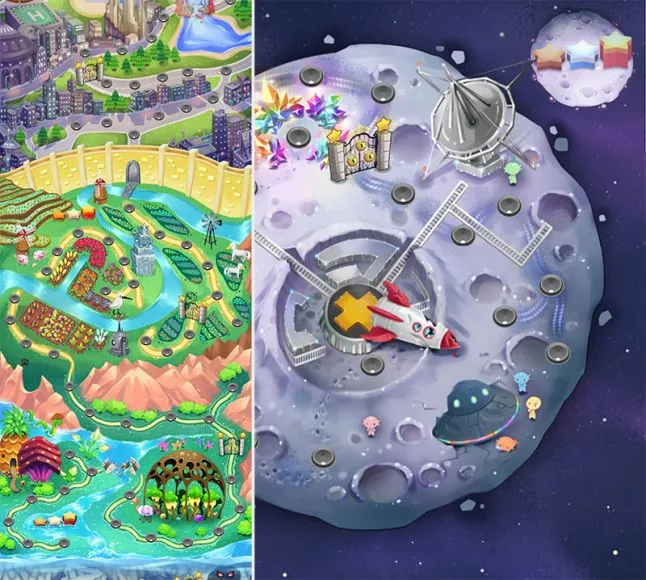 This is a Match 3 game from Canadian developer Play Puddle. The main story line is the lovely star blob's journey through many fantasy worlds. The maps are well painted, and the themes are full of imaginations.
Inside Out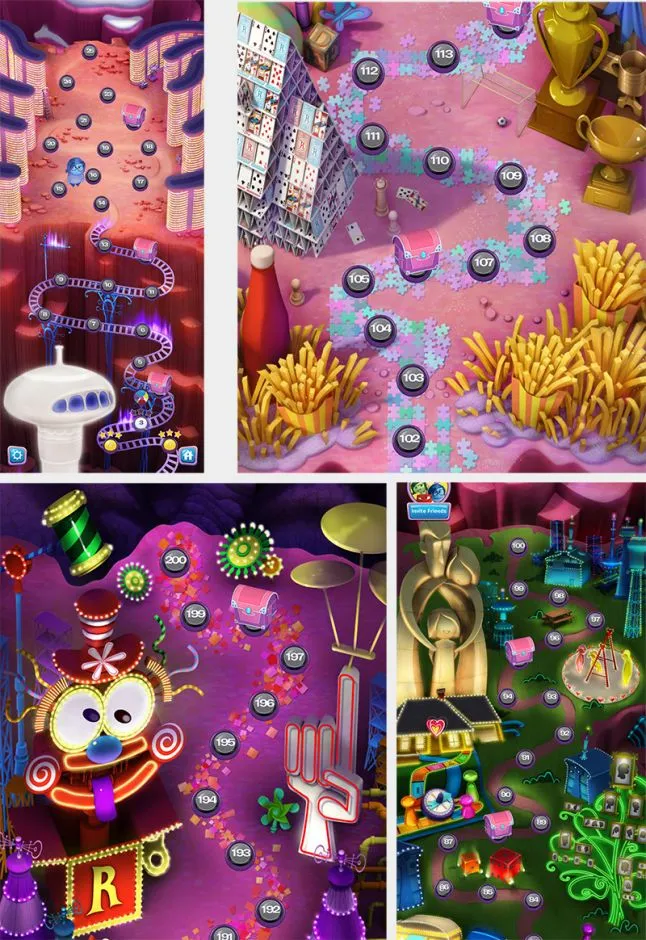 This is a bubble shooter adapted from the eponymous Pixar movie. Each map section is a location in the movie, and the 3D production is excellent.
Farm Hero Saga
This is another big name in the Match genre. The map screen is a show of farms of many countries: Scotland, Canada, Africa… with indigenous animals add to the sense of animation.
Craft Candy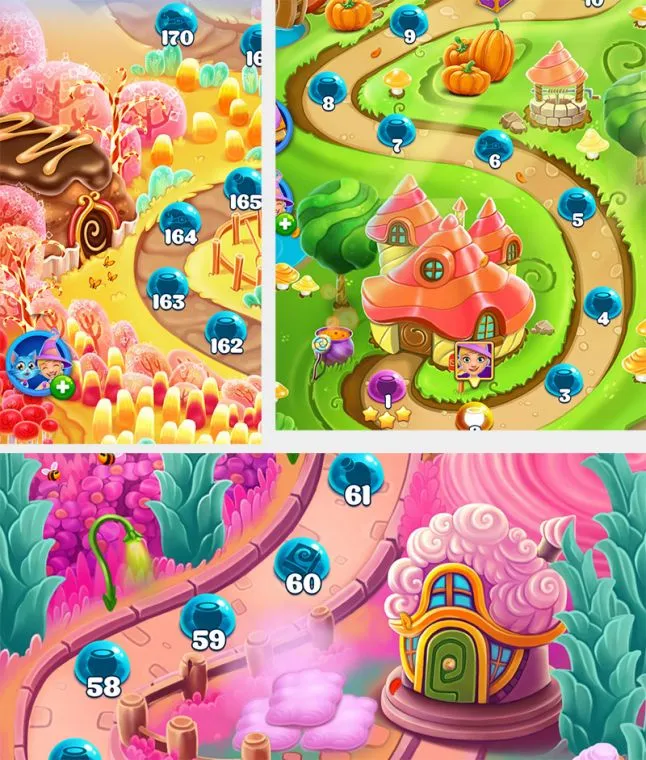 This is from prestigious UK Match 3 developer Outplay. The maps are rarely beautiful.
Pastry Party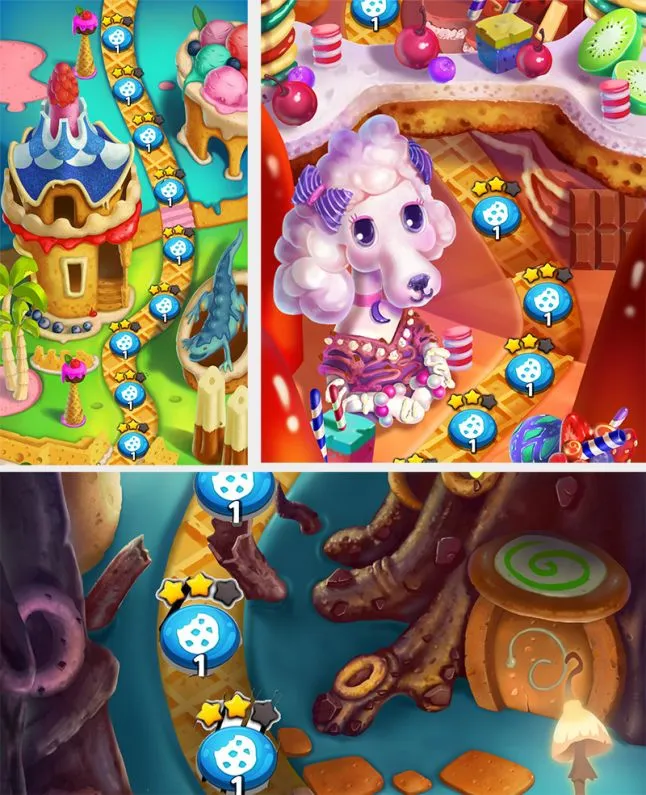 This is a "Feed Customers" type Match 3 game. You take a hot air balloon to journey through a world of desserts. Today there are too many sweet food themed casual games for female players. However, this game stands itself out for its delicately painted maps, and interesting themes. For example there's a zone, the sweeties are pied up in fashion of 3D pixels, like that in Minecraft.
God of Light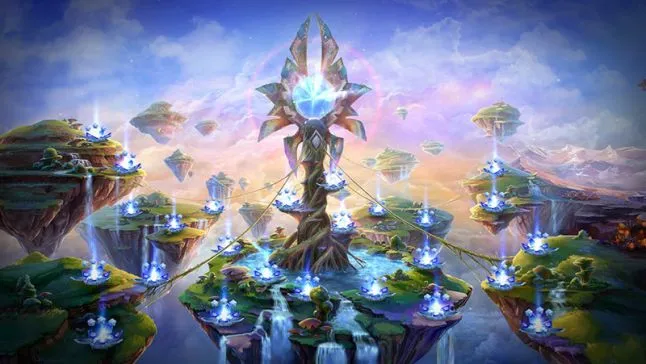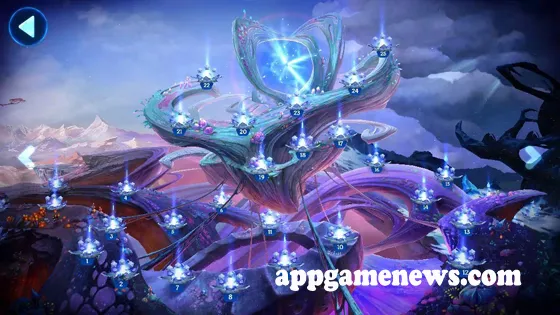 This is a light-reflector puzzle game. The map screens are dreamy and very beautiful. And what makes them wonderful other than mere great, is the fact that these screens are fully interactive 3D graphics instead of 2D.
I know there are still more great games with gorgeous map screens out there. Please pardon me that the scope of my eyesight is limited, if you know some of those games, please share with me. Thanks!
I would post regularly--about game and art production.