Hi there. I wrote this one on my flight to San Francisco for GDC today, and I'm posting from a coffee shop on Market street. I admit I got way too in to the end of Mass Effect 2 this past weekend in anticipation of Mass Effect 3. I'm looking forward to seeing more of it at the show this week.
Metrics and monitoring Customer Acquisition:
Today's topic is super important to any game developer spending on customer acquisition or looking to maximize revenue through partnerships. It's well known that freemium titles commonly monetize a small minority of their player base, and the importance of efficiently finding and keeping players who monetize in game just can't be overstated.
Here's an analysis of the last 3 weeks of Wolf Toss installs on iOS and the first-day revenue comparison of those players.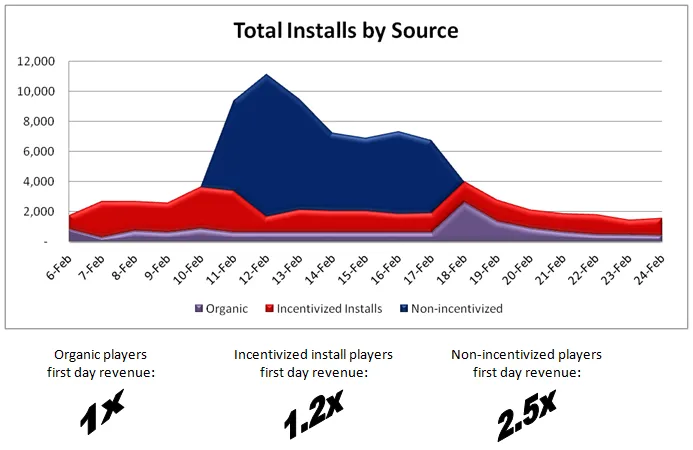 Quite a significant difference, huh? This is a topic that deserves a lot of time and attention and will be the focus of additional analytics investments in Wolf Toss v1.5.
Metrics and monitoring Customer Acquisition:
If you don't know the relative value of a player acquired by a specific channel and a specific campaign, then you can't optimize for revenue or profitable marketing and you will either waste money or leave profits on the table. Not even 2-man web startups will build products without analytics in this day and age, and small indy game studios have no excuse not to integrate ApSalar (what we use) or other in-app analytics packages with rich reporting. What's worth tracking in-game is the topic of a whole 'nother post.
The key take-away for this post is that in a customer lifecycle like this:

…you absolutely need your analytics to start at customer discovery, not first use, or you won't know how to optimize customer acquisition to increase revenue.
The questions that your analytics need to be able to answer are:
Which acquisition channels/campaigns create a positive ROI and should get increased budget?
Which acquisition channels/campaigns are running at a negative ROI and should be dropped or modified?
Where are my most valuable customers coming from? And then the follow questions: what do my most valuable customers have in common? How do I acquire more high-value customers like them?
In my opinion, this is also the most meaningful way to do customer segmentation. Rather than segmenting a market by demographic data or survey results before you put a product out, you first put your product out, then segment your user base by their actual behavior, then identify the characteristics that key segments have in common and adjust your acquisition strategy to go after more high-value players based on these behaviorally identified segments.
Where Wolf Toss users come from:
Wolf Toss users have come from three sources: incentivized installs in other apps, non-incentivized click banners in other apps, and organic traffic through the app stores (search, category rankings, and store feature positions). There are clear, easy to find leaders in incentivized installs (e.g. Tapjoy), but non-incentivized traffic networks are legion.
I'm still evaluating non-incentivized acquisition options, but I will say that I've been very pleased with the quality of traffic we've gotten from a new traffic sharing network called Openclik. They're still building up their web site and reporting capabilities, but they can drive players to games on a dime, and those players have engaged and monetized well for us in Wolf Toss.
Our plan for improved acquisition segmentation and revenue analytics:
The comparison above highlights first day revenue, but a much more robust analysis will be possible once we are tagging all new Wolf Toss users based on acquisition channel. This isn't always easy with mobile games and the app stores brokering the installations, but most ad network SDKs make it possible to discover when a new user came from a campaign on the same network.
Standard operating procedure for us going forward will include both ad network SDK integration for all active networks to facilitate new user channel discovery and companion segmentation events fired into our ApSalar analytics for all new users. We'll then be able to use cohort analysis to determine revenue per user over a more involved period of time (2-4 weeks) for each channel and make extremely informed decisions about our customer acquisition tactics.
When I have longer term player monetization data by channel, I'll come back and share it here. In the meantime, what are you seeing with your own games? Are you making more money of non-incentivized installs on a per-player basis? Which acquisition channels have performed the best for you in terms of player LTV?
Mike Arcuri