Red Fox Insights interviewed industry experts at Logitech G, SteelSeries and GUNNAR about how gamers and esports are influencing product creation. During this Gearing up for Gaming webinar presentation, we asked if VR will be a factor in esports.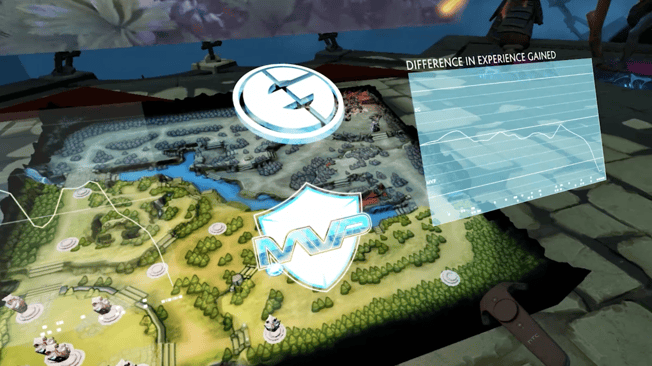 Valve's Dota 2 spectator
Esports, Meet VR
Esports and VR are buzz words driving the industry to new heights. It seems natural for rising trends to compliment each other. Valve seems to agree. The company recently announced a VR spectator mode currently in development for Dota 2.
The brief clip shows a Vive user watching a professional match - complete with audio commentary, translucent UI panels showing game stats and an overhead virtual 3D game map. There's enough there to give us an idea of what Valve has in mind for VR and esports.
Valve also hints, "Look forward to more VR features coming to your favorite games," Could they be working on a VR component for their other major hits, like the record setting CS:GO? Millions of spectators who watch esports events may soon have a new way to experience the action.
Valve's VR spectator demo
Experts Weigh In
During our Gearing up for Gaming project, we asked Chris Pate, Portfolio Manager at Logitech G and Travis Hezel, Global Director of Sponsorship at SteelSeries if they expected VR to be a factor in esports.
These experts have been creating gear that serves as an extension of the gamer, enhancing skills, reaction time and accuracy. With hundreds of thousands of dollars on the line for professional gamers, their gear is a huge part of the esports experience. Logitech G and SteelSeries know the space, teams and players - and have ideas of what the future of VR in esports looks like.
Logitech G
When asked about VR in esports, Chris responded, "We're all very enthusiastic about it [VR]. We see a huge opportunity." In reference to Valve's VR spectator client, Chris goes on, "what will be possible from the player side of things is a little bit 'to be determined'. Everything in that regard lies on the content creators and we're certainly enthusiastic about the opportunity and trying to figure out where and how we can add value to it. We're definitely excited."
SteelSeries
Travis Hezel of SteelSeries offered his insight, "I think all peripheral companies are looking towards VR as this unexplored opportunity - kind of mirroring where mobile gaming was about 4 or 5 years ago. Everyone is very excited, not just on a personal level to be able to have this new platform for playing games, but also from a business standpoint where there is a new frontier to explore "
He offered his thoughts on Valve's VR client, and the potential marriage of VR and esports:



"That's the easy first step into the esports culture from a spectator's standpoint. Being able to have more rich viewing experiences that you wouldn't see [with traditional viewing options]. As far as playing esports or playing competitively in VR, that's something I don't necessarily see right now - but sure it could definitely be a possibility."
Check out the full Gearing up for Gaming webinar here.
The Bottom Line
Spectating esports events using VR is an exciting notion that has already gained traction from industry giant, Valve. Some industry vets want to make virtual reality esports stadiums. Playing esports competitively may be a bit further off, but the potential and excitement on both fronts looks promising. Esports and VR continuously alter expectations of what gaming can become - it makes sense that they organically begin complimenting each other.