Today Youtubers and Twitch players are a necessity if it comes to the 'discoverability' of your game. Especially if you are a small independent developer trying to reach out. But not only indies know about this phenomenon, also AAA studios like Ubisoft or Activision know they exist and their usefulness. It comes down to a fight of 'visibility' and its one of the biggest problems we face as developers today. During our Kickstarter campaign we've had several large Youtubers/Twitch players feature our (tech) demo. This resulted in an immediate effect on our Kickstarter.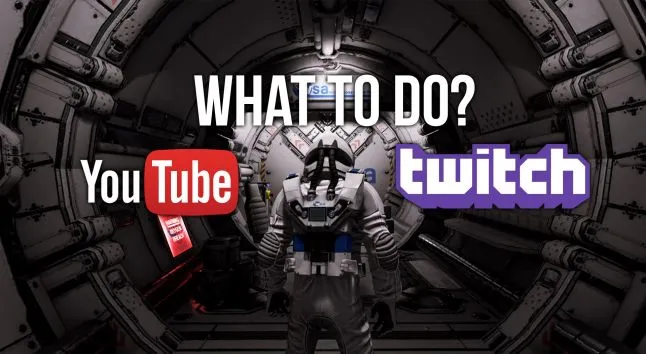 How did we start?
First we did a Greenlight campaign on Steam. We wanted to make sure to have Steam Keys before we went to Kickstarter. Why? In our opinion it's easier and more professional to send Steam keys instead of a download link. Besides that, you also have full control as a developer and you can cancel this build on Steam at any time.

Secondly we started to email important Youtubers, Twitch players and Press websites one month before the start of our Kickstarter. You should think around 2000/3000 of them were hit in our email waves. We've sent an email out one month before, one when the Kickstarter begun and we are still going to send an email wave out when there is just a couple of days left.

What does the email look like?
- Important to have a 'catchy header' and have an in-game screenshot in there.
- Avoid a wall of text
- Mention the 'SteamKey' in the subject line.
- Make the 'SteamKey' bold and stand out in the text.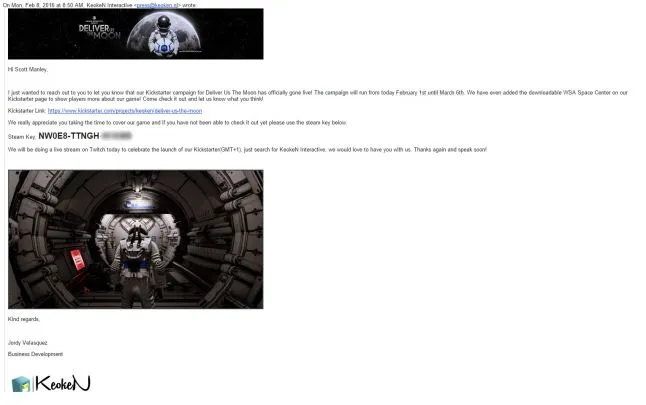 So what happened?
Halfway through January on a Friday evening during dinner, my phone was dancing around on the table as if it was possessed. I was literally 'pulled' towards the internet and when I started to check our social media, people were messaging me that our Twitter account was being blown-up by someone called "Gronkh" and his community, or better said "Gronkh's army coming in!"

Gronkh happens to be the biggest German "Let's Player" on Youtube (4 million subscribers) and Twitch (25.000+ live viewers).

During his live stream he and his community played our Deliver Us The Moon demo and they decided to start a massive following on our (KeokeN's) Twitter account because they liked the game so much. We went from 300 to 12.000 followers in just a few hours.

So all of this sounds pretty fun and cool, however the most important question is:

"What the hell do you do with 12.000 people?"
You start talking to them! Actually you should immediately respond to as many as you can. Try to follow their lead and answer their questions. Don't respond in a corporate way, but follow their lead. If they send you a hearts <3 you send hearts back as well! Its people that love your game, not businessmen. I would be lying if I would say it was me doing this. It was actually my girlfriend because I was stunned and not realizing what was happening. She has her own Youtube channel and slightly knows how to work a with big online crowds. She grabbed my Macbook and started talking to our new friends.

We kept this communication up for weeks and started to 'bond' with them. Another very interesting aspect is that, this community consists only out of German speaking followers. However we are a "Dutch" developer with barely enough knowledge to talk German to them. We tried to mix it up from time to time. Sometimes we responded in a translated message or we just used English. This worked out fine and they were willing to talk English back!

At this point we realized we were gifted a BIG community however we still needed to make it 'ours'. Because we stayed very friendly and embracing to them, all our channels started to raise in following. Suddenly we had 3000+ Twitch followers, 1000 Youtube subscribers, and 3000+ Facebook likes.

We had to do something with these channels now.
Quickly we dove into the world of Twitch and Youtube and immediately acted on these changes by doing "Youtube vlogs" about our developments and experiences, and plan a weekly "Twitch Stream". Our Twitch stream is funny, because it's English spoken, however the chat is usually German. The community loves us, and we continue this still every week.

A fully dedicated Stream for Deliver Us The Moon
Gronkh and his community weren't done with us just yet. They had a big surprise waiting for us, because they liked us so much. They wanted to help us more.

Friday the 5th of February, Gronkh and his community dedicated a complete Twitch stream (5-8 hours long) to our Deliver Us The Moon's Kickstarter campaign. They wanted to help us get funded more quickly than we already did by then.




We anticipated this 'surprise evening' right away, so we thought it would be nice if Gronkh and his community could 'see' our response to their surprise. We did this by setting up an 'Office Stream' on Youtube that showed us watching 'Gronkh' on Twitch. It opened up the ability to directly talk to him and his community. That night we nearly reached 5000+ Live viewers and had a total of 44.000+ individual viewers. Also we went from 600 Youtube subscribers to 3000 very rapidly.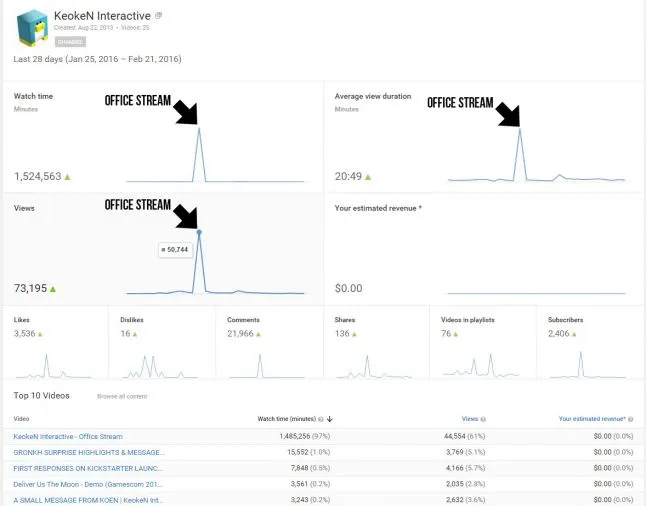 What Happens Next?
We continue to communicate and most importantly have fun with our new community. Not only on our own channels, but everywhere we become featured we leave a comment or start talking. We created four major portals to inform our community on the developments around the game. (Twitter, Facebook, Twitch and Youtube).
So when you are gifted a big community:
- Act immediately
- Keep communicating
- Think, but most importantly DO
- Try to understand what is happening and anticipate.
- Keep them engaged
- Always be kind, (even if some of them are not so nice)

Currently our Kickstarter campaign for Deliver Us The Moon is still running (11 days left) and we are closing in on our goal, however we do need some more help from everyone. It seems we still are having trouble reaching the USA, despite the fact we used an PR Agency there. Maybe some of you could advise us on this part?

We are extremely fortunate and thankful to what Gronkh and his community (LaFamilia) have done for us. It's insane how much positivity and motivation you get from them.

We have had some very nice features by a lot of other kind Youtubers & Twitch players such as Sl1pg8r, Scott Manley, EzekielIII, and AzzMan. We are very thankful they featured us.

Also we are very interested in your opinion about our Kickstarter. Why would or wouldn't you back us? What is good and what is bad? We would love to hear your opinion!

Also if you would like to help us create a LARGE social media blast, you can support us on "Thunderclap" its free and very effective :D We would be eternally thankful!

Also here are 4 Steam-keys for anyone to grab!
NFPVZ-627BB-K64DD
84CLZ-ZGY23-NEV8Z
8L3AG-KN2E3-3G409
AM07T-CB5RZ-PALRD

/Koen Deetman
/Game Director
/KeokeN Interactive