[The GameDiscoverCo game discovery newsletter is written by 'how people find your game' expert & company founder Simon Carless, and is a regular look at how people discover and buy video games in the 2020s.]
G'day, delightful denizens of the discovery diaspora. It's us, the GameDiscoverCo crew - back once again to fill your inbox with words, pictures, and information about the PC, console, and VR game discovery worlds as we know them. From our brains to yours?
And while British readers were waving at holograms of the Queen at the weekend, we were further entranced by Sinclair C5s being part of the 70th Jubilee parade. Yes, a weird tricycle from the same company that made Manic Miner possible is a part of UK royal history. (Don't mention the Prince Charles sprite in Head Over Heels, tho?)
[Help us thrive, and get analysis, data, and peer feedback all at the same time? Our GameDiscoverCo Plus paid sub has a data-rich weekly game trends analysis, interactive Steam 'Hype' charts, two eBooks, a member-only Discord & more. Sign up today!]
The 'growth stock bubble' for games - what happened?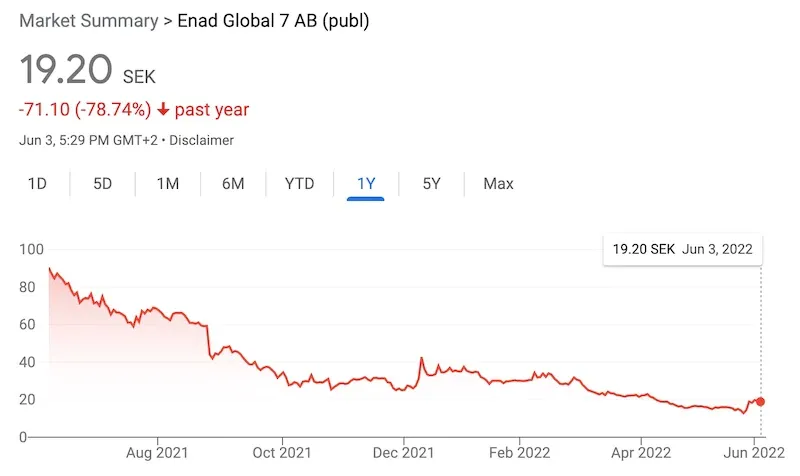 Back in December 2020, we decided to do a longform story called 'Game company acquisitions & the 'growth stock bubble', commenting as a starting point: "The pace of game [biz] acquisitions is reaching a fevered pace in certain areas that sometimes makes onlookers say '???'"
In it, we focused on what we saw as, uhh, 'frothy' valuations for a number of up and coming public game companies in our space - especially on regional public stock markets in Sweden and the UK. (And Poland, actually.)
So a year and a half later, what's been going on? In general, what we've been seeing in these regional markets has been a significant decrease in the share price of most of these companies in recent months. It seems to us like there was some market mania over games being tech-adjacent, and a lack of tech companies on these exchanges.
But it's also tied into to an overall tech stock pullback, which has hastened in recent weeks in the U.S.. Heck, even Roblox is trading at 23% of its recent high in the U.S., albeit still at a market cap valuing the firm at $18 billion (?!)
As to why you should care about this if you're a regular dev and not a 'financial person'? There's trickledown here, both in terms of investment in the space, and ability to get acquired or get funding. Share price doesn't affect company success, but these high share prices have allowed some things to happen that wouldn't otherwise.
Anyhow, what did we get right and wrong in that original December 2020 report? Let's see here:
The point I made in December 2020 around this model was this: "I can't see a hole in this model until the stock market no longer (over?) values growth stocks, or if one of the companies gets overaggressive and loses investor confidence somehow."
And oddly, while its competitors fell by the wayside, I think Embracer has retained investor confidence by being the 'right' kind of overaggressive. Sharks have to swim constantly or they die, right? That's Embracer and buying stuff, apparently…
Sure, I still question whether the big hits (Valheim, Evil Dead: The Game) can make up the overhead of the sheer amount of other 'premium first' titles in the Embracer portfolio. But maybe I'm coming from a world where 'concentrate on a few big GaaS hits' is how most public U.S. game companies deal with things.
And the sheer amount of valuable game & transmedia IP Embracer has picked up may end up justifying the company's $9.5 billion market cap alone. All I know is… the shark keeps swimming!
[SIDE NOTE: I didn't explicitly write about the myriad small/medium public Polish companies, especially those linked to PlayWay. But there's some sign these stocks are eroding too - PlayWay is about 50% off from its January 2021 high. Oh, and if you get offered a game from a Polish dev, indie pubs, find out if the trailer was done by the central PlayWay 'target gameplay' department. The answer may surprise you - there's risk management in progress!]
Thinkpiece: is pop culture now an oligopoly?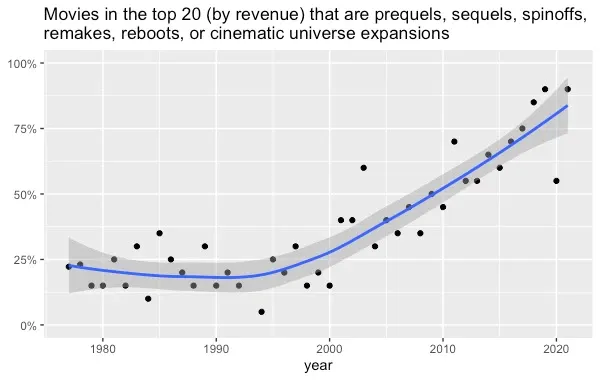 We're big fans at comparing games to other types of pop culture and finding trends. Which is why this Adam Mastroianni article - subtitled "A cartel of superstars has conquered culture. How did it happen, and what should we do about it?" - is so interesting.
Mastroianni looks at creative industries like the U.S. movie biz by box office revenue (above) and the most-viewed network U.S. TV shows, as well as citing research on the Billboard Top 100 for music, and even the book biz - and finds similar 'big get bigger'trends.
He does also map a chart for games, though he's using NPD stats, which were very retail and console-centric until recently. Nonetheless, re: his data: "In the late 1990s, 75% or less of bestselling video games were franchise installments. Since 2005, it's been above 75% every year, and sometimes it's 100%." He puts general trends down to the following:
Invasion: "Software and the internet have made it easier than ever to create and publish content… This might make media giants choose to produce and promote stuff that independent weirdos never could, like an Avengers movie."
Consolidation: "Big things like to eat, defeat, and outcompete smaller things. So over time, big things should get bigger and small things should die off."
Innovation: "Maybe the biggest players in culture discovered some innovations that won them a permanent, first-mover chunk of market share." He cites 'cinematic universes' in particular, which have been a key movie biz change.
His conclusion? "As options multiply, choosing gets harder… more opportunities means higher opportunity costs, which could lead to lower risk tolerance." But he also notes that there's plenty of opportunity to find great new creative media if the consumer explores.
One comment that particularly stuck with me: "Learning to like unfamiliar things is one of the noblest human pursuits; it builds our empathy for unfamiliar people." This is a core challenge - why do people want to get outside their comfort zone and play your game? Why not just boot up another Mario or Call of Duty title? The answer matters.
Follow-up: launch platforms for your game?
We had some great responses to last Wednesday's piece about which PC, console, mobile, VR game platforms you should launch on. And there were three notable and/or amusing bits of extra information we wanted to pass along:
Over on Twitter, indie dev Jamie D commented: "This is fascinating stuff, because many publishers who contact me about Hellscreen want a simu release on as many platforms as possible. I personally want to do Early Access, release a few episodes, do a DLC or two and then package that up for consoles, but many pubs baulk at that. My research suggests for retro FPS[es], that's successful." We… probably agree with Jamie?
Also on social media, Tin Man Games' Neil Rennison mentioned a bit of an unlikely platform launch combo: "We're such an outlier with our next game *hopefully* joint shipping on Nintendo Switch and Meta Quest 2 simultaneously. We're a little odd like that… It's a port of an older game, but still, a bizarre strategy, even by our standards." Can anyone beat this weird-ass launch platform combo?
Finally, it was pointed out that we'd not stressed the amount of updating The Game Bakers needed to do to get Furi DLC onto Xbox, as well as PlayStation. As per the original article: "..updat[ing the] engine, SDKs, middleware, all the platform-specific content" were needed before the DLC could ship. So the 6-year gap - Furi in 2016, DLC in 2022 - creates quite a large technical gap.
In any case, the point of the article wasn't to say one dev did it 'right' or 'wrong'. Just always be aware that some platform parity is more player-expected than others. 'PlayStation and not Switch' is a smooth conversation, but 'PlayStation and not Xbox' can lead to more friction, no matter what the circumstances…