Unity has released its 2022 report on the video industry, drawn from data extracted by the company's "Create" and "Operate Solutions" divisions. Said report indicates that daily average users and player spending (which both spiked at the start of the COVID-19 pandemic), remain high even as lockdown orders recede.
Context, as always, helps the data make sense. Unity's data compares DaU and revenue metrics from the pandemic era to all of 2019, which only saw increases in gameplay over the summer and winter holiday periods.
Starting in January 2020 (when COVID-19 went global), Unity observed persistent growth in daily average users, with the first peak landing in March of 2020 (when the United States began its COVID prevention measures), and again in the winter holidays of 2020, when a COVID-19 wave and the holiday season both drove a nearly 150 percent increase in daily average users on console and PC.
Mobile games saw their biggest DaU jump in that initial March 2020 period, but has continued to pace above a 50 percent increase in the time since.
Both PC/Console and Mobile games are currently enjoying an over-50-percent DaU increase over 2019, even with COVID-19 prevention efforts being rescinded across Europe and North America.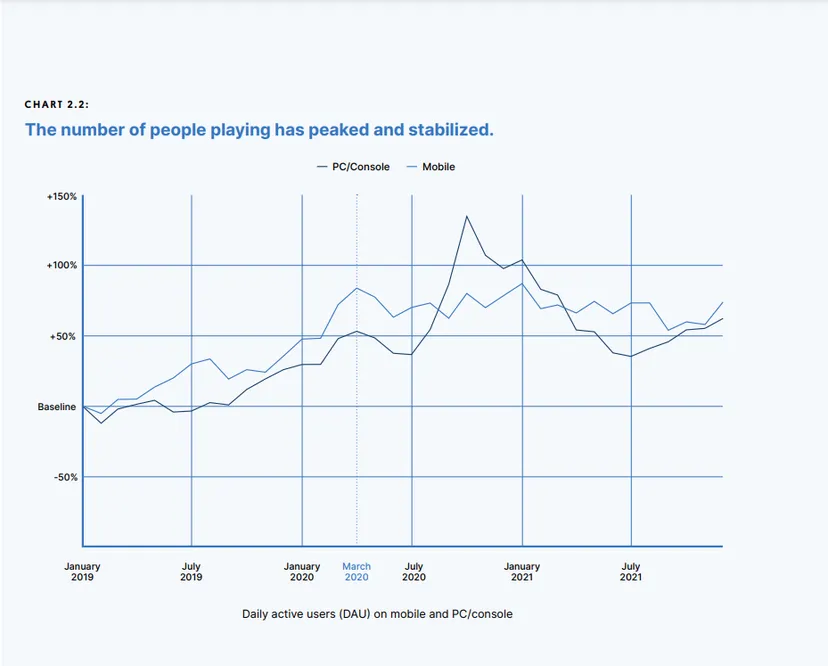 In-app spending followed similar trends, with initial spikes in March of 2020, and steady increases that grew into December of that year.
It is interesting to note that the holiday drop-off on DaU and player spending has returned after 2021, but both still stabilized at a higher level than Unity's pre-pandemic numbers.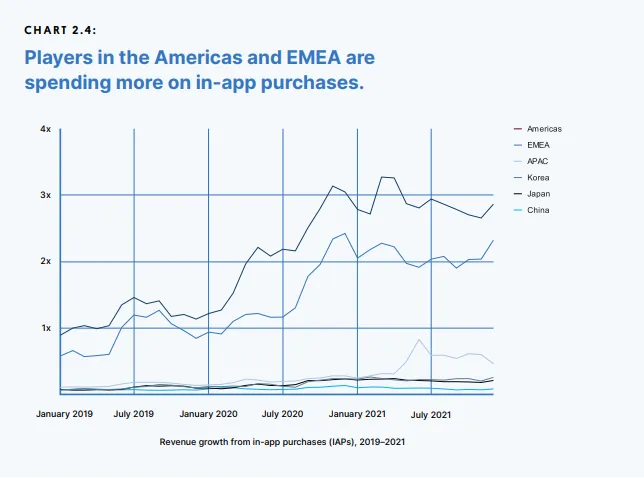 This data suggests that either more people are playing games, or more game players have changed their habits to include more time spent with video games. Given that the pandemic drove habit and hobby changes on multiple levels, some combination of both is likely true.
Data like this is useful in reviewing the financial reports from different game companies in the coming months. Some are still riding the highs of this pandemic-driven wave, others are seeing decreases and casting them as "post-pandemic drops." Knowing that developers of all shapes and sizes saw increases on the whole helps add context to different companies' performances.
For some other data wonkery, Unity is also reporting that China's tightened restrictions on video game play are "working." The report indicates a shop decrease in "stickiness" (the percentage of daily players who returned each month) sharply dropped after new regulations took effect in China.
While the rest of the world saw a moderate decrease in post-holiday stickiness, dropping from a peak of about 17 percent stickiness to 15 percent, China's stickiness went from about 16 percent to 5 percent, and is still flatlining.