2016! Hey! There it is. It's been around for almost 4 weeks, they say. Woah. This is all going fast... In a way, with this past weekend's update, it's like the New Year started only just now for us at Gamoloco.
So it's still time to take a look back at 2015 and for this post we'll focus on newly released games. As usual, tons came out last year but which ones managed to rise above the FFA Melee and reach viewership heights on Twitch? If you are familiar with Gamoloco data & analysis, you already know the list won't quite look like what the average gamer could expect.
As a matter of fact, Twitch is a different kind of cat when it comes to gaming success: the titles that make it there don't necessarily match your usual "AAA/indie hype & sales" list. It's not to say Twitch's list of top new games for 2015 is entirely odd but... let's have a look at it before we go any further.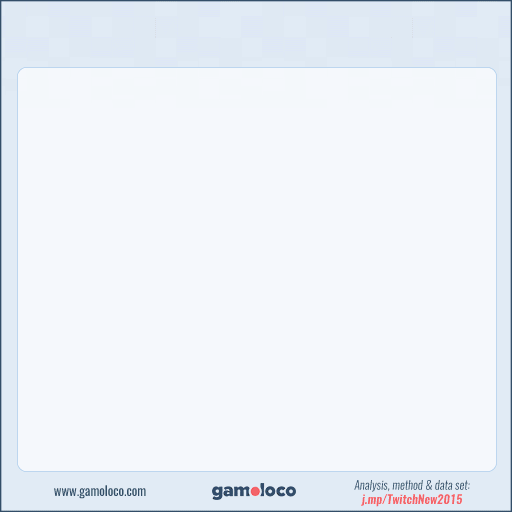 A Lust for Survival
The Top 3 games are more or less expected as Fallout, Call of Duty and Grand Theft Auto can easily be seen as the top 3 AAA franchises that released a new opus in 2015, not forgetting GTA V on PC wasn't entirely new as console versions had gotten released the previous years.
The surprises start at #4 with ARK: Survival Evolved, a pre-historical survival game on Steam early access you might have never heard of, followed right away at #5 by H1Z1, another Steam early-access survival game. Adding #10 Dying Light to the list of Survival Games makes the genre the most represented among the Top 10 new games of 2015.
Here's the Top 10 breakdown by genres:
- 3 Survival: ARK: Survival Evolved / H1Z1 / Dying Light
- 2 Action RPG: Fallout 4 / Bloodborne
- 2 FPS: Call of Duty BO3 / Overwatch
- 2 Action/Adventure: Grand Theft Auto V / Metal Gear Solid V Phantom Pain
- 1 Fighting: Mortal Kombat X
So who's missing? Some FPS titles of course such as Halo 5: Guardians, Evolve as well as Star Wars: Battlefront. The Action/Adventure genre is also under-represented with only Grand Theft Auto and Metal Gear Solid making the list. Among RPG's, The Witcher 3 is MIA.
Also worth nothing: H1Z1, ARK and Overwatch were in pre-release state (early access or alpha or beta) when they appeared on Twitch for the 1st time. While the traditional AAA Day 1 push does have an effect on Twitch viewership, these games show there are other ways to generate excitement among a significant audience of gamers on the platform.
Limited Interest in New Games
From analyzing what new games attracted the most attention last year, one can infer that Twitch as a platform posesses a style of its own, favoring Survival games over most genres. But there's something that's even more peculiar in this infographic, and to understand you have to look outside of its data set: Twitch' audience doesn't care that much for new games.
With 12.6M Hours Watched over its 1st 7 days of public availability, Fallout 4 was the most succesfull launch in live streaming last year, congratulations! Yet it's not that huge of a live viewership. For example, just last week, League of Legends recorded 24M Hours Watched: that's what cruising speed feels like for the most watched game on Twitch.
Yes, you read it right: on any average week, League of Legends generates 30% more viewership than Fallout 4 did during its first 7 days. And the fact is that Fallout 4, just like 99,9% of new games, started going down on its 2nd week, and the week after even more, etc. (To get a better idea about this trend, I will later on publish the same scoreboard over the 1st 3 months of public availability and make comparisons with the one we have here after just 7 days.)
This infographic is another hint at Twitch' little interest for new games, showing it is a platform that encourages what I'd call - to use a fashionable word - sustainable games. And by "sustainable" I mean games that generate emotions and interest among gamers, and game viewers, over a long period of time... with as little new content added as possible. The most sustainable games even manage to generate growing interest over time, but they are beyond rare: masterpieces of a new kind.
And from my own gamer's standpoint, while I understand how a multi-billion dollar industry works, and why it requires for some franchises to come back in stores each year, I've almost always felt there was a loss of gaming quality incurred in the process... It wasn't part of the plan for Gamoloco but today I'm pretty happy that, through its numbers, the site allows to showcase how gamers like me and millions of others enjoy their games, with long-lasting passion as opposed to short-lived interest.
Collection Method & Data Set
To get to these numbers, I manually browsed Gamoloco and copied the daily viewership values for games in a spreadsheet. I did the numbers digging before we released our new exporting feature, before I could test it even, so it took a little time... but that's over now! Because next time I'll hit that export button and work straight from the spreadsheets.
If you're unfamiliar with Gamoloco, maybe you'd like to know we get our data from various live streaming platforms API's. In the case of games data, we get numbers from Twitch only, every 15 minutes. You will find more details about our data collection method in our FAQ.
But that's not all: as the young service that we are, 2015 wasn't always perfect and there are times when we couldn't collect data all of the time, especially during the Autumn. So we had to compensate for that and extrapolate for the times we couldn't collect.
ie: let's say we collected data for 18 hours out of 24 for any given day, well in order to build this infographic I extrapolated the data we had collected to compensate for the 6 hours missing in our database. Using this process, we can compare games over the same amount of hours (168 = 7 x 24) even if we lightly damaged accuracy by extrapolating.
Check our dedicated blog entry to find out more on the data collection issues we had to face in late 2015. Recently we've gotten our accuracy back on track as our collecting processes have been working flawlessly for a few weeks now.

Continuing our review of 2015, we will release another 2015 Top 10 infographic next week.
Cheers