From buying loot boxes to casting magic spells on the streets – we have a lot to do in 2018, as the gaming industry invents new ways to engage and entertain us. Check out our list of top gaming industry trends to watch this year and get ready for fun, innovation, and controversy as well.
Rising Revenues
Last November, game market researcher Newzoo had to revise the estimated revenues of gaming industry toward 2020 because 2017 was exceeding the expectations. By the end of the year, the global game market achieved 10 percent growth compared to 2016, hitting $116 million mark, $7 million up from Newzoo's initial expectations. The researcher expects the growth to continue at about the same rate and estimates the total revenue at $125 billion by the end of 2018. Average gaming time per consumer will also keep increasing, as a variety of interests met by modern games expands and includes not only playing, but also creating, sharing, and viewing unique game video content.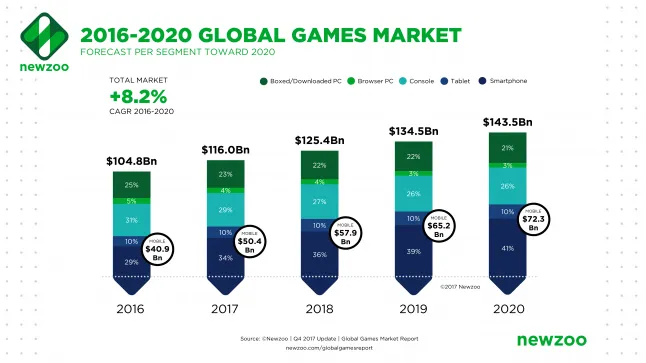 More Loot Boxes and Controversy
Full game purchases are not the main source of the above-mentioned revenues. Last year, PC gamers spent more than $20 billion on microtransactions in free-to-play games, while releases of paid titles for PC and consoles generated about $8 billion combined. But microtransactions are not free games' exclusive feature anymore. Pay-to-play game developers want to get their own piece of the pie, and this is where controversy starts.
If you pay $60 for a game but can't enjoy it without buying loot boxes to boost your performance, it can be frustrating. That's why Star Wars: Battlefront 2 was probably the most frustrating game of 2017. It managed to anger not only the game series fans but politicians from different countries as well. Calls and petitions to equate loot box systems to gambling were raised in the UK, USA, the Netherlands, and Belgium. A strong negative reaction from gamers prompted Electronic Arts to remove microtransactions from the game, but reputation losses are harder to fix.
Despite all the controversy, loot boxes will not disappear from video games this year. In fact, there will be even more of them. Every tenth developer plans to include item crates in his next games, as a research from Game Developers Conference 2018 indicates. The reason is simple: loot boxes bring profit. While some players complain, others keep supporting this monetization strategy with their wallets.
Also, it's not like loot boxes are definitely bad, but rather EA uses them in a bad way. Activision Blizzard managed to earn $4 billion on in-game net bookings last year without outraging the audience. We can also mention good old TF2 or CS:GO. Cosmetic items from these games bring profit to Valve Corporation but don't affect the gameplay. In 2018, other developers need to learn from EA's mistakes and Valve's success.
Blockchain Innovations
Blockchain is a disruptive technology, and the gaming industry may be one of the first to exploit it. DMarket is going to launch the full-fledged blockchain-based platform for trading in-game items in Q1 2018. Other gaming projects aim to use blockchain for different purposes, such as next-generation cloud gaming or advanced crowdfunding models for developers. That's why this year may define new gaming trends for years to come.
Advanced Mobile Gaming
Mobile gaming is the biggest and the fastest-growing segment of the global video game market. According to Newzoo, it makes up 43% of the total industry revenue, which is more than $50 billion. For this reason, developers will pay even more attention to tablet and smartphone games in 2018. We can expect improved graphics and console-like gameplay from many of coming mobile titles. The number of cross-platform games with mobile option will also increase. You can start such a game on your PC and then continue the adventure on a tablet or mobile phone. Minecraft is the most obvious example, but we're going to play more great PC/console/mobile games in 2018.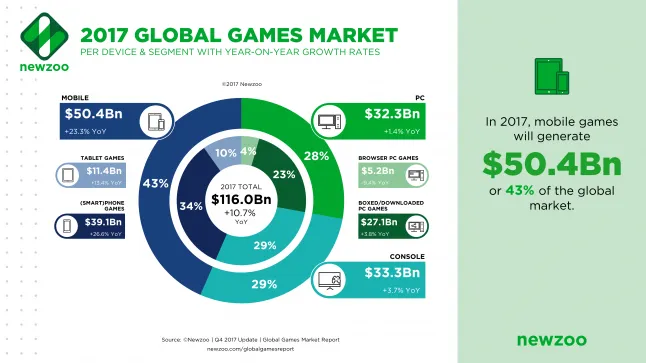 Indie Hits Amid Market Consolidation
The video game market consolidation is gaining pace, with 80% of the revenues represented by big public companies. However, we've seen smaller game studios making chartbusters last year (PUBG or Cuphead, for example), and the trend's going to stay on. Indie developers don't have resources of AAA-companies, but they do have creative freedom because a smaller budget usually means a larger margin for error.
Loads of Battle Royale Games
The enormous success of PlayerUnknown's Battlegrounds has drawn great attention to the battle royale genre, and other games have already tried to follow in PUBG's footsteps. Fortnite: Battle Royale is the most notable among them, but things may change in 2018. Many developers will try to exploit the genre's popularity and overshadow the predecessors. Many will fail, but a few may succeed, enabling us to enjoy another great last man standing multiplayer action.
A New AR Breakthrough
Since the Pokemon Go craze in summer 2016, we've been waiting for new groundbreaking augmented reality games, but none of the attempts met the expectations. However, AR's potential in gaming remains tremendous, and someone have to exploit it. Perhaps, we can count on Niantic, the Pokemon Go creators, as they are working on another AR game in collaboration with Warner Bros. Interactive. Harry Potter: Wizards Unite is going to launch in 2018 and offer us a possibility to cast spells and fight beasts on the way to work or back home.
Did we forget anything? Share your thoughts and keep gaming.