Last week I presented you with the top 10 new games of 2015 on Twitch and today we'll keep looking back as we'll focus on the top 10 games that recorded the most Hours Watched across last year.
Esports & PC on Top
Four PC games, League of Legends, Counter-Strike: Global Offensive, DotA 2 and Hearthstone, are litterally dwarving the competition on Twitch. If we were in NCAA basketball we'd call them the Big 4 or something. And among the Big 4, there's the BIG ONE: that's League of Legends of course, watched almost twice as much as its closest competitor.
Why these 4? Why so big? Of course esports come to mind as these 4 games are the biggest Esports platforms out there. What the numbers seem to show is that esports can generate tremendous passion among those who get hooked, which then leads to major live viewership peaks. Last August, Twitch broke its record for maximum concurrent viewers on the platform at 2.1M, precisely at the time when the finals for ESL One Cologne and the North American LCS Finals were both being streamed. In this regard, esports are very much like regular sports on TV: they allow the biggest live viewership boosts.
Outside of the Big 4, 2 other games in the top 10 also got there for the most part because of esports: Starcraft 2 and Call of Duty. Call of Duty, by the way, is the only game that's not exclusively for PC or PC-centric out of those 6.
What Else
Outside of the 6 games carried by esports, we have Minecraft. The genius game, how come Minecraft on Twitch? I think it's associated with creativity and storytelling. Remember Legos? How many stories would you be able to tell yourself and your mates with infinite, interactive Lego blocks?... Minecraft is very much like another infinite universe of play inside our already infinite real-world universe. The fact that's it's ranking that high without esports supporting its community is yet another sign of its uniqueness.
Right below Minecraft, H1Z1 is the sole survivor from last week's Top 10 new games and the Survival genre. When it comes to new games, Twitch viewers tend to favor Survival games, yes, but when it comes to games in general, esports games win everyday. H1Z1 is quite a nice surprise though, it will be interesting to see how it does in its 2nd year.
Destiny at #8 could also almost be considered a new game. By Twitch success standards it is, as it was only released in September 2014. Just like Minecraft, Destiny manages to rank that high without an esports community, and as a console game mostly: that's 2 factors it's usually pretty hard to fight against on Twitch, showing Destiny might have made a foray for console FPS and MMO's. Maybe with time, the trend favoring esports PC games on Twitch could be altered.
The last game I haven't talked about is FIFA. The case is quite special since almost 1/3 of FIFA's viewership in 2015 was recorded by one single community channel, Spanish-speaking castro_1021 from Bloomingdale, IL, who totalled a whopping 19M hours watched throughout the year. Castro has to be one factor behind this game's success and maybe another could be the seemingly ever-growing popularity of the Fifa Ultimate Team mode.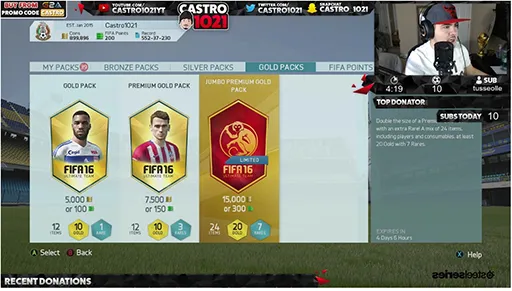 How Deep Is Your Root
Last spring, I published one of my 1st analysis using Gamoloco data, focusing on the top 20 games on Twitch in March. Ten month later, the top 10 games are very much the same, if not for BloodBorne and World of Warcraft which got replaced by H1Z1 and Call of Duty. What's more, the top 5 games are in the exact same order.
Besides chronic laziness, that is why I will not dive into the same kind of technical analysis I did back in April as it is for the most part still valid to this day. One new interesting point I found comparing those 2 lists though is that Call of Duty started 2016 way better than 2015... but that's another story.
That stability in top games is deeply rooted, way deeper than most would expect. Back in the early 2000's, the most popular esports games were very much the same already, in their original versions: Counter-Strike 1.6, Starcraft: Brood War, Warcraft 3, FIFA and sometimes Konami's Pro Evolution Soccer were the main titles at tournaments around the world. And what new game did all the pro gamers play on their free time because it was so much crazy fun?! It was the newly-born DotA, the game that started the MOBA genre and profoundly inspired League of Legends. Since then, these games have evolved towards better graphics, albeit nothing close to the latest AAA technical monsters, but changed very little and slowly in terms of game design.
Looking at it from the release years angle is the same. On average the top 5 games of 2015 are almost 5 years old. Hearthstone is the only one that hasn't celebrated its 2nd birthday yet. By gaming industry standards, this is old.
My personal view, in a few words, is that these games have managed to create a community, a fan base, that could nearly be called self-sustainable. Those eco-systems took masterpieces of games and years of maturation to build. I would say these games stand out so much on Twitch because they allow for those eco-systems to blossom, for passion to burn deeply in the hearts of their players for years, sometimes life.
In any case, while planned obsolescence has been a golden rule in gaming forever, it turns out that a handful of games can stand the test of time and generate unparalleled passion, which in our case shows in viewership numbers.
If you remember last week's analysis, you'll notice how stability at the top of today's scoreboard aligns with the little interest Twitch' viewership has been showing towards new games.
Method & Data Set
To build this scoreboard, I exported monthly top games scoreboards of 2015 out of Gamoloco's database and put everything in one spreadsheet in order to determine the top 10.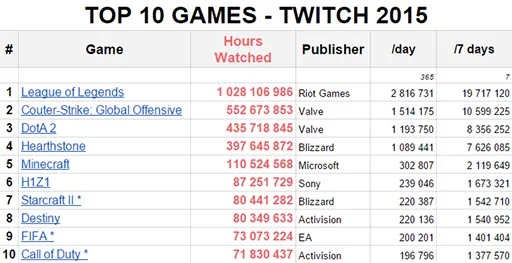 data set
* Each game, each IP, has a different story and attributes. That's why I decided to merge several games into one for this scoreboard, namely:
If you're unfamiliar with Gamoloco, maybe you'd like to know we get our data from various live streaming platforms API's. In the specific case of games data, we get numbers from Twitch only, every 15 minutes. You will find more details about our data collection method in our FAQ.
But that's not all: as the young service that we are, 2015 wasn't always perfect and there are times when we couldn't collect data all of the time, especially during the Autumn. So we had to compensate for that and extrapolate for the times we couldn't collect.
ie: let's say we collected data for 18 hours out of 24 for any given day, well in order to build this infographic I extrapolated the data we had collected to compensate for the 6 hours missing in our database. Using this process, we can compare games over the same amount of hours (168 = 7 x 24) even if we lightly damaged accuracy by extrapolating.
Please check our dedicated blog entry to find out more on the data collection issues we had to face in late 2015. Since late December we've gotten our accuracy back on track!


That's all for today, folks! See you next week for the 3rd and final installment of our Twitch 2015 review. This time we'll take a look at the top 10 channels of last year.