Luke Stapley is the Marketing Director for Synative, a mobile playable video tool company.
By now you have read the countless twitch chats, Reddit posts, and moaning on Twitter that it's getting tougher and tougher to make money off mobile games. The murmuring crowd seems to be spouting truth as currently there are about 100 mobile games submitted to the Apple iTunes store every day. With so few games finding an audience leading towards profitability, it's not only essential to make a great game (which has always been true), but also effectively making people aware of it.
For any marketing manager or director in the game industry, finding the best way to market a game with whatever budget you have is a challenge. It's important to see what will differentiate yourself from your competitors and become memorable enough for the consumers to download your game.
Knowing what type of ad formats are the best for your money is a challenge that no one seems to have mastered. But a few have some great information to share in hopes to educate us. Appodeal and Kongregate released their data on how well different ad formats are doing, and it's pretty obvious what is happening.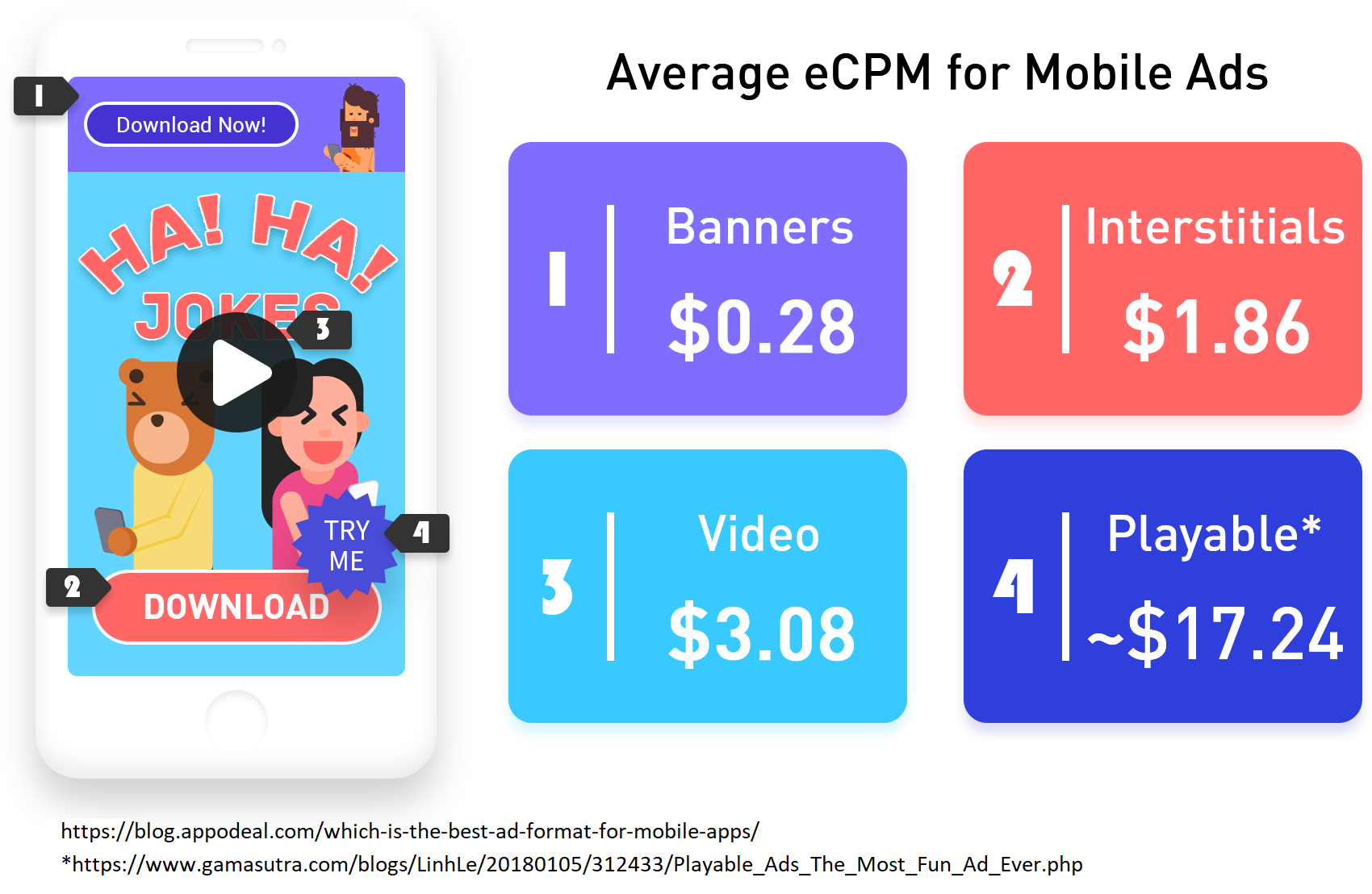 With these numbers, you can see that banner ads that were the big fad in the early days of modern mobile gaming aren't going to help any of the larger companies to survive, and interstitials (full screen and smaller) are already starting to move towards equilibrium with their costs. It's starting to look like the new kids in town (rewarded video and playable ads) are possibly going to be the next trend to get a significant ROI.
Video has already been hitting big by growing more than 142% last year compared to 2016. So it seems it's not going to stop growing this year. But with the glut of video ads coming out later this year and more next year, consumer fatigue may set in quickly. That's why developers today are looking for new ways to express themselves in crowded ad networks.
Though Supercell's VR commercial for Clash of Clans was an excellent way to promote the game through video ads, budgets for this type of ad for most companies aren't even close to creating something this good. However, the idea of allowing your player to experience the game is starting to grow. That's why more forward-thinking marketers are looking into playable ads.
WHAT ARE PLAYABLES?
Playables are the ads that allow the consumers to act within the advertisement creating a more tactile experience than other mobile ads. This could be achieved with simple finger gestures on the screen, VR or AR experiences, and more.
Playable ads are already looked at as a great marketing creation due to the history of "game demos" in the industry that people played on their consoles and PC. Many famous demos like Doom and Final Fantasy VIII showed off what players could expect and brought in purchases or pre-orders.
Mobile playable ads are very different from other ads because they allow for a few things other ads had difficulty replicating:
Interaction – A gamer can actually play the game and see if they enjoy the gameplay, rather than imagine it from a video.
Engagement – Gamers who become engaged with the ad will want to download the game and play more. Playable ad creators already are showing that playables increase conversion rates more than other ads.
Knowledge – Actually having some experience with the game in a sandbox or tutorial-like area in a demo helps gamers feel more confident in their abilities to win when they start playing the real game.
Personalization – Some playable ads might have different endings allowing for different experiences. Winning or Losing, gaining different items, and other surprises add interest to the game.
WHAT SHOULD I KNOW IF I WANT TO MAKE ONE?
When you start planning on building a playable, you have the options of either a fully playable experience for the gamer, an experience you walk the gamer through (hand holding) or a combination of both. Which ones you pick depends on how you plan to share your ad. Best practices for these will be discussed in part two of this guide.
Once you set up your plan, it's time to build the damn thing. For most, they would either request another company to make it or take the laborious job of trying to create one themselves. This could take days or weeks to develop.
Synative, on the other hand, has created the tools to make playable ads very easy and straightforward. With our tools, we help developers make playables in under 30 minutes either as playable videos or fully playable demo games. Check out our other blog posts for tutorials on creating your playables through our tutorials on how to build one for yourself.
After the playable is finished, it can be placed in any ad format. However, my advice to you is understanding the expected behavior and expectations that gamers have towards how a game uses ads. For many very short playables, interstitials might be the best placement.
Gamers may be annoyed at a fully 3-minute gameplay experience in any situation but as a rewarded ad. So be extremely cautious about where you place you allow your ad placed when you add them to an ad network.
However, if you are allowing for the ad to stand alone with either shortlinks provided by Synative or fully adaptive gameplay within social networks like Facebook and Twitter, as long as you make it fun, it doesn't matter the length of time or experience you give a player.