Unless you have been living on another plant in the past 18 months, you must have heard that In-App Purchase is a great monetization model. Publications like Business Insider and others have provided a lot of data to support this claim but the reality is that the picture they painted is a bit misleading.
Let's take a deep look into the market of mobile games. The reality is that there are many kinds of in-app purchase methods but, believe it or not, only one of them is really effective.
There are games that allow you to upgrade to the premium version from within the app, others allow you to buy extra levels of features while some games are based on virtual economies and allow you to buy in-game currencies. All of these are considered in-app purchases - can you guess which one is making the most revenue?
Here is the punch line - out of the top 50 (grossing) games that use in-app purchases, 46 are selling virtual currencies and if we look at the top 100 the trend continues with 91 that are based on virtual economies.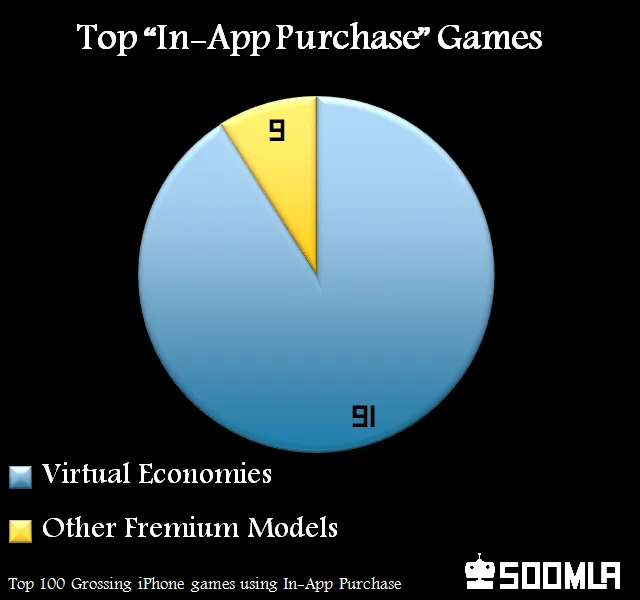 So saying that virtual economies are powering 85% of the revenue in mobile games is much more accurate than saying that it's driven by in-app purchases.
This distinction seems subtle but it's actually critical for mobile game developers looking to turn their premium game to a freemium game or ones that are just designing their game. If you don't pay attention closely you might end up with a game that yields only poor revenue and might not even cover your investment.
Just to be clear - a virtual economy means that the game has at least one type of 'soft currency' that the user can earn by regular game play. It is not really about monetization. It's about engaging your users and giving them ways to advance in game play, measure their progress and add an extra layer of fun into the game. So the games are not successful because their monetization is better but actually because these games are more fun and engaging that way.
While some might think that virtual economies are only used in MMO games or resource management games the reality of mobile gaming is different. There are ways to add virtual economies to just about any game genre and the top games of all genres are games that have created complex virtual economies successfully.
Unfortunately in-game economies are complex to build and take experience and time to balance but they are well worth it. So next time you hear the myth about in-app purchases being a magic solution to monetizing mobile games remember that the real answer is virtual economies.

Will be happy to discuss more about this or any other game economy design topic. You can find me at Google Plus Yaniv Nizan, the SOOMLA blog or on Twitter.